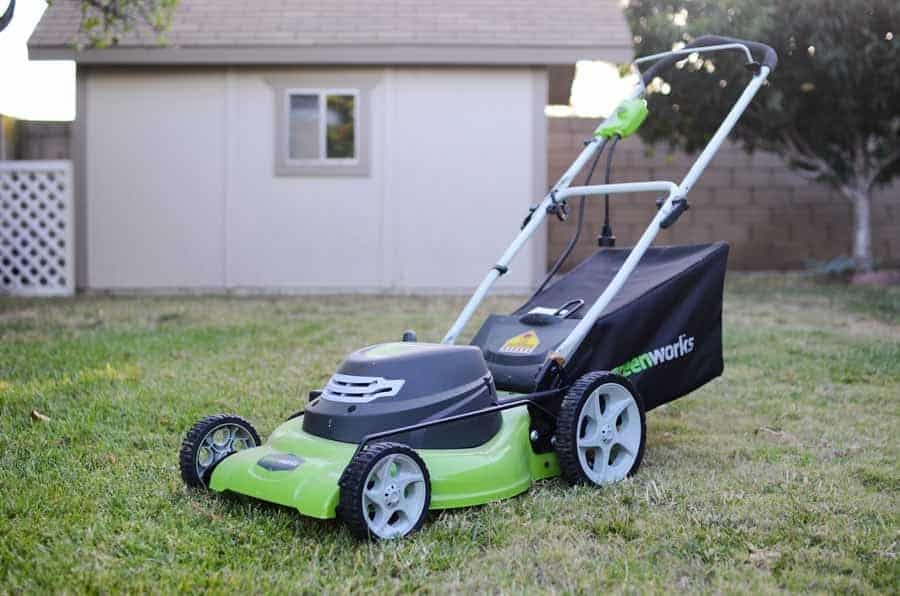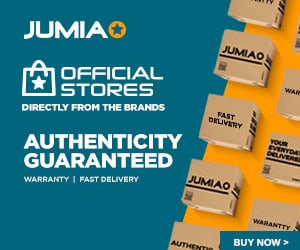 If there's anything your home, office, garden or general outdoor space deserves, it's a green, neatly-cut lawn. And to achieve that, you'd be needing one of the best lawn mowers you can lay hands on.
However, because there are hundreds of different brands out there that manufacture these lawnmowers, as well as the difference in features, quality, and specifications, buying one could be quite difficult.
And because a lawn mower is a long term investment which you most likely would be using for at least an hour (or more) every week for years, careful attention should be paid when hunting for one to buy.
Additionally, there are also some other factors to put into consideration and questions you should answer before making a buying regarding lawnmowers.
Typically, you'd want to consider the size/area of your lawn/garden, how often you'd be using it, availability of power source, type of grass, budget, among other factors.
When you answer these questions, you can then decide on the type of lawnmower to buy. We'd briefly highlight the common types of lawn mowers before we proceed to recommend some of the best one out there.
Types of Lawn Mowers: Blade Types & Mode of Operation
Blade types and mode of operation is one of the common features used to categorize lawnmowers. And in this category, you'd find:
1. Hover Lawn Mowers
If you have an unusually shaped garden, lawn, or space, a hover lawnmower will come in really handy. These types of mowers come with an impeller located above their blades which causes them to rise above ground level and push air downwards.
And because they are above the ground, they are easy to maneuver and use on irregular-shaped spaces and uneven surfaces.
2. Cylinder Lawnmowers
Cylinder lawnmowers get their names from the shape of their blades. They usually have at least three (3) blades that rotate/spin vertically to form some sort of cylindrical helix during operation. Cylinder lawnmowers are perfect for lawn that are flat or have regular surfaces.
If you want to keep the grass of your home or garden short and properly cut, a cylinder lawnmower would get the job done pretty well. The downside to this type of lawnmower is that are not exactly built for mowing large surface areas/spaces.
3. Rotary Lawnmowers
These types of lawnmowers also rotate their blades but unlike cylinder lawnmowers, they only have one blade and it rotates horizontally, not vertically.
Rotary lawnmowers are quite popular and more commonly used because they can cut different types and sizes of grass and cover larger surface areas.
Types of Lawn Mowers: Power Source/Options
1. Gas-powered Lawnmowers
The categories of lawnmowers are powered by gas/petrol are general suitable for mowing large surfaces and spaces. Reports have it that gas-powered lawnmowers are also more powerful and cut faster.
Gas-powered lawn mowers, however, require regular maintenance and this can be quite expensive.
2. Electric Lawnmowers
These lawnmowers require to be plugged into a power source during operation. As such, they usually come with a long power cord/cable so they can be used at a distance that's reasonably far from a power source.
The downside to these lawnmowers is that their usage is limited to place with power supplies. They are, however, cheaper than gas-powered lawnmowers and require little next to no maintenance.
3. Cordless Lawnmowers
These lawnmowers are powered by batteries and required to be charged before usage. They are almost similar to electric lawnmowers in terms of features and mechanism of operation but they are generally more expensive.
Other features
Self-Propelled Lawn Mowers
If a manufacturer advertises a lawnmower as self-propelled, it basically means you don't need to push them during operation. They automatically propel themselves and all you to do is steer the machine in whatever direction you want to mow.
This is suitable for usage in a large/big garden where pushing would be a lot of stress. Some models of self-propelled lawnmowers even come with adjustable speeds
Push Lawn Mowers
These lawnmowers have to be pushed and steered during operation. Push lawnmowers are suitable for small-sized gardens and environments because pushing a mower over a big lawn can quickly get tiring.
Cutting Height
A lawnmower's cutting height basically refers to how high the grass will be after you mow it. While some lawnmowers have a fixed cutting height, there are models with adjustable cutting heights.
Best Lawnmowers Worth Buying
Now that we've covered a bit of the basics, let's take a look at some of the best lawnmowers out there.
1. Greenworks PRO 21-Inch 80V Cordless Lawn Mower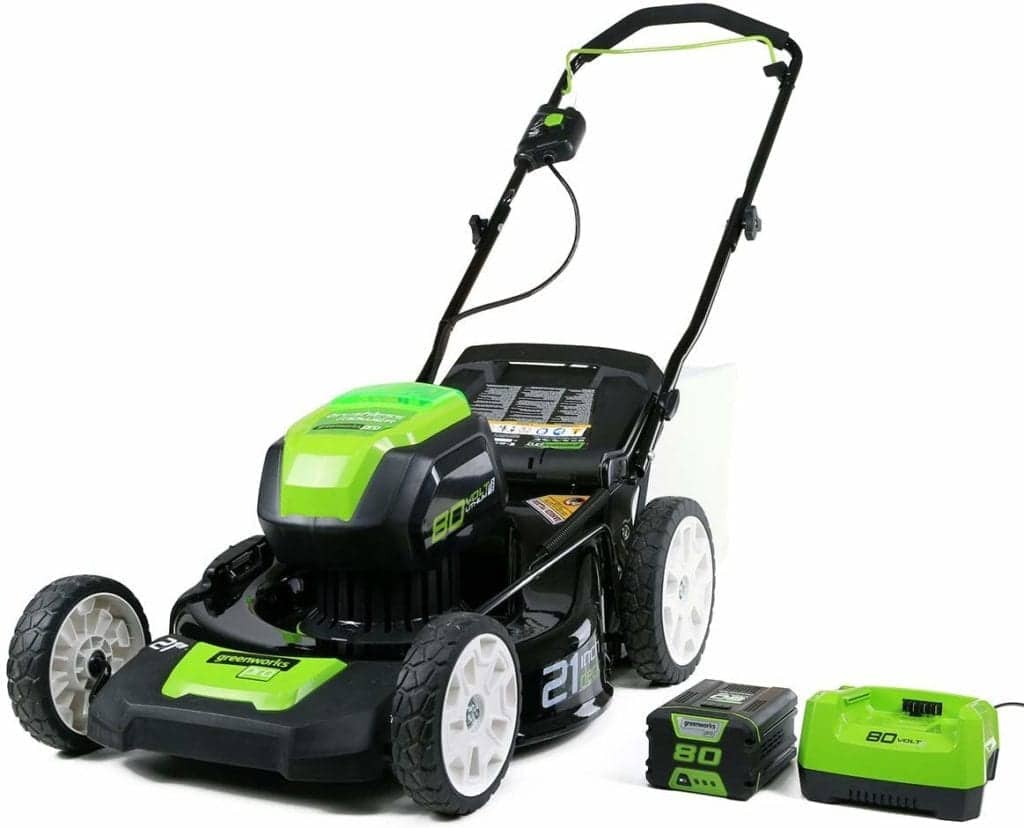 This product from Greenworks is a cordless lawn mower that's powered by a 4.0 Ampere battery that can last up to 60 minutes on a full charge. Taking about charge, the 4A battery also charges in 60 minutes.
The motor that powers the blades of the Greenworks Pro is quite powerful and can run for longer periods, despite being powered by a battery.
The machine features a Smart Cut Load sensing technology that allows for 3-in-1 discharge capabilities — rear discharge, side discharge, and mulching.
The Greenworks Pro is available in a manual push model and a self-propel model. The Push variant of the machine costs $235 while the Self-Propel version sells for $350. For details, reviews, and latest prices on Amazon, Click Here.
2. Greenworks 25142 16-Inch Corded Electric Mower
This is another lawnmower from Greenworks and it is one of the best to buy for usage in your home or personal garden. The Greenworks 25142 is an electric mower; meaning it requires to be plugged to an electric power source to function.
As such, it comes with a lengthy cord/cable that maxes out at a distance of 150 feet. Plugged in to power, you should be able to clear the lawn around your home.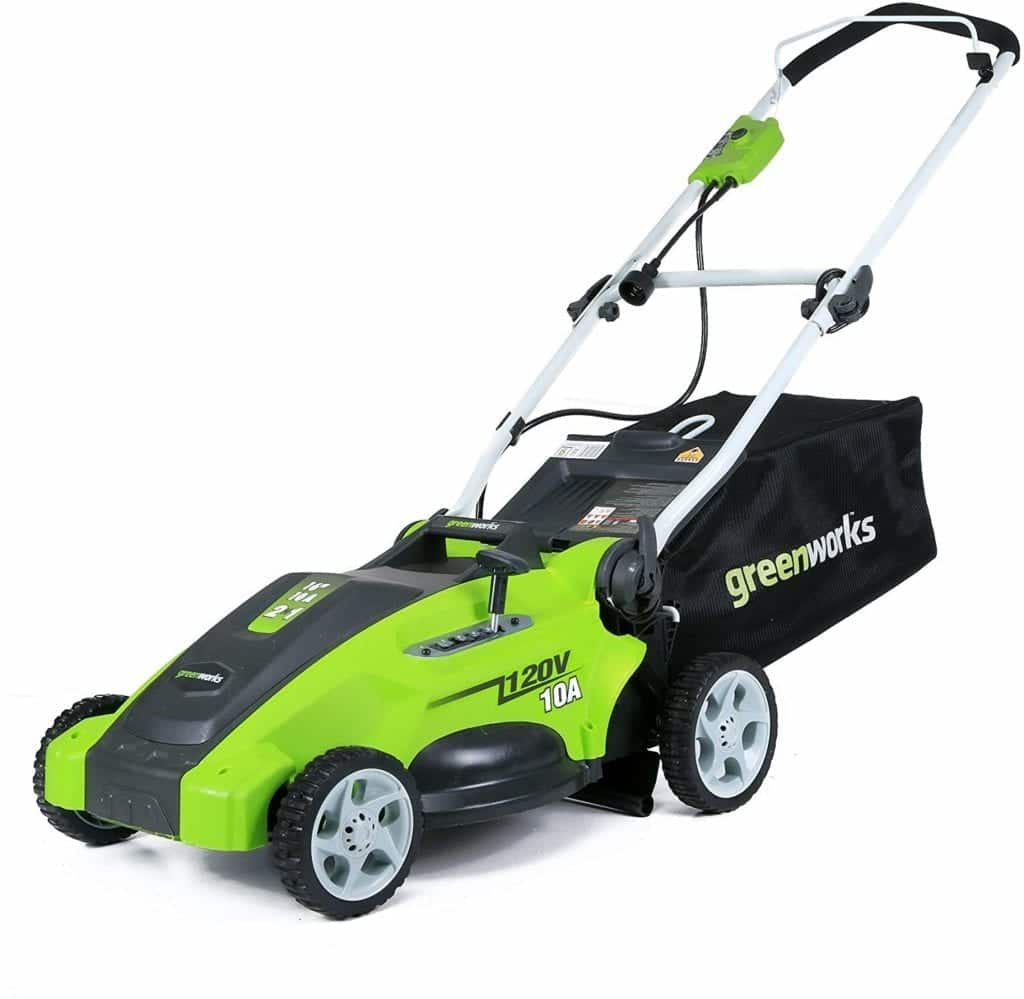 This is a push lawnmower and to allow users easily move it around, there are two big (7-inch) wheels on the rear and two small (6-inch) wheels up-front.
The machine operates a 2-in-1 system that mulches and discharges to the rear.
Greenworks recommends that this lawnmower is best suitable for use on small yards, gardens, and spaces. The Greenworks 25142 Electric Mower retails at $130 – $140. For details, reviews, and latest prices on Amazon, Click Here.
3. Craftsman M105
If you need a mower for outdoor usage to clear larges spaces like a sports field, then the Craftsman M105 is worth considering.
With its gas-powered 140CC overhead valve (OHV) engine, the Craftsman M105 is powerful enough to mow all types of grass for as long as possible.
It also features a dual-lever which can be used to adjust the machine's cutting height between six (6) different heights.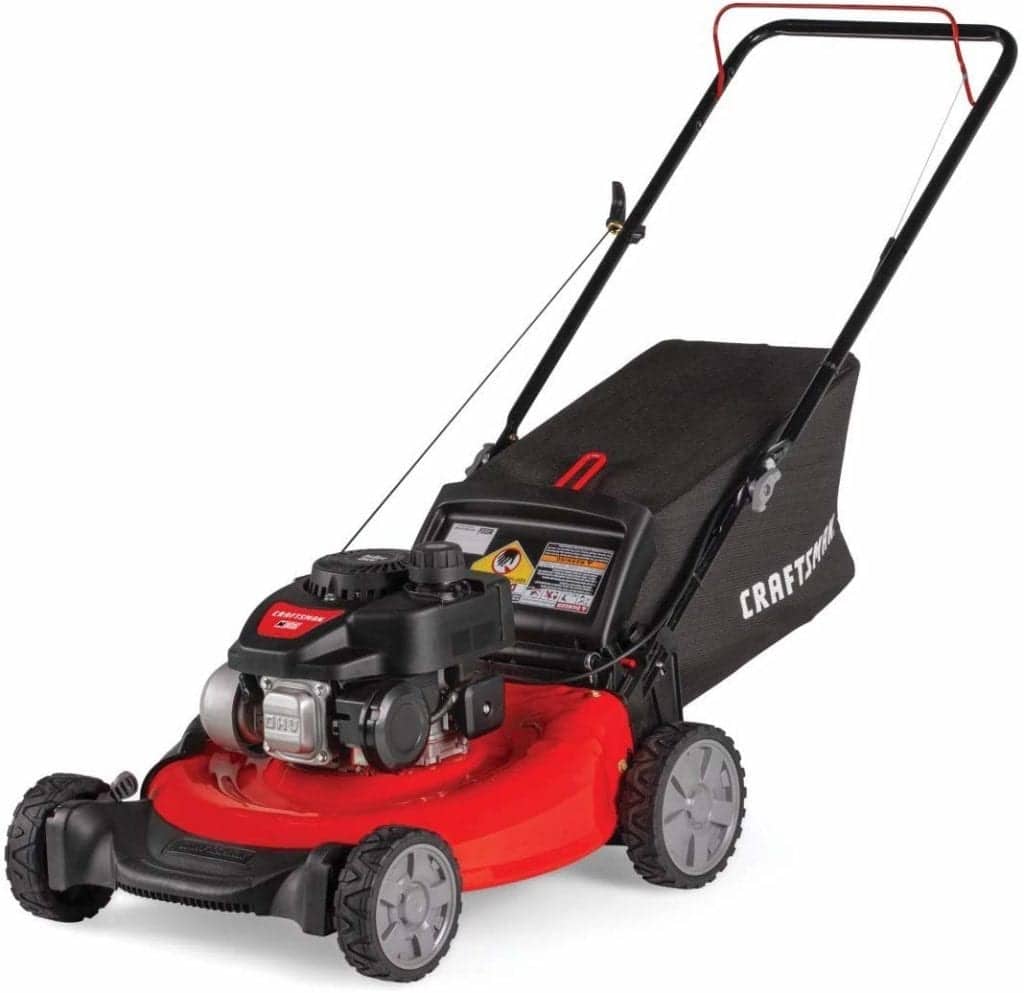 It also supports 3-way discharge (side, rear, and mulching) and durable zag-treaded wheels for smooth maneuverability.
The Craftsman M105 sells between $400 – $529 and comes with a special bagger that's attached to the rear to catch grass clippings. For details, reviews, and latest prices on Amazon, Click Here.
4. American Lawn Mower Company 1204-14
This is a super simple, easy-to-use, cylindrical lawnmower. If you have a pretty small yard and a small budget but need a mower that can get the job done, this lawnmower from the American Lawn Mower Company is recommended.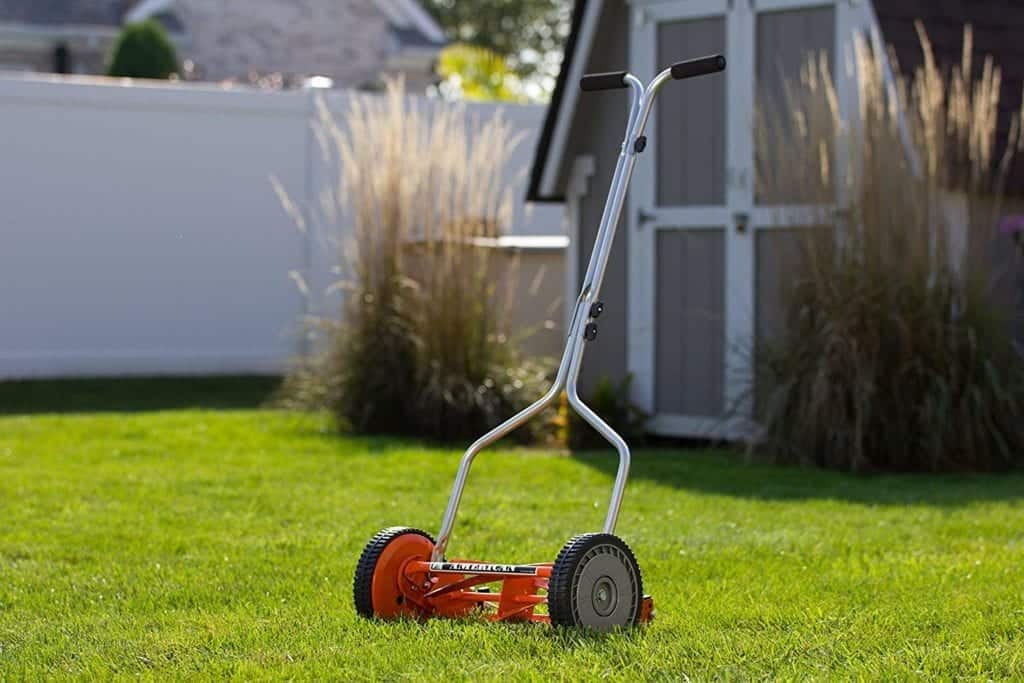 It is one of the best lawn mowers if you are on a budget. The mower features four (4) high-quality blades that cut common grass (e.g Fescue, Bluegrass, Rye, and mixed weed/crabgrass) without hassles. The blades of the machine are made from heat-treated alloy steel to preserve their sharpness for a long time.
This lawnmower from the American Lawnmower Company is self-propel and is a brilliant, cheaper, and eco-friendly alternative to gas-powered mowers. For $99, you can purchase a unit of this lawnmower. For details, reviews, and latest prices on Amazon, Click Here.
5. Great States 304-14
The Great States 304-14 is also another cylinder lawnmower worthy of consideration if you are on a shoelace budget. It is similar to the above-mentioned American Lawnmower Company product but it is slighter better in that it with five (5) blades.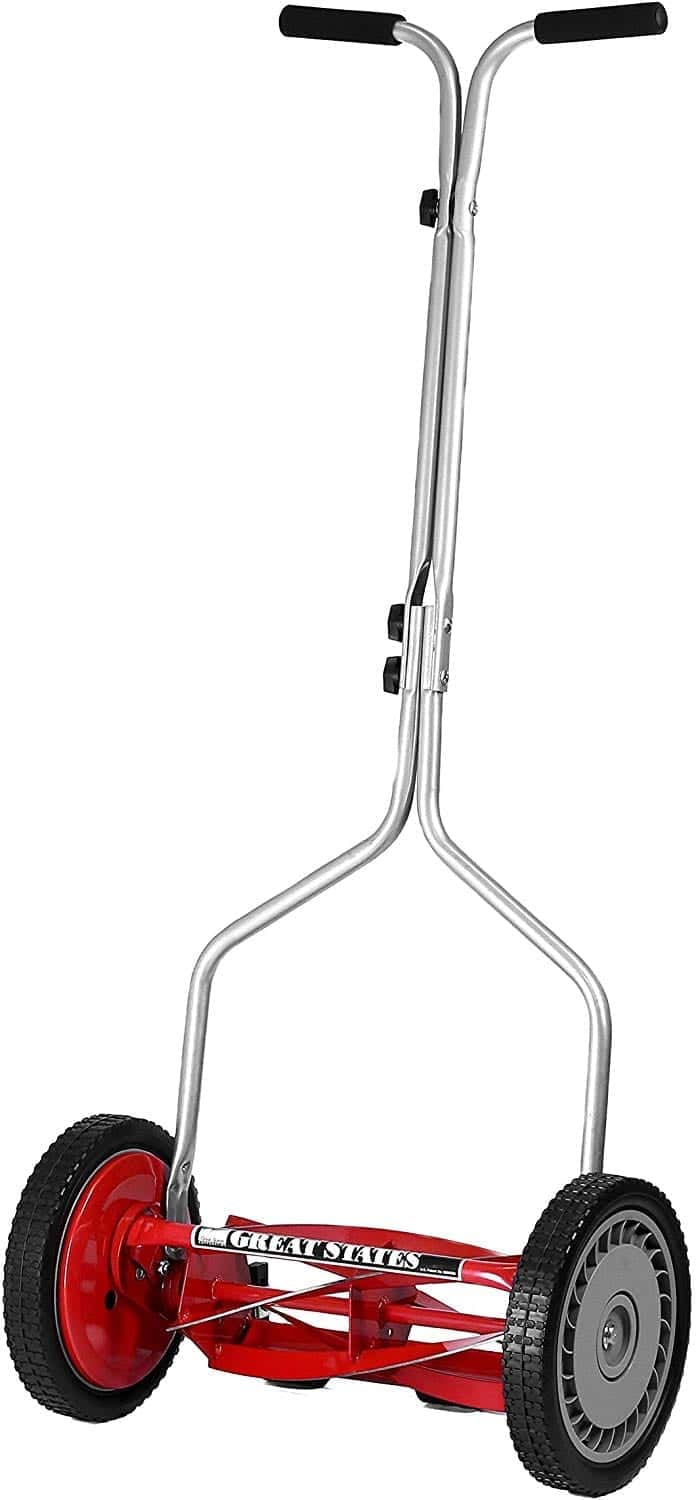 This allows for a faster and cleaner cut during usage. The blades of this machine are also made from heat-treated alloy steel to ensure they remain sharp for a long period.
The machine is relatively lightweight and the customized grip optimizes handling and maneuver during usage.
The Great States is also a self-propelled lawnmower and you'd definitely fall in love with the ease of control. You can cop a unit of this Great States lawnmower for $99 – $150. For details, reviews, and latest prices on Amazon, Click Here.
6. Sun Joe MJ403E Mow Joe
SunJoe is a renowned US-based manufacturer of home needs and equipment like pressure washers, lawnmowers, etc. The Sun Joe MJ403 lawnmower is an electric-powered machine and is best suited for home-usage.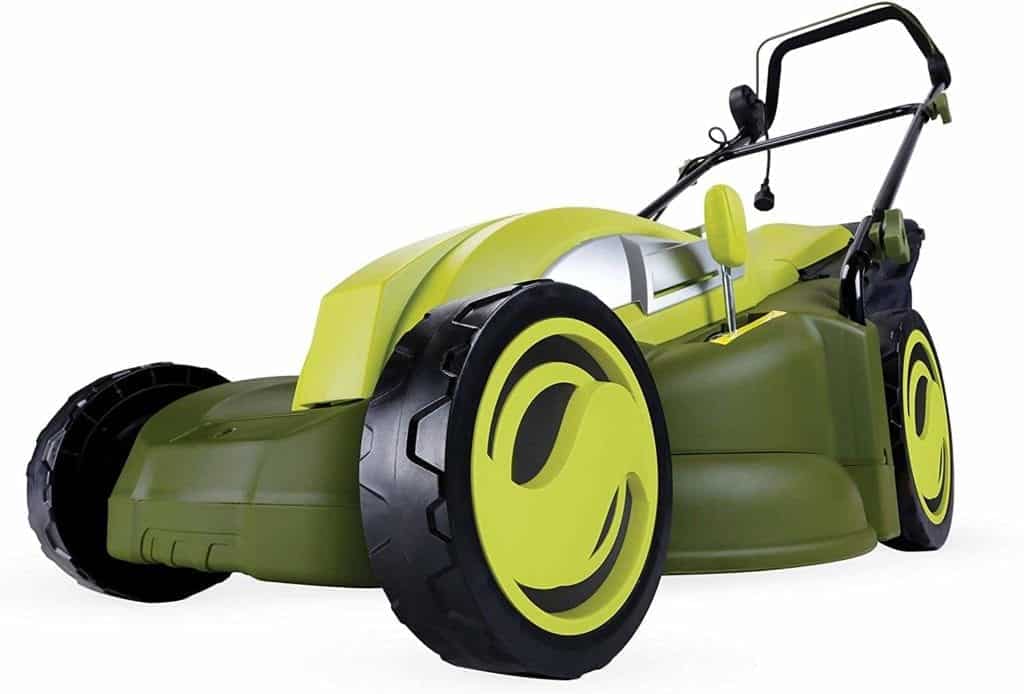 Aesthetic -wise, the machine is one of the best out there. You can also control how high or low you want the grass you're mowing to be. Additionally, there a glass collector on the rear tat stores the mowed grass for easy disposal.
For $173.99, the Sun Joe MJ40e is a really good bargain. You can purchase it in the link below. For details, reviews, and latest prices on Amazon, Click Here.
7. EGO Power+ LM2000-S
The EGO Power+ LM2000-S is one of the most advanced cordless lawnmowers out there. Powered 56-Volt Lithium-Ion battery, a full charge of this machine cans supply up to 90 minutes of usage time.
There's an LED headlight on the front part of EGO Power+ LM2000-S which allows the mower to be used any time of the day — morning or night.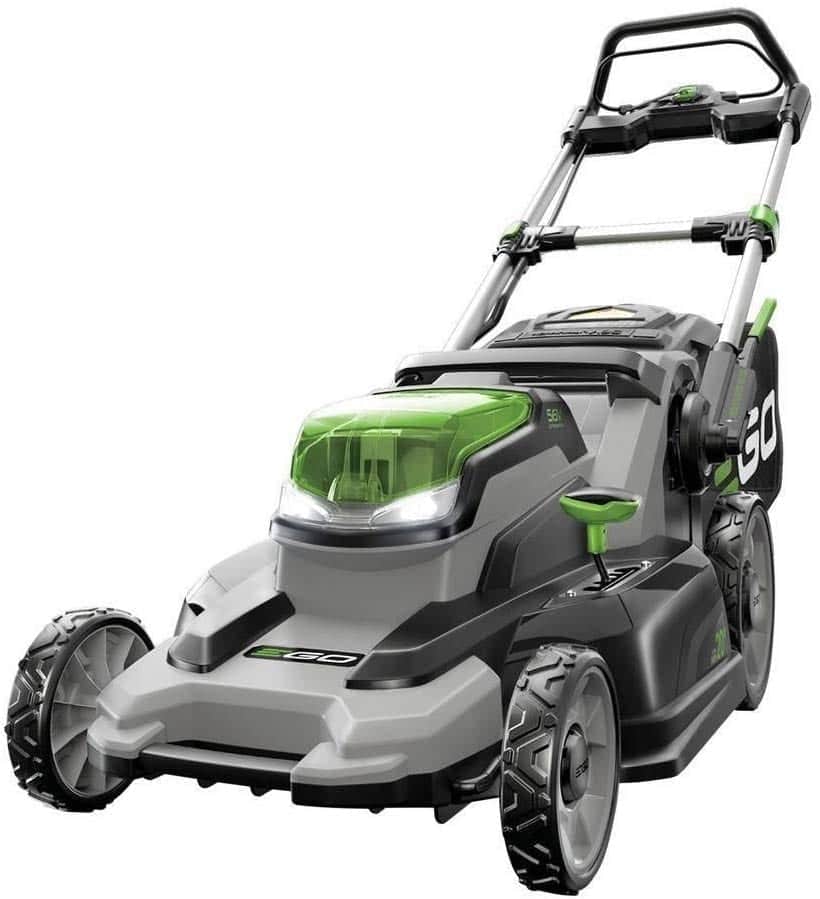 Since it is a cordless mower, the EGO Power+ makes less noise during operation and comes in a foldable design that makes the machine easy to carry around and clean.
For $579 only, you can purchase the water-resistant EGO Power Plus and keep your home garden trimmed at all time. For details, reviews, and latest prices on Amazon, Click Here.
8. WORX WR140 Landroid M 20V Robotic Lawn Mower
The WORX WR140 Landroid is a robotic lawn mower that comes with unique automated features that makes it stand out from the rest.
This machine is powered by some native algorithm that studies your lawn and primarily suggests a cleaning schedule/routine based on your lawn size.
If you do not like the schedule the machine created, the WORX WR140 comes with a mobile app that lets you remotely modify and adjust the mowing schedule.
The WORK WR140 Landroid robotic lawnmower comes out-of-the-box with a magnetic strip that you can lay around areas of your garden that you don't want the lawnmower to cut.
It also features a rain sensor that prompts the machine to stop mowing and return to its charging base whenever it is about to rain.
Other features of the Landroid robotic lawnmower include automatic recharge (when the battery is running low, it follows the nearest Boundary wire back to its charging base), cut-to-edge technology (allows the blades to mow grass close to the edges/borders of your lawn), GPS tracking support (an anti-theft measure), and a high-performance 20V battery that cuts up to  a quarter (¼) of an acre on a single charge.
This machine comes with quite a number of high-end features and sells for about $1,099.99. For details, reviews, and latest prices on Amazon, Click Here.
9. CRAFTSMAN V60 3-in-1 Lawnmower
This is another lawnmower from Craftsman but this one's a cordless mower whose motor is powered by a high-capacity 5.0 Amp Lithium-Ion battery.
Craftsman says a full charge of the battery can effortlessly mow up to one-third (1/3) of an acre. There's also an LED notification light that informs the user(s) about their status of the machine's battery during usage.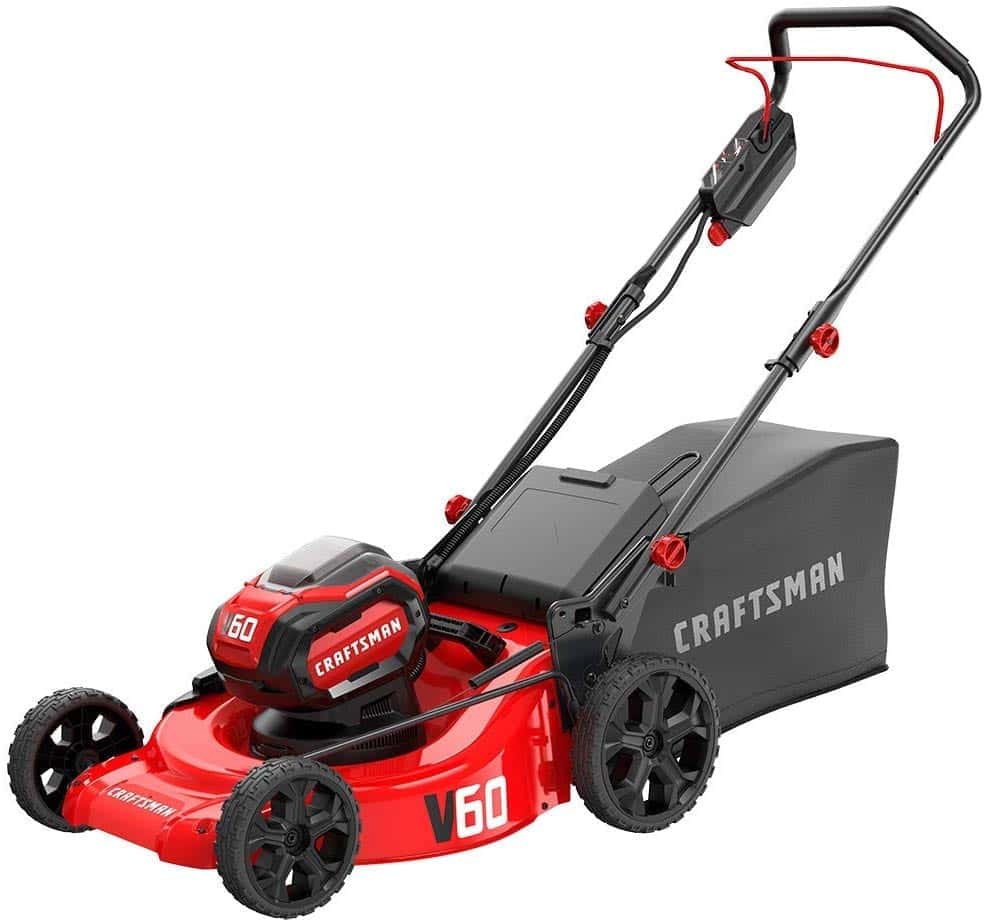 There's also a single-lever height adjust button that lets you adjust cutting height between 1.5-inches to 4-inches.
The motor of the mower is able to mulch grasses, bag them, and then discharge through the side. The CRAFTSMAN V60 retails for $350 – $379 and comes with a 90-day money-back guarantee. For details, reviews, and latest prices on Amazon, Click Here.
And there you have it; nine (9) of the best lawn mowers out there in the market.
Before making a decision on which to buy, make sure you consider factors such as type of grass to be mowed, area of yard/garden to be mowed, availability of power/electricity, features, and most importantly, the price.
One thing is for sure though; whatever your budget or needs are, there is something for you on this list.
If you've got any questions or recommendations, please drop them in the comments section. We'd be more than happy to help.
Related Topics
Paschal Okafor
is
NaijaTechGuide Team Lead
. The article
Best Lawn Mowers Worth Buying in 2022
was written by . The article was last modified:
June 30th, 2022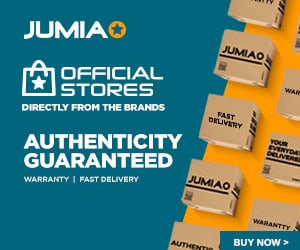 NaijaTechGuide may receive financial compensation for products/services purchased through affiliate links on this site. See
full Affiliate Disclosure Here