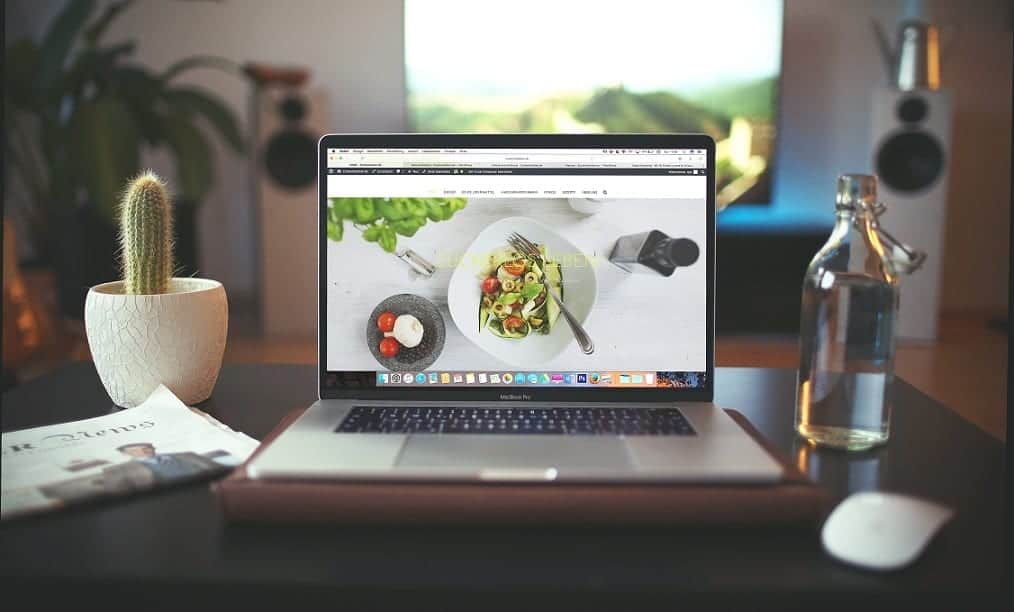 A landing page is essential in modern marketing. The internet is a crowded place. Audiences are left there with unlimited adverts that are hard to deal with.
Here's the truth, offering numerous choices to your customers can get them stuck in decision-making hereby leaving them with options of not taking any action at all.
To prevent this, more than the display of graphics, text, and more, you have to create something that goes beyond looks good to looks great to keep your website visitors.
Obviously, all of these are brainstorming, and to be precise, you don't want to miss out on the chances of converting your website visitors into something more.
The question is, how can you get all of your worries solved?
Here's where the lifeblood of every online marketing comes in.
I mean a good landing page.
Let's dive in.
What Is A Landing Page?
A Landing Page is a webpage created for driving leads and sales to a product or service. The Page is designed in such a way as to make the Call to Action prominent, removing any distractions that may share the attention of the visitor and increasing the chances of them taking a favorable action.
A landing page is any webpage a website visitor arrives at after clicking a link on your ad campaign such as emails, ads or other locations to start-up conversation.
Unlike web pages which aim at several goals, landing pages are designed with a single goal, known as Call to Action (CTA).
The idea of designing this standalone webpage is particularly to receive and convert traffic from a web campaign into leads or sales.
Variance in its functionality depends on the aspect of the business you tailored it to.
Some designs focus on the leads data through a lead-capture form containing name, telephone number, email address and more are designed for the purpose of obtaining leads.
Most times, this type of landing page is commonly used by business-to-business (B2B) marketers, high-ticket selling companies and eCommerce brands.
The landing page with this type of function is otherwise known as lead capture or lead gen pages.
And on the other hand, others a built with the goal of sales features a button as a Call to Action which redirects visitors to your checkout flow.
This type of landing page is strictly for sales. It is usually used by eCommerce and SaaS (software-as-a-service) marketers.
Such a landing page is otherwise referred to as the click-through landing page.
In essence, it is like a truck that drives your website visitors from the top-end of your sales funnel into the right destination of making action.
That's why landing pages are otherwise referred to as destination pages.
Why Do You Need A Landing Page?
You might not be needing all of these reasons, but bet you about 70-80% will clear your doubts to get a landing page for your business.
Since websites provide the resources that are valuable to customers, having a landing page that is more specific in search terms will promote your search engine optimization (SEO) and move you up in ranking.
Asides that, rather than your visitors stall on your website, having a landing page directs them straight-away to the CTA to complete their actions.
This helps you to understand the precise needs of your customers and improve on them.
Furthermore, websites that are a cluster of ads can burn-out the interest of the customers.
Therefore, having a landing page that is clear and straightforward to access with helpful content of what you offer will add value.
Notably, a good landing page allows you to test your guesses on what works best for your audience in order to keep serving them right.
To wrap it up, landing pages is an eyespot of any online business through which audiences view what you offer and have them converted into a lead.
Creating an impressive one will make customers stick around your business.
How To Create A Landing Page
As amazing as creating a landing page, it's better to be aware of the ho-hum of creating one.
Here are the best collections to help you create a good landing page successfully.
Let's get started.
1. Carry Out Market Research
Market research is key in the creation of a good landing page.
It leaves you with important information about the market, the needs of your customers, and the strategy that can be used to get them solved.
Asides that, your research shows how much people search or need the posts or topics related to what you are about going into.
Worthy of emphasis, to create a high converting landing page, you have to understand the attitude of your prospects.
2. Get The Best Landing Page Builder
The beauty of a house is a result of the good works put together by the architect.
Likewise, to have an attractive landing page design that will easily convert a website visitor into a lead, your choice of builder will determine it.
In the building, you should bear in mind all the primary focus of the page which should be eye-catching to the leads.
Note that, to choose a landing page builder, it depends on your business type and motive.
3. Make It Informative And Simple

Creating an informative but easy landing page set you up on the right track of having more conversion.
A design with a lot of messages distracts and discourages visitors to get converted.
As much as giving information is crucial on your landing page, it should be straightforward so that it won't overwhelm the visitors.
This simply means, the simpler your landing page, the better it will be for your visitors to access and therefore the result will become a high conversion rate.
On this note, good landing pages practice the use of bullet points to simplify details when appropriate.
Importantly, clear, simple and purpose-driven information should be used above and below the landing page.
These sides of the page are usually critically looked into for information.
To wrap it up, video landing pages can also be used to add more information without burning-out your visitors.
4. Make It Mobile-ready
Since most website activities are done on mobile, designing your landing page such that it will be so easy to access on mobile will be of great plus.
Features such as fast and easy loading, the easy clickable landing page will increase your traffic and add up to your sales.
5. Proof Your Worth
Beyond mere words of mouth, people easily get compelled to what they see.
Showing your worth of service from other social platforms 'like' on your landing page gives customers a rest of mind that they are in a safe hand.
Hereby increasing their chances of purchase.
The combo of testimonials and brand logos from people of relevance to your targeted customers will add a plus.
Needful to say that since pictures are building blocks for belief, each of the testimonials used should be followed by a photo that is real.
6. A/B Test Your Landing Page
This is the least but its role cannot be overlooked. After the big work of creating a landing page, more is still expected.
Among is to be sure of your progress.
Are you living above or below your set target of conversion?
If no, then investigate where you are not doing it right or just check out for several other designs, to see the one that works better for you.
The essence of your A/B testing is to be pretty sure of your performance and to put in your best.
A/B testing is a feature that's included in most landing page builders. It involves split testing between two designs in order to see which converts best.
You can split your website visitors into whereby half of the website visitors see A landing page and the other half see B landing page.
Best Landing Page Builders
You have agreed to start-up your own landing page but you don't know how to go about creating one.
The best solution you need is just right here in this post.
Here are some of the best landing page builders that will take your digital marketing to the next level you aimed at.
1. Leadpages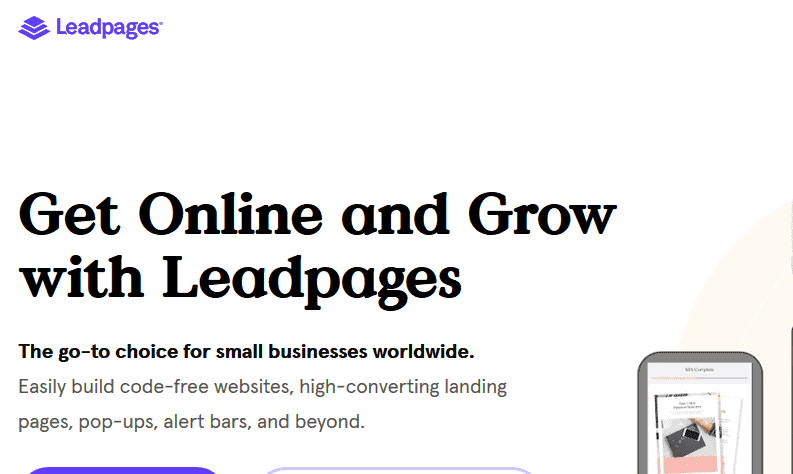 This is one of the most inventive and complex feature tools.
Leadpages is applauded for the features it offers, like the built-in payment system which enables you to effectively run your leading page.
On top of that, LeadPages run complete mobile and tablet-friendly themes which look nice always.
This also makes its SMS capabilities for capturing more leads to be effective.
Needless to say that Leadpages doesn't run a free trial without demanding your credit card details.
However, if functionalities are only what matters to you, LeadPages will compel you to settle for it. It no doubt on of the best content marketing tools you can have in your arsenal.
2. GetResponse

GetResponse started out as an email marketing provider, but is now evolving into an all in one marketing automation platform. You can use it to create a sales funnel and landing pages among other uses.
With as low as $15 monthly you can build unlimited landing pages in the basic plan. The basic plan also enables you create one sales funnel.
The Plus plan which costs $49 adds up to five sales funnels with the ability to host a webinar of up to 100 attendees.
3. Hubspot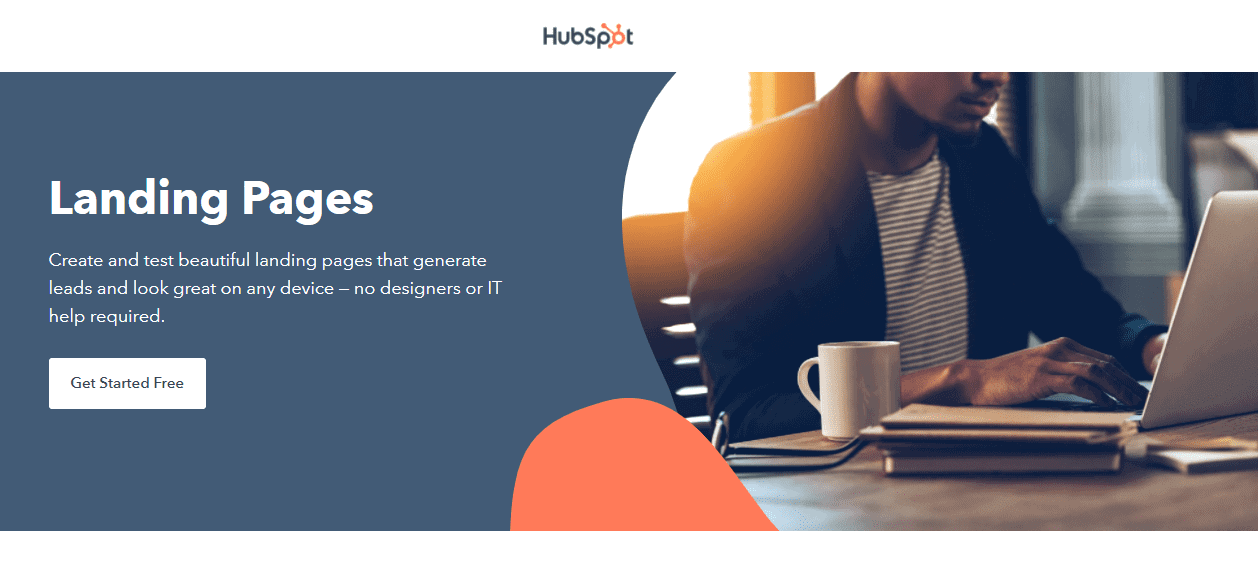 This is a great tool for creating and testing landing pages. Hubspot is an all in one marketing automation solution, so it should not come as a surprise that it has a landing page builder baked in.
It is an easy to use solution. Just choose one of many beautiful templates, make a few changes and you are good to go. The templates are mobile optimized ensuring your message gets the widest reach with everything going mobile.
With A / B testing you can test each element of your landing page to see which combinations gets you the best results. Learn More.
4. ClickFunnels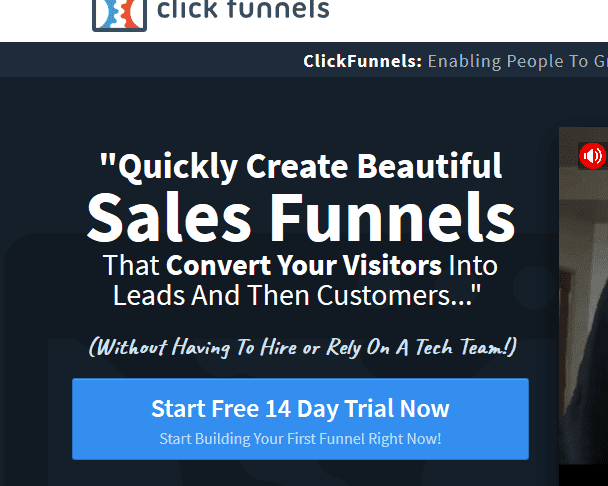 As the name implies, ClickFunnels is an all in one solution for building sales funnels. It is one of the most popular tools in this space with a lot of marketing gurus using it. While not as sophisticated as a number of its competitors, the landing page builder provided in ClickFunnel provides an easy to use solution for generating leads.
The founder, Rusell Brandson, is one of the great content marketer with amazing results and has been able to position ClickFunnels as the go to sales funnels solution for lead generation.
He organises training programs like the DotCom Secrets Summit and this 30 day summit, where he teaches entrepreneurs how to use sales funnels to build their business. If you are into coaching, you may be interested in the Perfect Webinar Secrets, which shows you how to create Webinar that sells. He also has a book Traffic Secrets which teaches you how to use sales funnels to build quality traffic to your website.
ClickFunnels starts at $97 per month.
5. Unbounce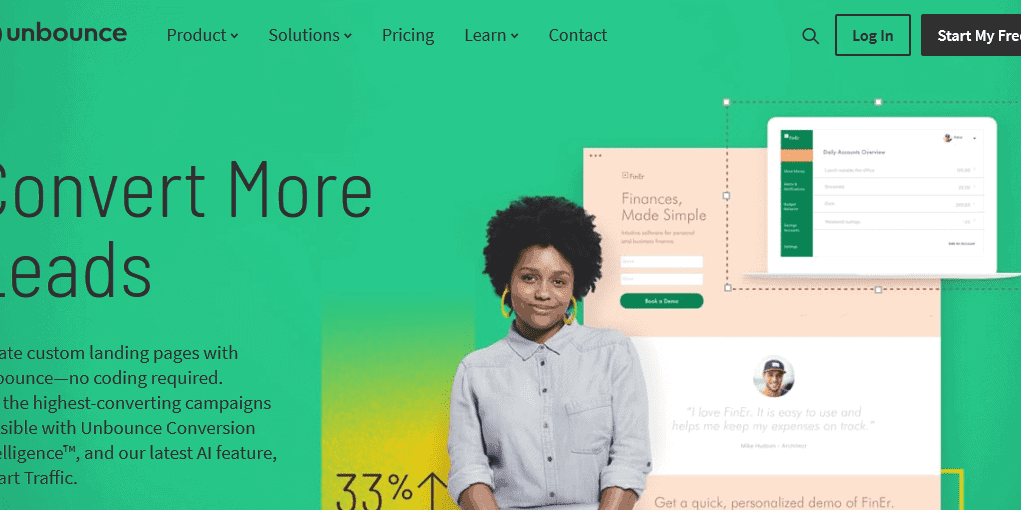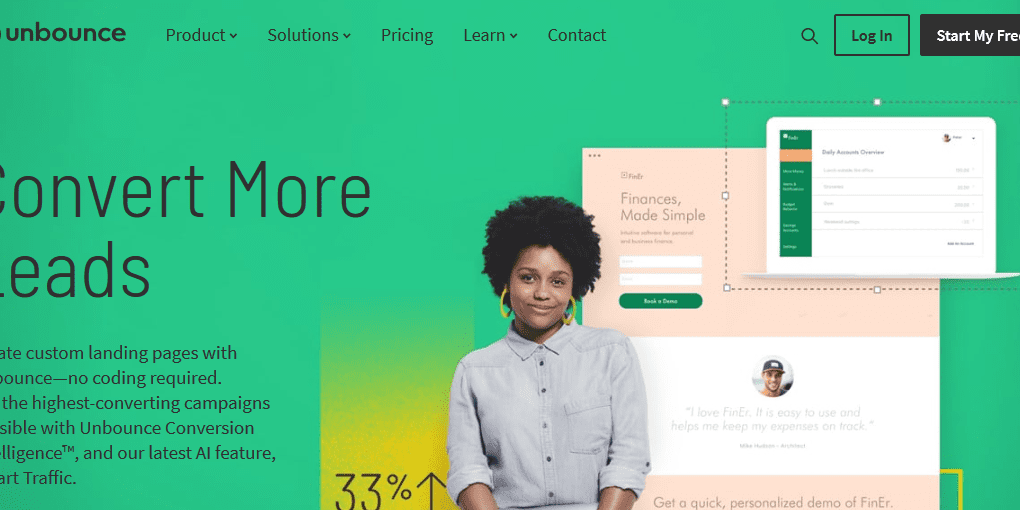 Unbounce is one of the landing page builders that is known for its easy characteristics.
The idea behind their existence is to help users to rapidly make a decision that is related to the action on the page.
Such actions include the special text-exchanger which allows SEM campaigns targeted on visitors' conversion.
As the name connotes Unbounce, the tool ensures that visitors don't have to bounce out by assuring easy and quick advance options that convert.
Besides that, Unbounce has close-to unlimited integrations to the top email programs and CRM platforms on the market.
Notably, Unbounce due to its unique ways of functioning has earned the trust of above 15000 customers and brands which includes New Balance, New York Times, and Vimeo.
The ugly face of using Unbounce is that it requires more learning curve than some of its kind.
Also, some of its packages can be expensive especially if you are considering enterprise-grade features.
However, as a beginner, you might just be settling for it because of its free trial mode but the full version requires payment.
6. Landingi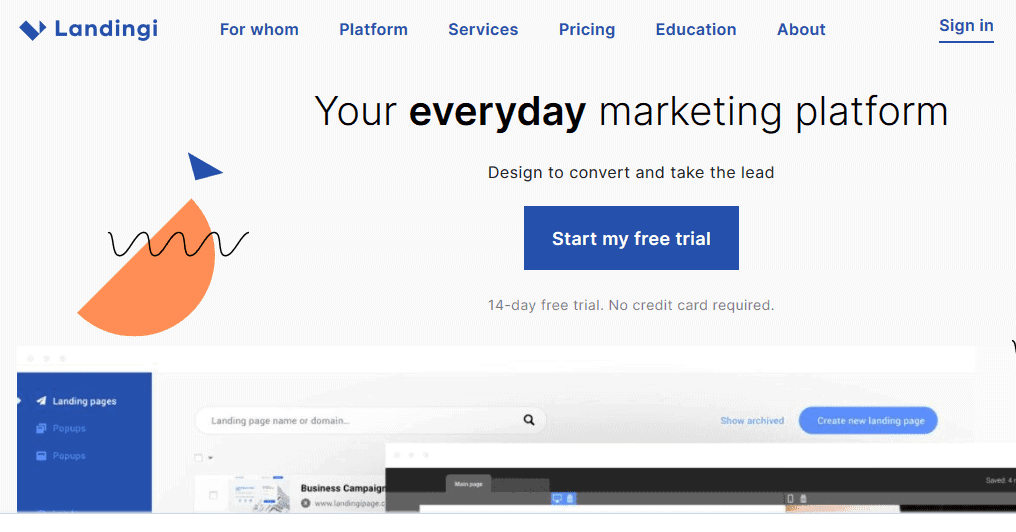 Just like Unbounce, landingl is another top landing page building tool with several features.
With its easy to use a feature, landingl is ranked as one of the easiest tools which can be used even by an amateur.
Asides that, landingl permits you to automate processes that are difficult and time-wasting.
It's one of the reasons why over 4000 companies including PayPal, Sony music, and CallPage, use landingl to control their landing page.
Notably, landingl has a feature that you are just searching for, which is the wonderful templates and large icon library.
Apparently, this permits you to customize your landing page to nearly any business, which makes it a huge plus to you.
7. Lander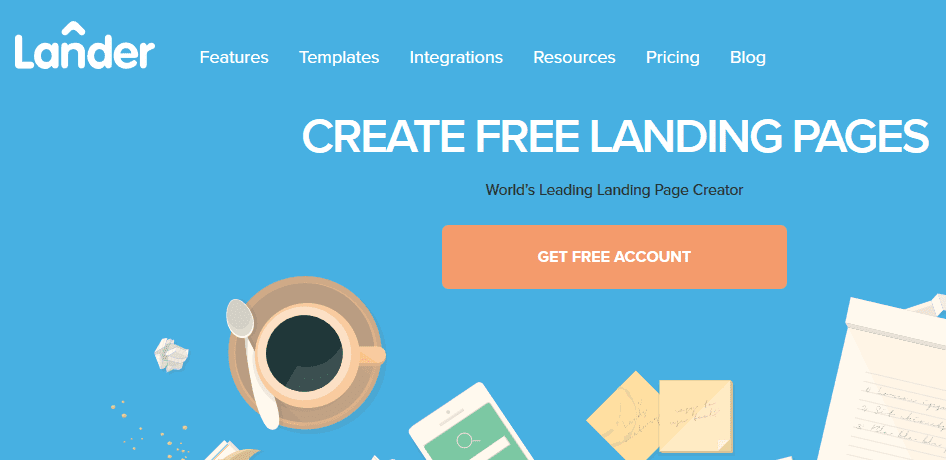 Lander is a powerful tool that can integrate, automate, and nurture almost any steps on conversion.
Not only is it less in price, but Lander with its drag-and-drop creation tool makes it the perfect match for any unskilled users.
The upside about the use of lander is its capabilities of revealing examples of exact and live landing pages that are converting at high rates.
Also, lander might just be the best icing on your cake for a small scale business that's considering using a landing page.
To wrap it up, you can rest assured of getting a 14-days free test before your credit card info is needed.
8. Instapage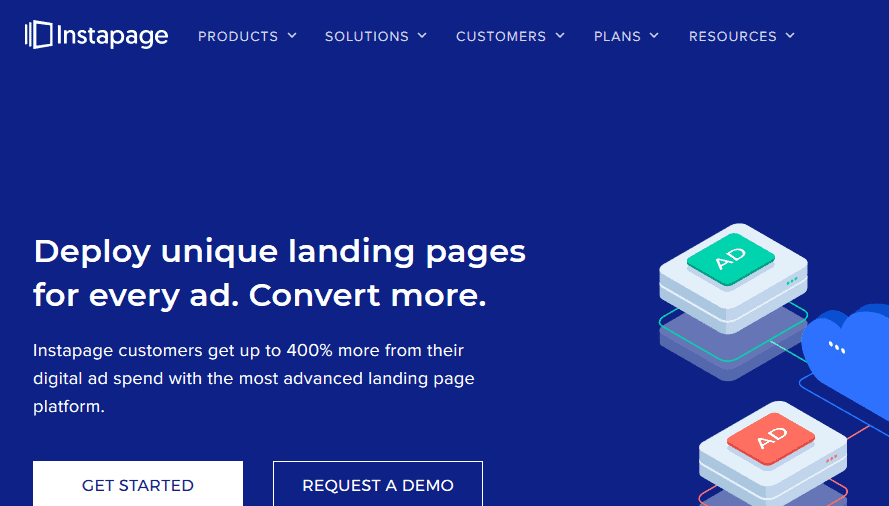 This is a landing page that acts as its name implies, you can start-up a landing page instantly.
Instapage comes in a neat design which is their strong point in the website builder world.
Needful to stress that with its over 200 customizable templates you can create an instant landing page by integrating with third-party ads like Facebook ads, Google ads, and more.
On top of this, InstaPage comes with an in-built A/B testing tool which assists you to monitor your performance to know the one that works best for you.
Finally, InstaPage is limitless to use. Businesses at different levels can use it, from solo-entrepreneurs, agencies, and enterprises.
9. Wishpond
Wishpond as the name goes has a special approach of two options to their users- do it yourself or done-for-you.
The latter plan provides you with a team of experts in areas like designers, copywriters and more to get your back.
It has an impressive feature that permits you to integrate with over 300 services through custom field form to enable get important messages from your visitors.
The downside of WishPond is that it is limited to a certain number of leads on their lowest-tier plan.
However, WishPond allows you to launch different landing pages that are mobile responsive.
Conclusion
Obviously, overlooking the use of a landing page for your online business is like a car without a garage.
However, creating one can be boring, and having one can be exciting because the tool takes your business to its highest peak.
You don't have to be bothered about its creation, choosing from the collections above will help you get the best.
Hereby increasing your converts and revenue through just a single click.
Now it's over to you.
Which of the landing page builders have you used before?
Which one are you going for first?
I would love to hear from you through the comment box.
Related Topics
Paschal Okafor
is
NaijaTechGuide Team Lead
. The article
What is a Landing Page and How to Create One
was written by . The article was last modified:
July 22nd, 2021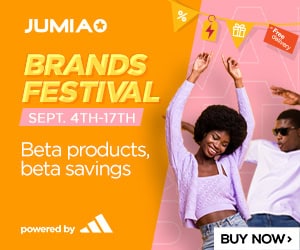 NaijaTechGuide may receive financial compensation for products/services purchased through affiliate links on this site. See
full Affiliate Disclosure Here