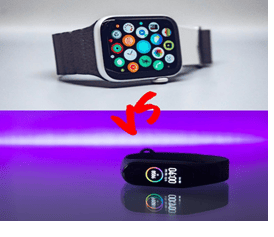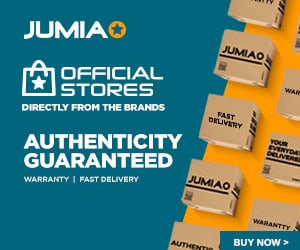 Whenever a person decides to buy a wearable technology two conflicting devices come to mind; a smartwatch and a fitness tracker.
It can be a head-scratcher at times to tell them apart, because of their somewhat similar features. And with so many options out there you will have to be discreet to avoid purchasing a smartwatch or fitness tracker that blows hot and cold.
It gets even worse with smartwatches like the Apple Watch being revered as the best fitness tracking device and fitness trackers adopting smart features like interacting with phone notifications.
This is why we are here to clear the air, so whether you're a tech geek, fitness buff, or just looking for ways to stay organized and healthy, this post is for you.
Let's get started!
What is a Smartwatch?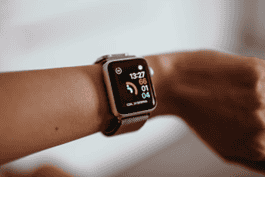 Let's simply put it this way, smartwatches are devices that integrate advanced computing abilities, wireless connectivity, and health monitoring features into a compact and sleek wrist watch design.
It's almost like having a mini smartphone strapped to your wrist with an interactive screen to work with. You can even put away your phone while going for a jog rest-assured you wouldn't miss a call or notification.
It has numerous smart features like sending smart texts, using apps, checking notifications, phone calls, voice assistant, cellular connectivity, GPS, NFC payment, etc. Here's where things get tricky, most smartwatches these days are equipped with advanced fitness tracking abilities like sleep tracking, heart rate sensors, workout modes, etc.
The bridge between smartwatches and fitness trackers is getting blurred as both devices are adopting individual qualities in the quest to stay relevant in the wearable tech industry.
It's more like a one size fits all kind of device though it might not have some specific fitness tracking features like special exercises and ECG.
What is a Fitness Tracker?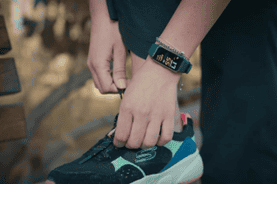 As the name suggests, fitness trackers are built with sensors to monitor your activities and help you stay fit and healthy. They can keep tabs on a whole lot of stuff like step count, heart rate, calories burned, body temperature, blood oxygen, and specific exercises like swimming, cycling, and yoga.
However, some newer models of fitness trackers of brands like Garmin and Fitbit have integrated some digital features like interacting with smartphone notifications and GPS.
You don't have to look far anymore to find hybrid fitness trackers geared toward fitness enthusiasts who want to stay connected.
Smartwatch vs Fitness Tracker: Display and Design-build
A smartwatch looks like a regular watch but has a big LCD or AMOLED display enclosed by gilt-edged bezels. It can have a square or circular design with a stylish touch to it.
The brightly colored display gives enough room to swipe around apps and tap on icons. Although replying to texts or social media chats on a smartwatch might be frustrating due to the screen size. It has a watch strap that can be made up of leather, ceramic, or steel which can add up to the price tag.
Though it can feel a little heavy any fashionable person who wants to stay connected and informed will rave at the sight of a smartwatch.
Fitness trackers on the other hand have smaller displays that can be used to keep track of your fitness goals.
It's light, slim, and comfortable to wear, with rubber straps which are just what you need for underwater sports. Fitness trackers as well as smartwatches have detachable straps which can be attached to suit every occasion.
Fitness trackers are an ideal fitness wearable for anyone looking to stay healthy, keep fit and play music on their smartphone on the go. Both wearable devices have certain levels of water resistance and are best suitable for shallow waters like swimming pools but this feature diminishes over time.
Smartwatch vs Fitness Tracker: Battery Capacity
In terms of battery life, Smartwatches barely last a day and requires regular charging. The multi-functionality of smartwatches doesn't suggest that they will endure a hectic day's use.
This is because of the diverse features like cellular connectivity, bright displays, plus a more power-hungry processor. You would have to put it away regularly to charge it which may feel awkward sometimes because you always want to have it on.
This is in stark contrast to fitness trackers which could last for days, even a week on a single charge. This means you don't have to charge regularly and still have your fitness wearable strapped around your wrist all day long even while sleeping.
Since fitness trackers have less power-consuming features they can be used to track your activities constantly.
Smartwatch vs Fitness Trackers: Price
The price of a premium smartwatch like the Apple watches series 8 and Galaxy watch 5 Pro can be a deal breaker. Smartwatches with advanced fitness tracking features are pricier than regular smartwatches with average specs.
This is not so with fitness trackers which costs a fraction of most smartwatches. They are a more affordable wearable device and some fitness trackers from industry names like Garmin and Fitbit come with smart features.
This is one part where fitness trackers outshine smartwatches. Why spend on some high-end smartwatch when you can get a premium fitness band for a bargain price?
Although, the price of smartwatches wouldn't sway you if you're all in on having a mini computer tied to your wrist.
Smartwatch vs Fitness Tracker : Features
As expected, the features column tends to show a clear divide in the functionality of each wearable technology. Smartwatches either run on Wear OS or Watch OS which is for Android and Apple devices respectively.
This helps you to seamlessly connect with your phone and creatively play around with features you would otherwise find in a smartphone.
So you never get to miss an email, call, or text while getting absorbed in big displays all day. It adds a lot of tech oomph to your personality because you're able to make contactless payments (NFC), and stream your favorite albums all without your phone in hand.
In short, smartwatches are packed with a lot of juice including fitness tracking which may not be so reliable for a holistic fitness buff. Who wants to steer clear of distractions and be down-to-earth on hitting fitness goals?
On the other hand, fitness trackers are tailored to help individuals to track a wide range of activities from step count to water intake. It goes without saying that health is wealth so any well-meaning individual will bank on fitness trackers to do just that.
Additionally, it allows you to view your progress report, fitness statistics, and every milestone reached on a companion app on your mobile phone. You are the coach here, and get to choose which workout mode you wish to engage in.
One positive is that fitness trackers are made of lightweight materials and you wouldn't feel a thing while pumping out those muscles or running on the treadmill.
Although some fitness brands have borrowed some smartwatch specs it still can't do much outside of interacting with smartphone notifications.
Smartwatch vs Fitness Trackers: Accuracy
In terms of accuracy, neither wearable device is more efficient in its department. Smartwatches bring to light smartphone abilities on a wristwatch and fitness trackers take records of health and fitness metrics. The accuracy will be solely dependent on the quality of the wearable device and what purpose or set of persons it's meant for.
A Garmin Forerunner 955 Solar will no doubt have more accuracy in tracking your strides while running than a premium smartwatch like Apple Watch Ultra.
Some scientific studies have shown that fitness trackers and smartwatches are not all that accurate in terms of health care tracking like calories burned, heart rate monitoring, blood oxygen, etc. They may differ from the actual value by some sizeable amount, of course, they can't be as accurate as medical equipment.
But they will help you smell the smoke in the burning house and take prompt action by visiting your local health center when the readings are off the charts
Which is Better: A Smartwatch or a Fitness Tracker?
There's no right answer to this question. But let's, first of all, look at some factors to take as a reference point.
Why you Should Choose a Smartwatch?
There are several reasons you might want to go for a smartwatch, so let's look at the pros and cons, to help you decide.
Pros
Multi-functional wearable device
Stylish design
Fitness tracking and health monitoring abilities.
It has a cellular connection for interacting with apps, streaming music, and NFC
Cons
It requires a daily charge
It can be bulky to put on while doing workouts
A pricey wearable technology
Verdict
Smartwatches are cut out for fashionable tech enthusiasts who want to have a futuristic look, stay connected, and keep fit. If you want to be absorbed in the sleek display on a smartwatch while swiping through apps and notifications without having to take your phone out all the time. Then this may be your best pick.
This will bode well for you if you are also health-conscious but can't trade the advanced smartwatch specs for a fitness wearable.
Here are a select few smartwatches you can purchase that will give you good value for money: Apple watch series 8, Samsung Galaxy Watch 5, Apple Watch SE, and Google Pixel Watch.
Why you Should Choose a Fitness Tracker?
Here are some pros and cons of choosing fitness trackers to help you to pick the wearable device that suits your style.
Pros
Long Lasting battery
Affordable wearable device
Comfortable to wear all day long
Cons
It may not be versatile
Hybrid fitness trackers can be expensive
Healthcare reading may be slightly wrong
Verdict
Fitness trackers are for anyone under the bracket of athletes, fitness enthusiasts, and any regular Joe who wants to stay fit and healthy. They are not usually eye-catchy but will help to keep you on your feet to go over that course one more time, pat you on the back when you hit milestones, and help you stay healthy.
In case you're all pumped up to get a fitness tracker you can have look at some of the best in the market: Fitbit Charge 5, Garmin Vivomove Sport, Fitbit Inspire 3, and Amazfit band 7.
Conclusion
Now let's tie the loose ends, shall we?
If you've made it to this point then I believe you've been well-informed on which wearable technology will suit your needs.
At times sticking to your guts and trying out either a smartwatch or fitness tracker will help you figure out if this is something that you really need or just something to accessorize.
Plus, you also have to be picky when choosing a wearable device, go for established brands like Samsung Galaxy and Fitbit. This is because there are some underpriced devices that either overstate or understate facts, which could add up to your problem instead of resolving it.
Felix Bio
Felix is a seasoned tech content writer who helps tech businesses break into new markets and reach a wider audience with high-quality writing solutions that generate leads and converts.
I am a freelance writer for hire and you can check out my writing portfolio and connect with me via my social media handles: LinkedIn and Twitter.
Paschal Okafor
is
NaijaTechGuide Team Lead
. The article
Smartwatch vs Fitness Trackers (Which is Better for you?)
was written by . The article was last modified:
March 26th, 2023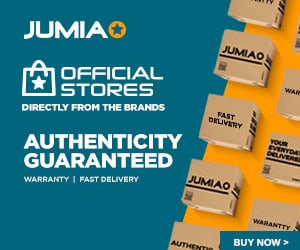 NaijaTechGuide may receive financial compensation for products/services purchased through affiliate links on this site. See
full Affiliate Disclosure Here