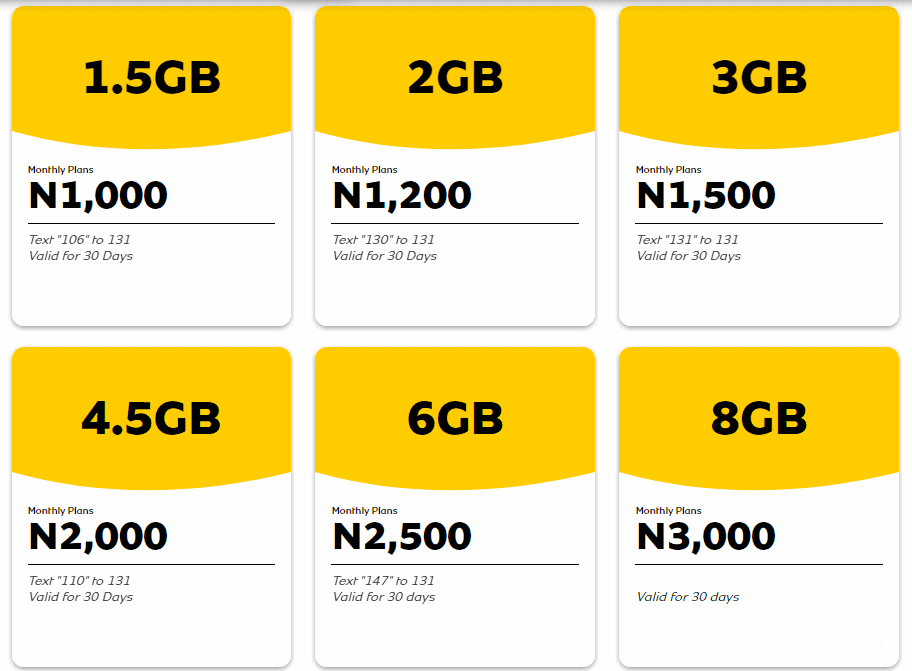 MTN have once again revamped its 1,000 Naira data plan. Now for 1000 NGN MTN offers 24/7 30-day 1.5GB internet browsing data bundle, joining the likes of Airtel, Etisalat, and Glo to offer affordable 24/7 internet access. However, Glo mobile offers the most generous, N1,000 monthly internet browsing bundle. This data plan began life a long time ago with 100MB data allowance, then going to 200MB, and 260MB, before this big increase to 1.5GB.
MTN also has a weekly internet browsing bundle (limited to 750MB) going for N500 and a daily internet browsing plan (limited to 30MB) going for N100. MTN has 24/7 internet browsing bundle priced at N5,000 with 10GB browsing limit. There is also a 3.5GB browsing bundle priced at 2,000 Naira. MTN pay as you go browsing is 5kobo/kb.
Latest MTN Internet Browsing bundle and access codes
Here are MTN Data Plans with their cost and access codes.
---
Get Loans up to ₦5,000,000
Compare Loan Offers, Apply Here
Apply for a Loan in Minutes
---
| Data Plan | Data Limit | Duration | Price | Subscription Code |
| --- | --- | --- | --- | --- |
| MTN Cheap Browsing for Mobile | 1.5GB | 30 Days | 1000 Naira | Text 106 to 131 |
| MTN 3.5GB Mobile Data Plan | 4.5GB | 30 Days | 2000 Naira | Text 110 to 131 |
| 10GB MTN Browsing Bundle | 15GB | 30 Days | 5000 Naira | Text 116 to 131 |
| 22GB MTN Browsing Bundle | 40GB | 30 Days | 10,000 Naira | Text 117 to 131 |
| MTN Daily Mobile Browsing | 30MB | 1 Day | 100 Naira | Text 104 to 131 |
| MTN Weekly Browsing Plan | 750MB | 7 Days | 500 Naira | Text 103 to 131 |
| MTN Daily browsing Plan | 100MB | 1 Day | 200 Naira | Text 113 to 131 |
To check your MTN browsing data balance, SMS 2 to 131.
Getting MTN 1.5GB Internet
The first step is to ensure you have the appropriate MTN internet setting loaded on your mobile phone or modem. To get MTN internet/GPRS settings, text Settings to 3888.
An SMS containing your MTN internet browsing settings will be sent to your mobile phone or modem. Save this setting. Load your mobile phone with at least N1,000.
To activate the new MTN N1,000 1.5GB internet browsing bundle, text 106 to 131. Text 2 to 131 to check your data usage.
Who needs MTN 1.5GB Internet Plan
The MTN 1.5GB internet browsing plan is targeted at users browsing with mobile phones. Hence, MTN has put it in its mobile internet data plan.
Note the MTN 1.5GB internet browsing plan can be used with internet modems for browsing on a computer, but its limited data limit makes it mostly suited to browsing directly on mobile phones.
MTN 1.5GBB internet browsing plan is not for users who do lots of downloads and uploads. Remember that once you use up your 1.5GB internet access allocation, even if it is just 3 hours after you activated, your internet access will be deactivated. So, if your monthly data need is high, go for another internet browsing bundle.
MTN 1.5GB Browsing Plan is suitable for user browsing with feature phones or smartphones with Opera Mini Browser or some other cloud based data compression browser like the UC Browser.
MTN Related Topics:
NaijaTechGuide may receive financial compensation for products/services purchased through affiliate links on this site. See
full Affiliate Disclosure Here