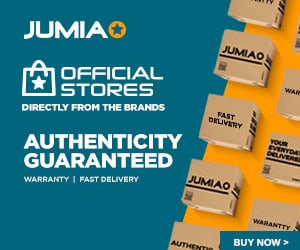 The long awaited cloud biased laptops from Google, Google Chromebooks have finally gone on sale in the United States. Google Chromebooks are now available for pre-order at Amazon and Bestbuy in the United States and starts shipping from June 15, 2011. Google Chromebooks are laptops running Google Chrome OS built for a new computing philosophy called cloud computing where your software and data reside securely on the cloud (web) instead of in local storage.
Where to Buy Laptops
Jumia.com.ngfrom ₦18,495.00 View Offers
Konga.comfrom ₦44,900.00 View Offers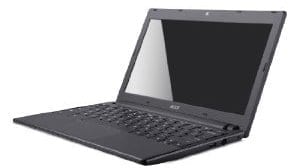 The first set of Google Chromebooks will be coming from Samsung and Acer. Acer and Samsung Chrome OS laptops are called Cromia and Series 5 respectively. The new Google Chromebooks will be available in Wi-Fi only models and 3G + Wi-Fi combo models.
Google Chromebooks are designed for people who spend most of their time on the web. They are designed to get you on the web as quickly as possible. Google Chromebooks take just about 8 seconds to boot. They are designed to run web apps as against traditional laptops that run local applications resident on their hard drives.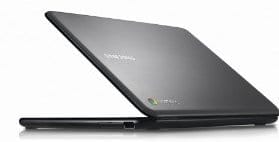 Hardware
Current set of Google Chromebooks are coming from Acer and Samsung. Acer Chromebooks are cheaper and are a bit lighter than Samsung models. While Samsung offers 12.1-inch LED displays on their current Google Chromebooks, Acer Chromebooks spot 11.6-inch LED displays. They all feature 1.66GHz dual-core Atom processors.
Google Chromebooks feature 2GB DDR RAM. They have no hard-drives, but come with 16GB of solid state storage with provision for memory cards as well as USB ports. Internet is important for the Chromebook. So, it comes with Wi-Fi only or at a higher price 3G plus Wi-Fi.
Samsung Series 5 Chromebooks post 8.5 hours of continuous usage, better than the 6 hours posted by Google Chromebooks from Acer. They feature full-sized Chrome keyboards with some new keys for search and the web in general. The trackpad on Google Chromebooks appears larger than found in traditional laptops.
First to Run the Chrome OS
These new Google Chromebooks will be the first commercially available laptops to run the much talked about Google Chrome operating system that promises to change the way we think of and use the computer. An operating system that proposes a new order for computing where our documents and apps are safely stored in the cloud accessible from anywhere from any device via the internet.
Google Chrome OS is a linux based operating system designed primarily to run web applications. It also shares a lot with the Chrome browser and will seem just like a Chrome browser running on a Linux kernel. However the Google Chrome OS is a full-fledged OS, it is just following a new computing philosophy.
The Google Chrome OS is designed to get you to the web fast. It boots in just about 8 seconds and wakes from sleep instantly. Although Google Chrome OS is designed to run online, it can also be used offline if the application supports it. For example, it can store music locally and play them with a built-in music player with no internet connection. The Chrome OS is designed from the ground up to defend against threats of malware and viruses.
According to Google "They employ the principle of defense in depth to provide multiple layers of protection, including sandboxing, data encryption, and verified boot. Websites load quickly and smoothly and all your apps, documents, and settings are stored safely in the cloud."
Cloud computing in action
Google Chromebooks require web access. Your application and data resides on secure servers connected to the cloud. Your word processor, spreadsheet, photo editor, games, etc will all reside on secure server clouds and accessible via the internet. However, because the Chrome OS supports HTML5, apps with HTML5 support may still work without internet connection. Apps can be installed for Google Chromebooks at the Chrome Web Store.
Installation takes a few seconds and mostly creates a shortcut to the web app on the server. Each time you click the shortcut button to the app, it loads the latest version of the app from the server, saving you from the burden of upgrading your applications. Even the Chrome OS will automatically update itself, so you do not have to worry about which version you are running.
Because you apps, document, and settings are stored safely on servers, they are accessible anytime from different devices. All you need is to login on the new device. If you lose your Google Chromebook you can easily access your apps, documents, and settings from another Chromebook. You can even use a friend's Google Chromebook to access your apps and documents.
Price and Availability
Google Chromebooks are currently available in the United States from Amazon and Bestbuy. Prices currently range from $379.99 (N58,000) to $499.99 (N76,000). Google has also announced a monthly payment plan for education and business users. In this monthly plan education users will pay $20 (N3,100) per month while business users pay $28 (N4,300) per month for a three-year contract, including replacements and upgrades.
Prices of current Google Chromebooks (without contract)
Acer Cromia Chromebook (Wi-Fi) – $379.99
Samsung Series 5 Wi-Fi Chromebooks – 429.99
Acer Cromia Chromebooks (3G) – $449.99
Samsung Series 5 3G Chromebooks – 499.99
More on Google Offers
Related Topics
Paschal Okafor
is
NaijaTechGuide Team Lead
. The article
Google Chromebooks Notebooks for the Cloud
was written by . The article was last modified:
May 23rd, 2016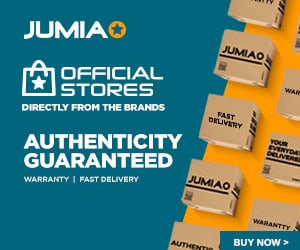 NaijaTechGuide may receive financial compensation for products/services purchased through affiliate links on this site. See
full Affiliate Disclosure Here