Google Nexus 7 is a low cost Android tablet from Google. However, its pocket friendly price should not be seen as a compromise on performance. Despite its low cost, the Google Nexus 7 tablet packs power and performance that rivals a lot of highend tablets of today. This Android tablet comes with a lot of value that you just can't afford not buying one. In fact, the Google Nexus 7 Tablet is one of the most compelling tablet to date.
Where to Buy Tablets
Jumia.com.ngfrom ₦10,495.00 View Offer
Konga.com₦18,000.00 View Offer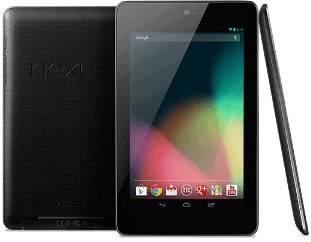 The build of the Nexus 7 is good and does not look cheap. Inside, it is the ultimate low cost tablet for media consumption, apps, and gaming.
---
Tell your Brand's Story on NaijaTechGuide
See why you need your story on NTG, Click Here
Nigeria's Number 1 Tech Blog
---
Low cost, but Powerful Tablet
Although the Google Nexus 7 is low cost, it offers impressive performance. This is a great value for money tablet offering premium performance at an affordable price, no wonder it has been well received by consumers so far.
Google Nexus 7 tablet runs Android 4.1 OS (Jelly Bean), the latest iteration of the Android operating system. It is powered by a 1.3GHz quad-core processor with 1GB RAM, offering brilliant performance and fast response. Google Nexus 7 is a highly capable tablet for media consumption, gaming, and internet browsing.
Display and Camera
The Google Nexus 7 tablet comes with a brilliant 7-inch IPS back-lit display with scratch resistant Corning glass. The display is HD capable with a resolution of 1280 x 800 pixels, for a low cost tablet, this is quite impressive. The tablet also offers a front facing 1.3 megapixels camera.
Network, Data, Internet browsing, Connectivity
One area that the Google Nexus 7 is found wanting is in data. The tablet features just Wi-Fi, with no 3G/4G support, which is quite a big miss, especially if this tablet will sell in Nigeria or even globally. However, there are indications that Google and its partner Asus are planning offering a 3G model. Adding 3G to this tablet will make it one of the best value tablet ever made.
Pricing and availability
Google Nexus 7 is available in the United States and Europe. It is not likely to come to Nigeria at-least until the 3G models become available. In the United States the 8GB model costs $199 (N31,500), while the price of Google Nexus 16GB tablet is $249 (N40,000).
Google Nexus 7 Tablet Specs
Android 4.1 OS (Jelly Bean)
Tegra 3 1.3GHz Quad-Core Processor
1GB RAM DDR3
Built Storage: 8GB or 16GB
Google Services
Google Play
Gyroscope, Digital compass, 3D Accelerometer
Colours: black
WiFi 802.11 b/g/n
Bluetooth
3.5mm audio jack
NFC
Android Beam
GPS Navigation
Battery capacity: 4325 mAh
Standby: 300 hours
Web Browsing & e-reading: 10 hours
HD Video: 9 hours
Full Specs: Google Nexus 7
Article about Google