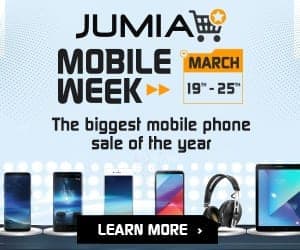 MTN Mobile Electricity is a partnership between MTN, Nigeria's largest Mobile Network, Lumos, maker of PayGo off-grid Solar Home Systems, and the Overseas Private Investment Corporation (OPIC) to deliver safe, reliable and affordable power to millions of households and businesses in Nigeria.
In January, 2017 the Federal Government of Nigeria partnered with Azuri Technologies to launch Azuri Quad, a PayGo off-grid solar home system aimed at providing power to off-grid communities across the country. Now MTN is following with an even more practical option with the ability to power AC load like your electric fan, TV, and laptops.
MTN Mobile Electricity is targeted at everyone whether you are in an off-grid community or not.
In case you are wondering the differences/similarities between the Azuri and Lumos system, checkout our Azuri Quad vs Lumos Smart Solar System article. Now lets continue with MTN Mobile Electricity.
The Hardware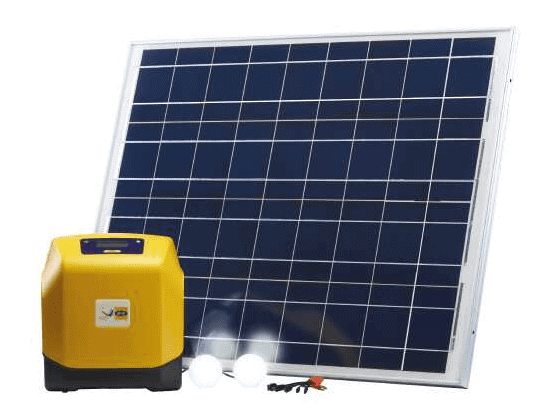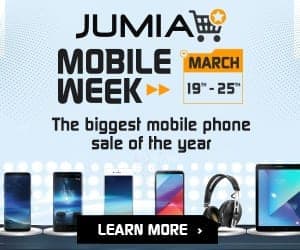 The MTN Mobile Electricity kit consists of a few components, namely:
80W Solar Panel unit with Cables
300Wh Lumos Solar Home System In-door Unit
USB Mobile Phone Charger
2 x LED Energy Efficient Bulbs
DC to AC converter
Easy Self-Installation Mounting Kit
You will have to pay a commitment fee of 26,000 Naira to sign-up for the program.
How MTN Mobile Electricity works
The 80W solar panel is mounted on the roof or on a pole outside to collect solar energy from the Sun and charge the built-in battery in the Lumos in-door unit. It takes about 6-hours of sunlight to fully charge the built-in battery. Once fully charged, the system can supply several hours of electricity with length of supply dependent on the amount of load.
However, MTN Mobile Electricity is Pay as you Go. The Lumos Solar Home system is locked until you pay to access the electricity stored in the built-in battery. The indoor unit is connected to the MTN network and gives you access to the stored energy only if you have paid.
There are a couple of plans to choose from
MTN Mobile Electricity Payment Plans & Activation codes
| Plan | Price | Activation Code |
| --- | --- | --- |
| 5 Days | 1000 Naira (200 NGN per Day) | SMS 5 to 317 |
| 10 Days | 1800 Naira (180 NGN per Day) | SMS 10 to 317 |
| 30 Days | 4500 Naira (150 NGN per Day) | Text 30 to 317 |
| 90 Days | 12,600 NGN (140 NGN per Day) | SMS 90 to 317 |
| 180 Days | ₦23,400 (130 NGN per Day) | Text 180 to 317 |
| 365 Days | ₦46,720 (128 NGN per Day) | SMS 365 to 317 |
You load enough credit to pay for your chosen plan, then send the applicable text message from your MTN line to activate the plan and buy energy credits. Note that part of the terms and conditions requires you to use the system for at least 20 days in a month or you will lose ownership of the system.
After 1800 paid days, the system unlocks permanently allowing you to enjoy energy without having to pay. This is because the system is given to you on lease and after 1800 paid days you would have fully paid for the system. The MTN Mobile Electricity comes with 5 years warranty, during which Lumos/MTN will take care of maintenance of the system.
The MTN Mobile Electricity indoor unit offers eight DC output ports with varying amount of current, suitable for charging mobile phones or tablets and powering other DC power appliances like LED lights and radios.
MTN Mobile Electricity kit also comes with a DC to AC converter, which converts DC output to AC, enabling you power AC appliances like your electric fan, laptops, and TV. However, the converter can only supply 60W max, so the TV has to be small.
Who is the MTN Mobile Electricity for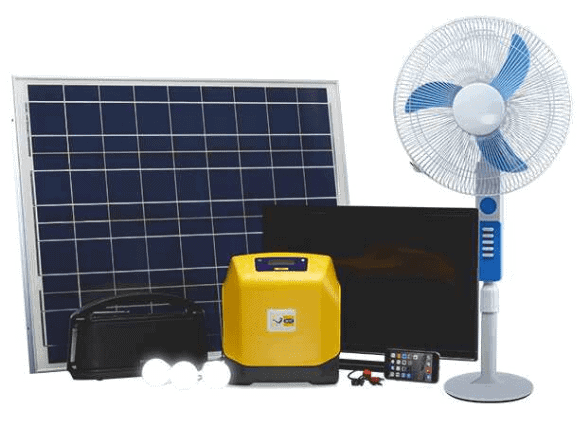 MTN Mobile Electricity is for household and businesses in off-grid communities and for households and businesses connected to the grid, but looking for safe, reliable and affordable backup for when grid electricity fails.
It is a more practical system than the Solar Home System offered by Azuri. Its 80W solar panel gives it more capacity than the 10W solar panel offered by the Azuri Quad. This also makes it possible for the addition of a DC to AC converter that enables you connect devices like a fan, small TV, or laptop in addition to normal DC devices like the LED bulb, radio, and mobile phone/tablet charging.
However, understandably the MTN Mobile Electricity is more expensive than the Azuri system. This means that the MTN Mobile Electricity is likely to be more popular with people in urban and semi-urban communities. They are likely to use it as a replacement or backup for their generators.
MTN Mobile Electricity is great for businesses that require energy just for lighting, fans, and/laptops laptops. That said, the MTN Mobile Electricity is still not an alternative to buying an inverter. Like we said earlier, the DC to AC converter can manage a maximum of 60W. This means if your energy needs exceed this, the Lumos system will not be able to satisfy your needs.
More Power Related Topics
Paschal Okafor
is
NaijaTechGuide Team Lead
. The article
MTN Mobile Electricity with Lumos Solar Home System
was written by . The article was last modified:
March 10th, 2017