Google has officially stated, "Provide high-quality content. This is the single most important thing to do." And it stands true for all forms of content on the internet, be it text, video or anything else. Search engines are evolving to filter out quality content from the pile and deliver rich results to users.
When it comes to videos, the ones with good content eventually surface above the average baseline content. So, even before you begin optimization for search engines, first ensure that your content is top-notch.
The quality aspect can be handled during the video production process, and once your video is ready, mark this SEO optimisation checklist to give that extra nudge to the search engine to make your video even more discoverable.
1. Distribution Platforms, Checked
Every video is and should be, produced with a distribution strategy in mind. Depending on where you would be uploading your video to and for what purpose (is it just for engagement, awareness or for product sales/conversion), your video content, length and style can all change accordingly.
So decide in advance which platform(s) you are looking to upload your video to. A tip here is to analyse your target audience, and the platform they majorly hang out at. Once the video is ready, you can then use paid ad tools to reach a large number of the target audience in these said platforms at a small cost.
Top distribution platforms today include YouTube, Facebook, and Instagram. But do also include Vimeo, LinkedIn, Twitter and, of course, your own website in the distribution list.
Recommended approach?
Create a new landing page exclusively for your video content and do PPC campaigns to generate traffic and juicy conversion opportunities.
Bonus? Pages with video content have got over 50x more chance to rank on the first page of Google SERP. And, of course, websites with multiple landing pages have got the power in number to enhance your site rankings.
2. Metadata for First Impression, Checked
YouTube and Google both can't decipher videos as of yet (though we have heard of Google testing out its Video Intelligence API, which might change video SEO in a big way on the next algorithm rollout).
For now, search engines largely rely on keywords to show relevant videos by matching the user's search query with the video meta description.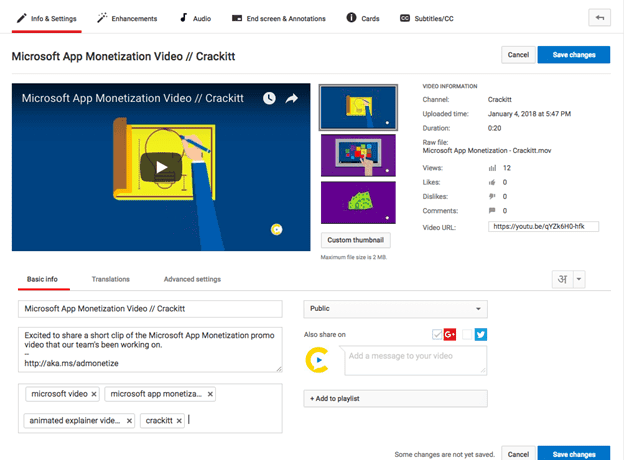 To ensure that your videos can be understood by search engines, use relevant keywords in your title as well as a description. Your users would be using these keywords to find your video.
Title – A title is the most important aspect of a video which lures a user into watching it. Make sure that you have a catchy SEO optimized title to help your viewers decide whether they want to watch the video.
Thumbnail – Another aspect which triggers a user to click on a video is the thumbnail image. Ensure that your thumbnail is attractive and informative enough for users. In blogging terms, it acts in the same way as a cover for an article.
Description – Put up a well-written, keyword-optimized description for the video. A good description can be used in many ways to engage users as well as rank high in search engines. Since you can also add links to the description, explore options to redirect users to your website or any other page you deem fit.
Tags – They are more like keywords. Use these to label your video categories.
To research which keywords to use, you can now view the most searched keywords concerning YouTube on Google Trends. If you are confused between a few keywords, simply compare them in the tool itself to find which one is performing the best.
At times, your video might also appear on the first page of a search term on Google, owing to your description. However, use the keywords wisely, don't make the description seem unnatural or stuffed as if its sole purpose is SEO.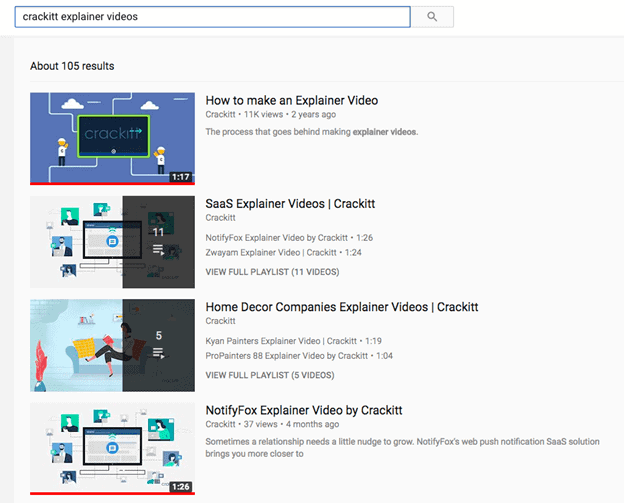 Take a look at how YouTube automatically shows relevant keywords. Use keywords which your target audience is most likely to search but make sure that it relates to the video.
3. Adding Video On Playlists, Checked
Very few brands realize the virtue of a well-created playlist with a good set of videos. It is also worth noticing that when a user executes a YouTube search, many results are playlists.
The best part about having a playlist is that the keywords from all the videos might play a role when a particular keyword is searched.
Also, users can save a playlist, so if it is relevant to them, your videos will be on a user's watchlist just with a single click. This is an excellent way to generate more views for a bunch of your videos that are closely related to each other.
Furthermore, you can assign keyword-rich titles to your playlists. This will ensure that your playlist shows up when someone searches for a similar keyword. Once you have an ample number of videos, try dividing them into playlists for the benefit of users as well as yourself.
The Whiteboard Friday playlist by Moz is widely popular, it has over 250 videos now, and a new video gets added every week. So, every new video that comes out in the playlist is automatically updated for users who've saved it. Check out the 'Whiteboard Friday' playlist by Moz.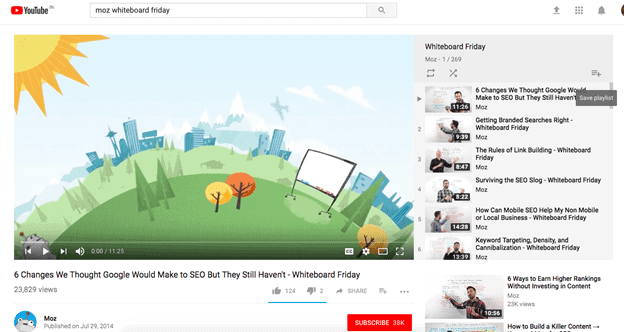 Bonus Tip?
You can always create your own playlist on your own youtube channel. But if your channel doesn't have high subscribers number, try this alternative approach- that is, find playlists which are ranking for the keyword you are targeting and then pitch to the playlist creator to include your video in that playlist.
4. Native Video Upload, Checked
Social media platforms prioritize native videos more than third party links. So instead of putting youtube video links on social media channels, choose native upload.
Take the case of Facebook. Facebook's algorithm favours native video.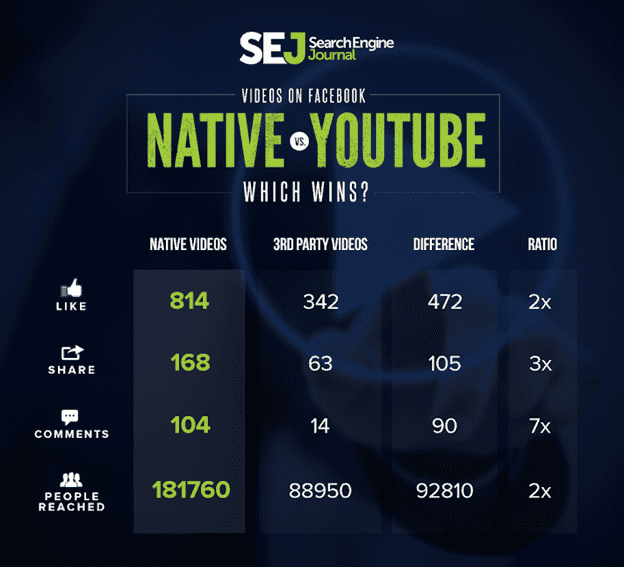 This study shows that native videos receive more shares, likes and comments as compared to third-party videos. In fact, there is a drastic difference in the stats for both. For instance, a native video reached out to twice as much audience as the Youtube video received.
Additionally, you can optimise your video content on social media channels by using the right hashtags and by taking advantage of the trending searches on these platforms.
5. Optimised for Mobile View, Checked
The search engine giant, Google, has shown a visible shift towards "mobile-first index".
In fact, in the latter half of 2017, Google transitioned a handful to sites to mobile-first index which are being monitored.
The mobilegeddon has been here for quite some time now where Google is prioritising websites which have mobile-ready content and demoting the ones which don't.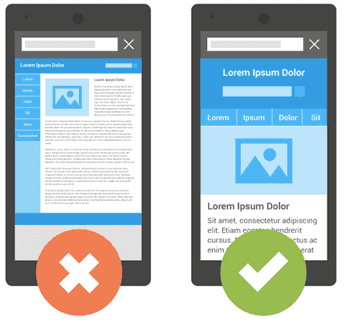 With this shift, it makes sense to make your videos mobile friendly. Because mobile friendliness brings you in good books of the search engines (which greatly impacts your SEO results).
Begin by choosing a video player that is optimised for mobile devices. Go for videos which are shorter in length (on the go mobile users are less likely to stick around for longer ones). Lastly, ensure that the loading time is not high (faster loading enhances user experience).
6. End screen CTA, Checked
Youtube offers you a powerful weapon in the form of an end screen.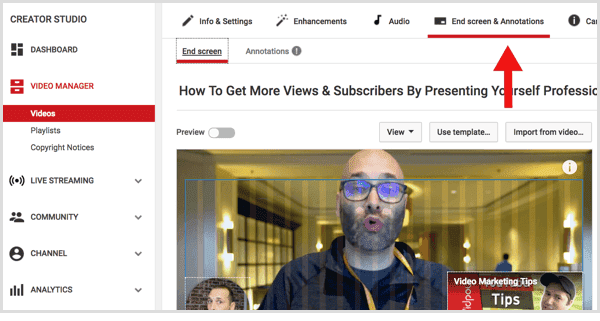 End screens are a part of the video which shows up in the last 5-20 seconds. This space can be used to take your audience to other videos. In fact, it can also be used to promote your website. So instead of goodbye, utilise your end screen to introduce viewers to the next video to watch. This small trick can also increase your video's watch time.
The only thing to note is that your video needs to be at least 25 seconds long to have an end screen.
7. Embedding videos in Blog/Guest Posts, Checked
Because they help in creating backlinks and are also a Youtube ranking factor, embeds can work effectively to help your video rank higher.
Put your best videos in your blog posts and make your content more visible. Make sure that the video content resonates with the core message of your blog post.
8. Video Transcripts, Checked
Video transcripts make video content readable to the search engines.
Also, make it a point to say your targeted keywords in your video and then put it out to the transcript for keyword optimisation.
With an SEO optimised transcript, your video is more likely to pop up in the suggested videos section. Additionally, transcripts can increase the video's completion rate by 40-80%.
Closing Thoughts
The purpose of SEO is not just traffic generation. Your end goal is conversion. So do keep an eye out on your video analytics to understand how viewers are engaging with your video content. Don't take video views on face value.
It doesn't give the full picture. Dig deeper- see the actual watch time. Chances are your viewers may be dropping off in the middle. Track the common drop-off point and optimise your video to ensure viewers watch it till the end. Complete views mean a higher chance of engagement and conversions.
Also, note that 2021 will focus a lot on mobile optimisation because Google is giving more push to mobile-friendly websites and content. So make sure that your video is designed with a "mobile mindset".
Related Topics
Paschal Okafor
is
NaijaTechGuide Team Lead
. The article
Video SEO Checklist Every Marketer Should Tick Off In 2021
was written by . The article was last modified:
March 1st, 2021