In the digital era, everything changes, even things that are and have been a staple for a long time, like email marketing. And how could it not? Email marketing with tools like GetResponse and Constant Contact has managed to remain alive and relative because it's a chameleon, amongst other things.
If you really think about it, there is nothing it cannot do and this fact is what has kept it alive all this time, despite all the predictions about its death and demise-which most people have received through email.
Since it's a shapeshifter, there would've been no way for email marketing not to be a pioneer when it comes to creating and following new trends.
So, without further ado, let me present you the top email marketing trends for 2023:
1. Personalization and Segmentation
Personalization is everywhere when it comes to emails and email marketing. It no doubt of of the leading email marketing trends.

And this may have been a thing for a while now, but in 2023, it's the only foolproof way to make sure that a prospect will take the time to check your email and actually see what you're all about.
There's more than one way to achieve personalization. And nowadays, referring to a prospect by its first name just won't cut it anymore.
Of course, in order to be able to send out these highly segmented, personalized campaigns, you'll need to pick out an email marketing and automation software like Moosend, the greatest Constant Contact alternative yet!
One way you can go about personalizing your email list would be to allow your signups to choose the kind of newsletters they'd like to receive. Buzzfeed, for example, has done exactly that:

Their newsletter signup page allows prospects to manage the kind of topics they'd like to receive newsletters for.
Which is a great way to aim at hyper-personalization, as the content you've got to show will be relevant to your signups.
And if not, they can always opt for something different, but remain in your mailing list.
Of course, you cannot have personalization without segmenting your list first.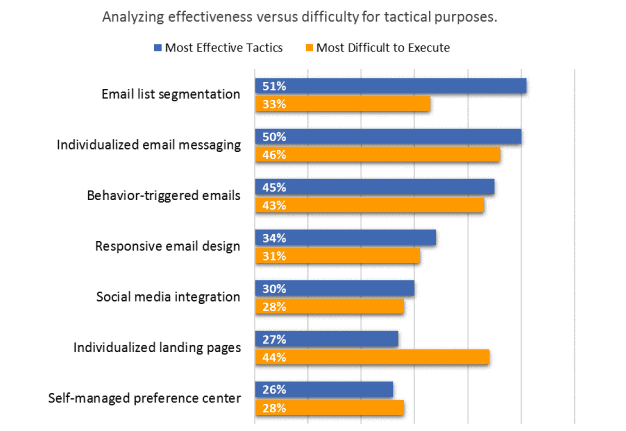 According to this study by Ascend2, the most effective, albeit difficult tactic for marketers to achieve. This is why, in the end, email list segmentation is the most rewarding tactic of all.
Of course, you cannot segment your list without determining the patterns of your buyers and creating buyer personas. And you cannot aim for personalization without segmentation, as we said.
Trigger-based emails are also something that can guarantee high levels of personalization. So, segment (yes, I can't stress that enough) and send out welcome emails, confirmation, cart abandonment, replenishment emails.
These serve as personalization tactics, seeing as not all of your list is shopping (therefore, not all of your list has a cart to abandon), but those who are, are going to be waiting for such an email.
Since they're going to be waiting for that kind of email, they're going to open it and read it through, resulting in greater open and click-through rates as well.
Check this email, for example: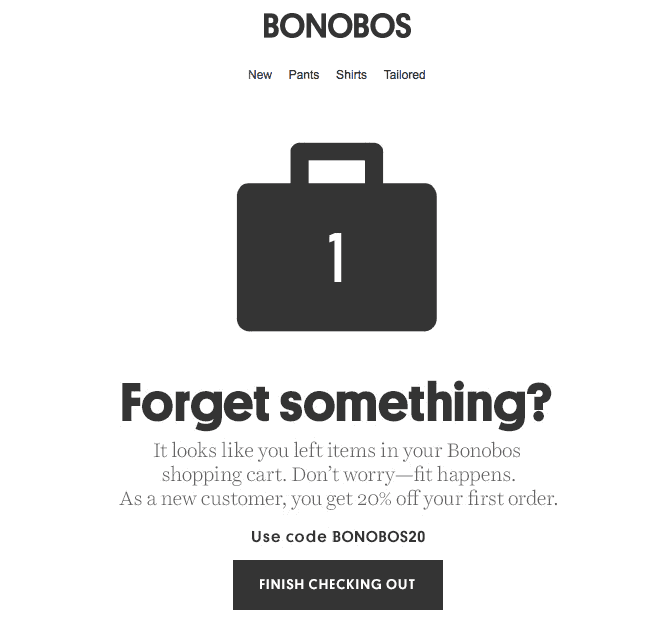 This is a cart abandonment email that combines two elements wonderfully.
Not only does it serve as a reminder that the prospect hasn't bought something yet-thus leading the potential customer further down the sales funnel-but also, but it also makes the prospect a first purchase offer by giving a 20% off code.
What's not to like?
2. Effective Storytelling
Email marketing is heavily dependant on content, much like… Well, anything that has to do with marketing.
However, email marketing is a fantastic medium for marketers and brands to tell stories and not just send out emails with offers and benefits or regular newsletters that have nothing more to say.
Pro tip: Read everything you need to create a newsletter that will make your CRO skyrocket.
But what is a storytelling email and how come it's a trend for 2023?
Well, here it is: Storytelling emails are these emails that tell the users a story.
It can either be a plain story that engages the user, seeing as it is, usually, about them, or an interactive story.
Of course, interactive stories aim for higher levels of engagement, seeing as the users are asked to decide the parts of the story with which they interact.
The whole point of storytelling emails is to be able to capture the user's attention without offering too much or trying too hard.
3. Lead Nurturing
It's been a growing trend the past few years, but lead nurturing never fails to give measurable results, and with good reason. It has grown to become one of the leading email marketing trends.

Aggressive sales techniques, including email marketing, are a thing of the past (much like spam and email blasts). Nowadays, it's all about making your prospects feel valued, needed.
Which is what lead nurturing aims to do, as through that tactic, marketers and brands can develop relationships with their customers throughout their customer lifetime.
This would be impossible without a Human To Human approach (H2H).
After all, people have a wide variety of options for literally anything they may need. If your brand can't give them H2H, then they'll turn to another brand. It's all about customer experience, in the end.
Of course, these leads won't be nurtured with anything but the proper content. Content marketing doesn't look or feel like spam or sales. On the contrary, it looks and feels genuine and needed.
This relevant, informative, evergreen content is bound to "train" prospects to be expecting your emails, as they'll know that they'll find value in it, that goes beyond the spammy "YOU WON!" approach.
Value is not only a discount code. Valuable content is anything that can educate and can be used for further reference.
And for this to make sense, your content must be relevant and give the reader the choice to interact, even forward the emails to users that might be interested.
Word-of-mouth may not be considered on of the email marketing trends, but it will never die.
Pro tip: Consider creating user personas before creating any content, to better understand your audience.
To Sum up
Email marketing was and will continue being the most cost-effective marketing medium that is able to lead prospects further down the funnel and demonstrating the value of your brand time and time again.
Of course, email marketing is not the only thing that you'll need to implement for an email strategy that will prove to be complete and effective, as there are aspects like omnichannel marketing that you'll have to take into account.
But email marketing is the strategy that can boost all other strategies!
So, what do you think? Is there a trend that you think should be on that list? Tell us in the comments and don't forget to share with your favorite marketer!
Author Bio:
Téa is a content writer working for email marketing software company Moosend and an obsessive writer in general. In her free time, she tries to find new ways to stuff more books in her bookcase and content ideas-and cats-to play with.
Related Topics
Paschal Okafor
is
NaijaTechGuide Team Lead
. The article
The 3 Most Important Email Marketing Trends for 2023
was written by . The article was last modified:
September 12th, 2023