Depending on the region you live in, electric bikes are the in-thing now. And if they are not popular in your location yet, they soon will. For so many reasons, electric bikes have a whole lot of advantages over the regular bikes that are manually pedaled.
The development and introduction of electric bikes have entirely revolutionized biking by eliminating some constraints associated with standard bikes (e.g. pedaling-induced stress, knee pain, climbing heights, etc.).
For starters, electric bikes (also called e-Bikes or eBikes) are basically regular bikes that have been integrated with components like rechargeable batteries, a motor, smart sensors, and a throttle.
These additions help multiply the speed and range covered with very little effort from the rider. Basically, e-bikes have features that make them similar to motorbikes and motorcycles but in the true sense, they still remain bicycles.
Like cars and motorcycles, electric bikes also come in different types based on their features and other factors.
Electric Bikes Mode of Operation
Electric bikes are classified into two major categories based on the level of assistance they provide the rider during operation.
1. Pedal-assist Electric Bikes
Also called 'Power-assist' bikes, these types of electric bikes are designed to be manually pedaled and only occasionally powered electrically — in scenarios where you have to move up a hill or when you're tired of pedaling and need to rest your legs for a little while.
Generally, these pedal-assist bikes cover longer distance/range (as high as 90 miles) and are also weigh less than the other type of electric because they have smaller batteries and light electric motors.
2. Full-power Electric Bikes
These types of electric bikes can be compared to cars with automatic transmission. With full-power electric bikes, the rider does little or next to no paddling.
They have powerful motor hubs and big batteries that handles the whole pedaling for the rider. All you need to do ride a full-power bike is to sit, place your feet on the pedal, and power/control the motor using the throttle mounted on the bike's handle.
The mode of operation of full-power e-bikes is similar to that of scooters and motorcycles. As earlier mentioned, they have huge batteries because the bike's motor is entirely powered by them (the batteries) throughout the ride.
Consequently, they are only able to cover a short or limited range (between 10 – 30 miles).
The huge batteries are the reason why almost all full-power electric bikes are physically huge in size and weigh more than pedal-assist bikes.
Full-power electric bikes are designed for people who love cycling but hate pedaling.
It is common to see majority of modern-age electric bikes operate both modes i.e. pedal-assisted and full-power.
Now that we've briefly covered how e-bikes work and the major types, we'll list out some of the best electric bikes that are worth your money, their major features and how much they cost.
Check them out.
Best Electric Bikes to Buy in 2023
1. Aceshin 26" Electric Mountain Bike
Talking about electric bikes, Aceshin is one of the few renowned companies that produce quality and durable bikes. Aceshin has a number of e-bikes under its name but the 26-inch Electric Mountain Bike is one of its top-tier products.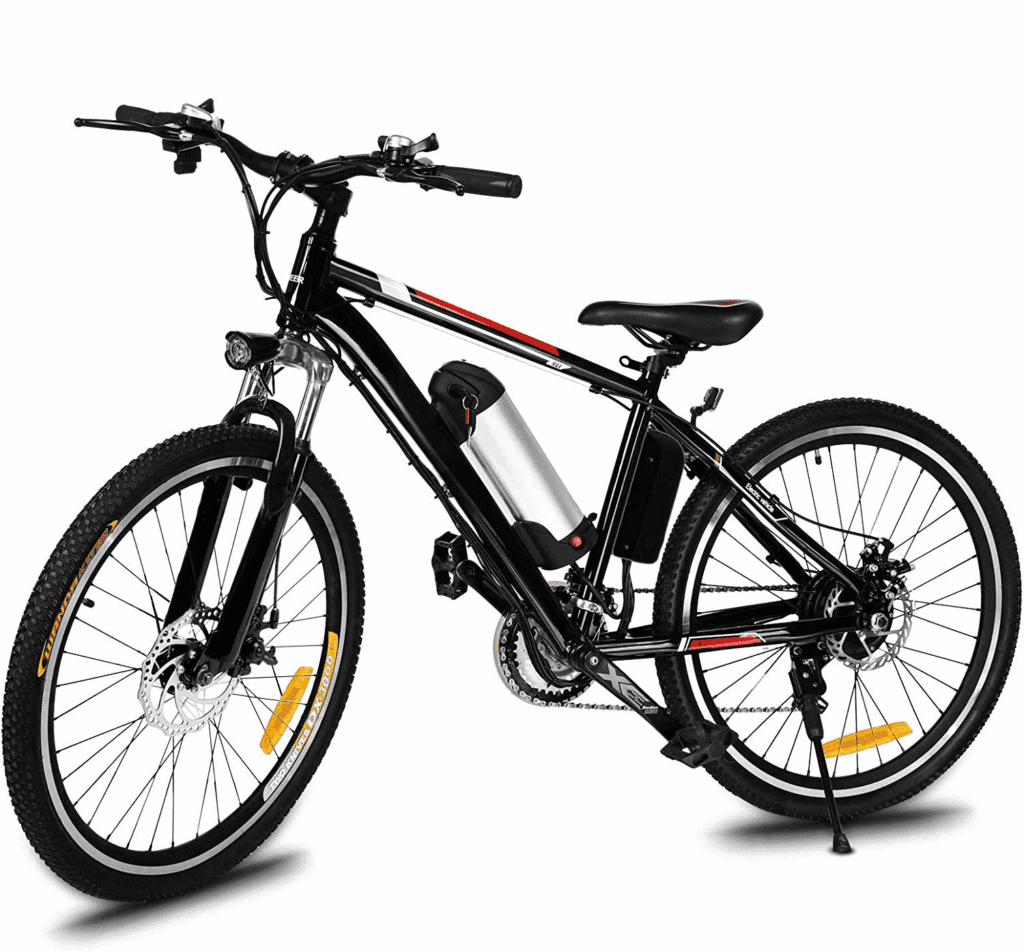 One of the many standout features of the Aceshin 26″ Electric Mountain Bike is that it comes with three (3) working modes. It can be used as a regular bicycle (i.e. Pure-human riding) that you pedal to move it around.
It is also built to support a pedal-assist mode where you can choose to paddle or allow the battery power the motor and move the bike. The third mode is the E-bike mode where the throttle, motor, and battery completely moves the bike; you don't have to paddle.
There's a 3-speed smart meter button which you can use to switch between the three modes.
Although Aceshin 26″ Electric Mountain Bike features a high-speed 21-speed transmission system for easier and faster cycling, there are two (front and rear) disc brakes for guaranteed safety.
Talking about safety, the bike also features a horn and a super-bright and crisp LED headlamp for safe nighttime riding.
On pedal-assist mode, the 36V 8Ah battery can power the bike up to 50km and only needs about 4 – 6 hours to get fully charge if you use the 250W smart lithium battery charger that ships with the bike.
Design-wise, the bike is sturdily built with the finest of materials: comfortable & adjustable seat with industry-standard shock absorber, comfortable handlebars, high-strength front fork made from carbon steel, while the rest of the body (including the wheels) is made from aluminum alloy.
The Aceshin 26″ Electric Mountain Bike is only available in the Black-colored variants and its sells for about $600 – $650. For details and latest prices on Amazon, Click Here.
2. SwagCycle EB-5 Pro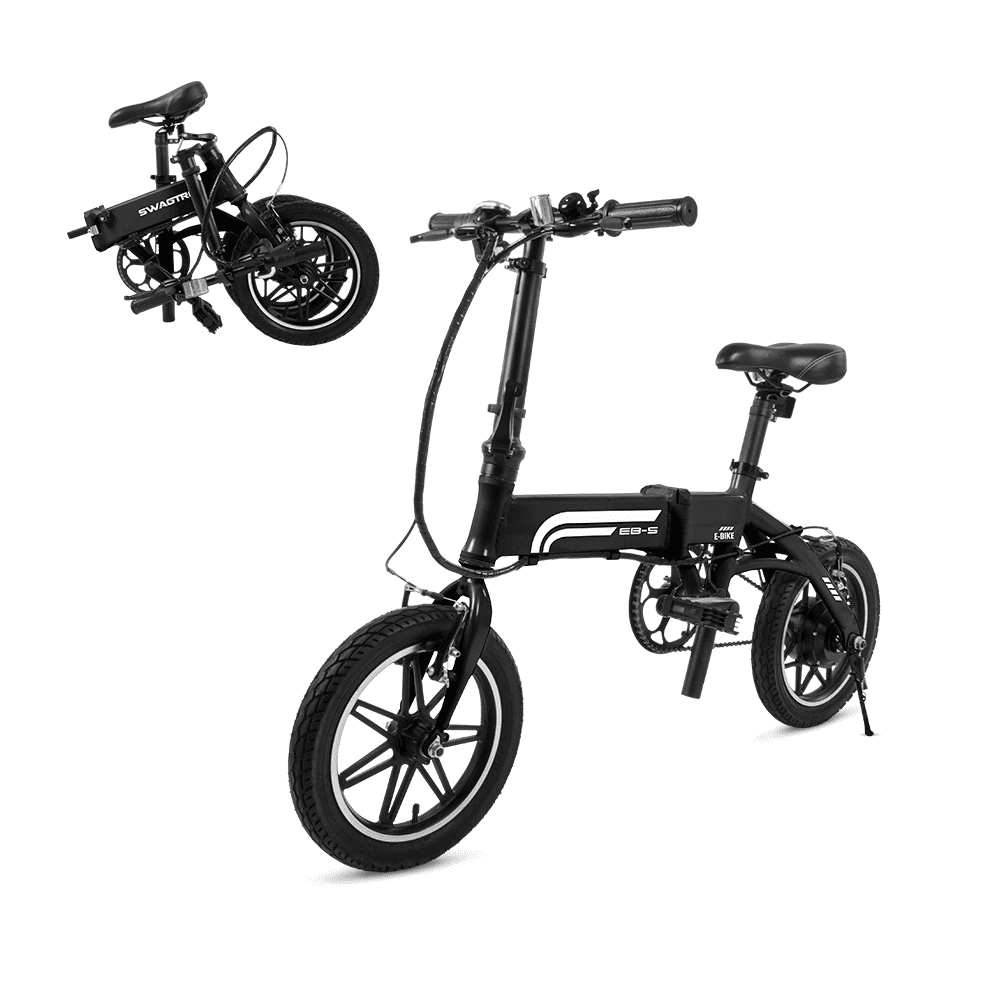 This bike by SwagTron is the smallest and lightest electric bike on this list. And this is a result of its tiny 14-inch wheel diameter which makes it the perfect for use by kids or teenagers; though adults can definitely ride it too.
Dubbed the SwagCycle EB-5 Pro, the electric bike is a product of one of the best manufacturers of "e-rideables" like scooters, electric skateboards, hoverboards, and the likes.
The SwagCycle EB-5 Pro comes with a powerful 250W motor and even a more powerful braking system. SwagTron states that hitting the bike's brake immediately brings motion to a halt as the break is powered by a special "Autoguard technology".
Aesthetic-wise, the SwagCycle EB-5 Pro is also foldable and is available in two color variants (Black and White). It is designed to fold in three different ways so it can be easily stored and transported.
The Lithium-Ion battery of this bike charges in about 4 – 6 hours and supports manual pedaling & pedal-assist modes. Talking about the price, it is also one of the most affordable electric bikes out there; its starting price is in the $450 – $460 price range.
If you are on a budget and looking to buy your first electric bike, the SwagCycle EB-5 Pro would be a wise and economical purchase. For details, reviews, and latest prices on Amazon, Click Here
$549.99
$599.99
in stock
1 used from $359.99
as of 30th September 2023 7:42 pm
3. Bestlucky 26" Electric Bike
This beauty by Bestlucky also qualifies as one of the best electric bikes out there. The eBike comes in two different colors (White and Black) and two different models (Foldable and Unfoldable).
Both colors and models ship with the same features and are sturdily built. Save for the front fork that's made of carbon steel (for shock absorption purposes), the whole body of the Bestlucky electric bike is made of aluminum alloy to help keep it lightweight.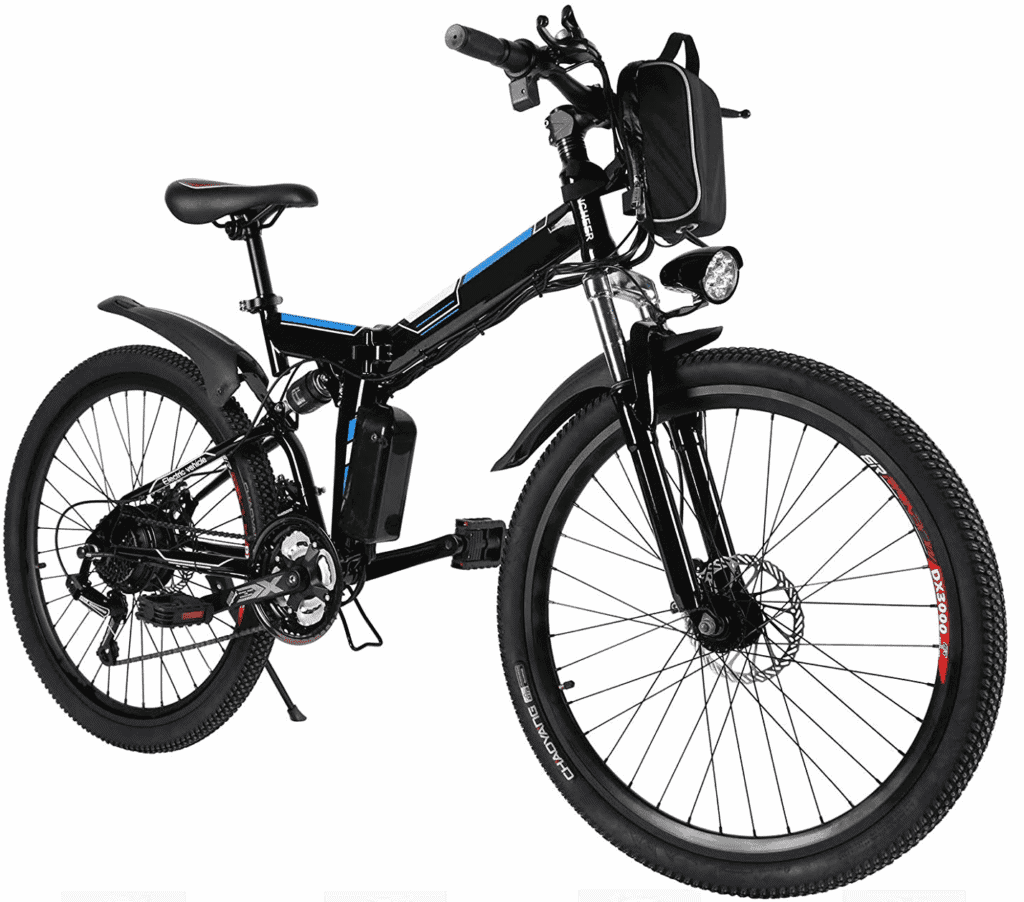 There's a 36V 8Ah non-removable battery that power the bike's 21-speed transmission system as well as other components like the bright LED headlight, the horn, and the powerful 350W motor.
On a full charge of the battery, you'd be able to cover about 25km cycling in eBike mode and double the range (50km) in assisted-pedaling mode. The battery is removable making it possible to carry an extra pair of battery on long-distance trips.
The retail price of the BestLucky 26-inch Electronic Bike starts from $625.99. For details, reviews, and latest prices on Amazon, Click Here
4. ANCHEER Folding Electric Bike
If what you need is a compact e-bike that can dash swiftly on bumpy and hilly roads, then you should check out this electric bike from Ancheer.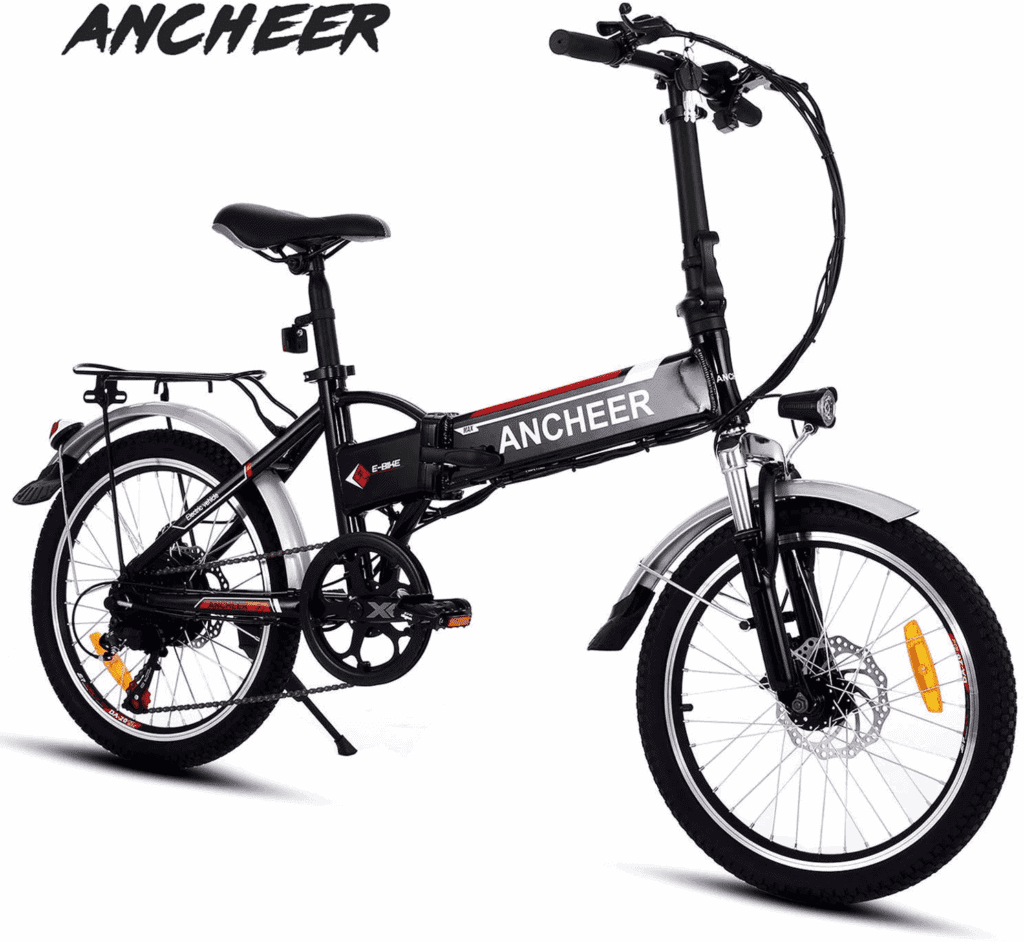 With a 20-inch wheel (diameter) covered in anti-slip and wear-resistant tires, as well as a 7-speed transmission system, this electric bike moves anywhere and is compatible to be used on any terrain you'd want to cycle on.
The aluminum alloy body/frame is also built in a collapsible form that allows it to be easily folded, fitted, or stored in small spaces. This also positions the ANCHEER electric bike as a perfect choice for holidays and beach rides.
The break(s) of this e-bike is another highlight feature. The Ancheer folding bike comes equipped with two (front and rear) disc brakes for a sharp, reliable, and safe all-weather stoppage.
Still on safety, there's a bright LED light fitted on the front fork for safe night cycling or while moving through dark tunnels.
The Ancheer folding electric bike can cover a maximum of 30 miles (approx. 50km) on a single charge of the removable/detachable 36V 8AH Lithium-Ion battery.
Interestingly, the battery can be charged on or off the bike's frame. With a $625.99 starting retail price, this foldable bike is a steal. For details, reviews, and latest prices on Amazon, Click Here
$599.00
in stock
as of 30th September 2023 7:42 pm
5. FIIDO Folding Electric Bicycle
One thing to admire about this electric bike from FIIDO is its ergonomic and compact design. The e-Bike is built in such a way that it can be folded and fitted into whatever space you want it.
Almost all the parts (pedals, handlebars, seats, front fork, etc.) of the bike can be folded. When folded, it is small enough to fit into the boot or backseat of your car. This is the perfect bike to take camping, holiday trip, or to your next vacation.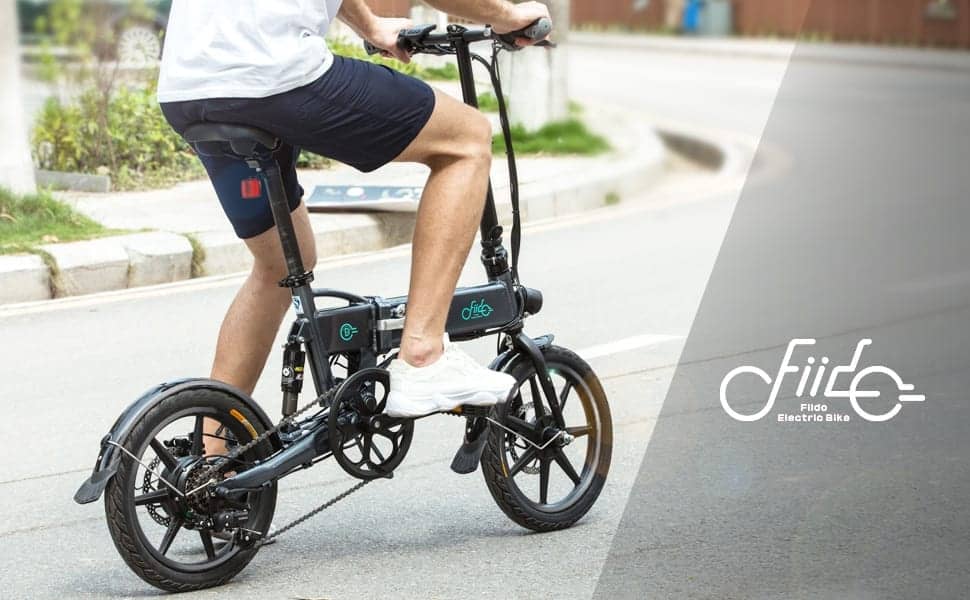 It comes with a built-in rechargeable 36V 7.8AH battery that charges in about 4 – 5 hours. The FIIDO Folding Electric Bike also supports three different modes (pedal riding, pure electric, electric-assist modes) and supports six (6) gear speed.
Depending on the mode and speed you're riding on, a full battery charge can power the bike for 20 – 35 kilometers.
Compared to the Aceshin Electric bike mentioned (in 1) above, the FIIDO folding e-bike has smaller (16-inches) but powerful tires/wheels. The rear wheel comes fitted with a shock absorber for improved cycling experience on all kinds of roads.
Talking about the bike's aesthetics, its entire body is made out of aluminum alloy which explains why it is super lightweight. Despite the presence of batteries and other electrical components on the bike, the FIIDO folding bike is IP54 certified i.e. water-resistant.
The bike comes assembled out-of-the-box with the following accessories: an LED display, a horn, headlight, and even a tail light. The FIIDO folding bike is available in Grey and White color variants and retails for $500 – $599. For details and latest prices on Amazon, Click Here.
6. emdaot 26" Electric Mountain Bike
Another e-bike worthy of mention is this mountain bike from emdaot; they make some of the best electric bikes and other home equipment in the market.
Like all the above-mentioned bikes, the emdaot 26-inch electric bike also supports three operational modes (manual pedaling, pedal-assist, and full-power/pure-electric) and also comes with a 21-Speed gear. This allows for fast cycling as well as easy, stress-free movement uphill.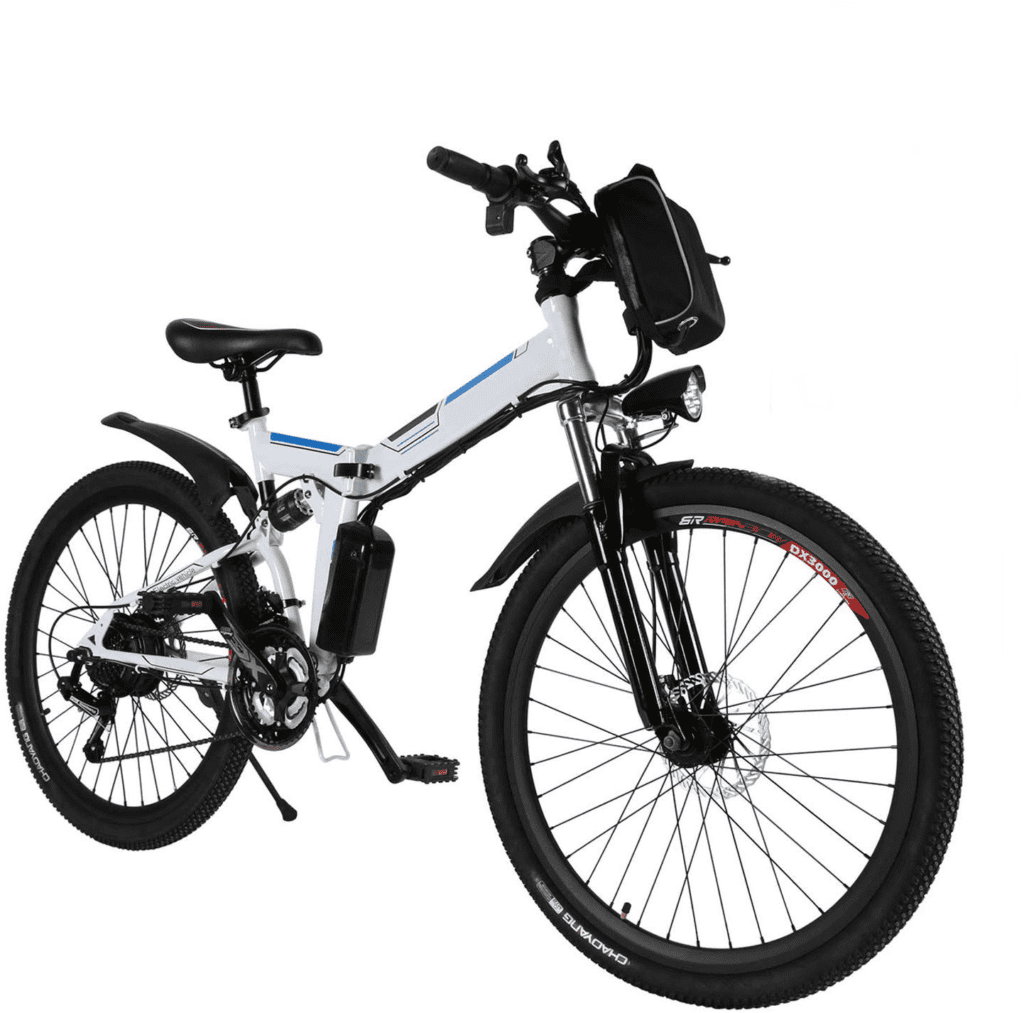 Another major highlight of this emdaot 26-inch Electric Mountain Bike is its build and lightweight nature.
Despite its size, the bike weighs just about 20kg, thanks to the light yet durable aluminum allow material used to make its entire body. The rims of the wheels are also double-walled to boost durability and speed during cycling.
The high-speed motor of the eBike has a 250W rating and can reach a maximum speed of 15 miles per hour. A full charge of the 36V 8AH battery (which charges in 4 – 6 hours) can power the motor for a distance of 15-30 miles at max speed.
The 26-inch electric mountain bike costs $659.99 and ships with accessories like a horn and bright LED headlamp for night riding. For some little more dollar, you can purchase extra accessories like luggage racks, extra waterproof seats, etc. For details and latest prices on Amazon, Click Here.
7. Kemanner 26 inch Electric Mountain Bike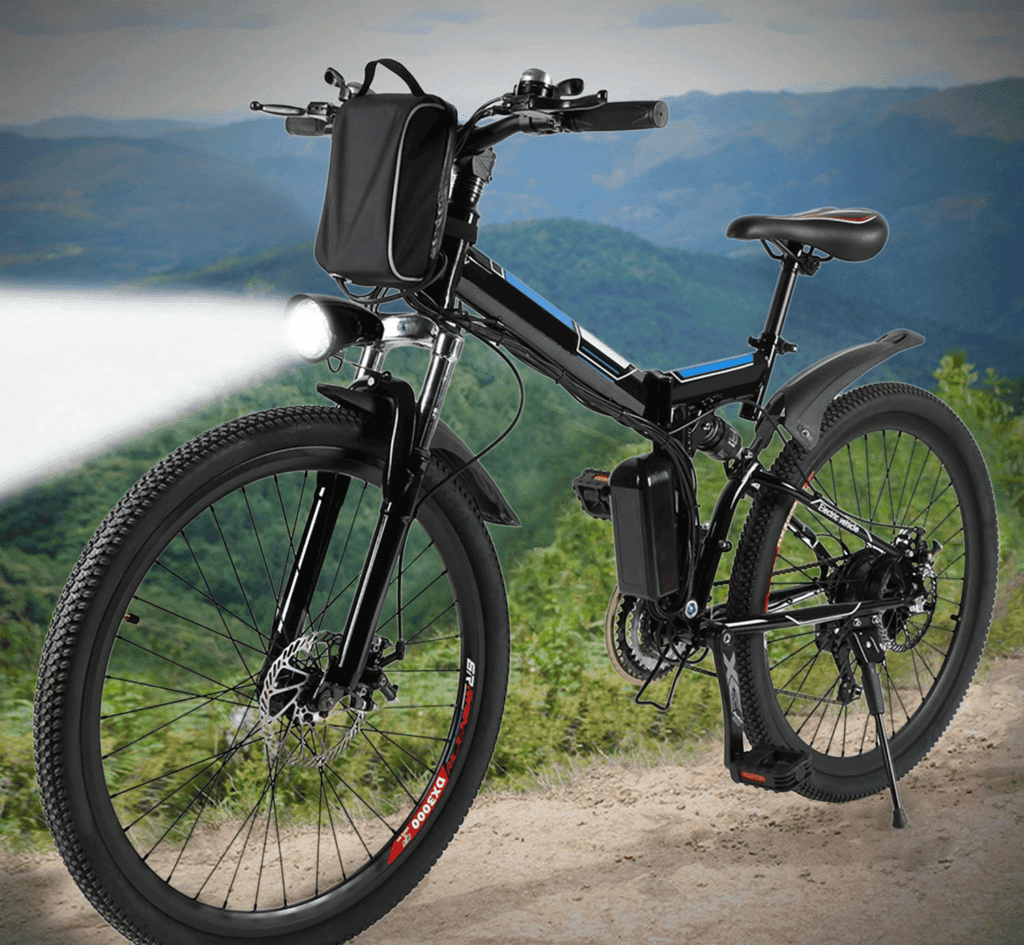 Kemanner is another reputable bike manufacturer and the company's flagship 26-inch electric mountain bike is one of the best out there.
The super-quiet motor of this bike is pretty fast (21-speed gear) and comes with a 250W rating that maxes at 25 – 35km/h and is able to effortlessly propel the rider uphill or on rough roads & terrains.
The battery, on the other hand, boasts of a short charge duration and can cover a distance of 25 kilometers on a full charge.
Depending on the mode (manual pedaling, assisted, of full-power/eBike mode) you ride the bike in, you should be able to get longer ride duration and range covered on a full battery charge.
You can easily switch between modes using the 3-speed smart meter button on the bike's handlebar.
At 17kg, the Kemanner mountain bike is about the lightest 26-inch e-bike you'd find out there in the market. Kemanner claims the bike was custom built with both style and stamina in mind; the comfy padded seats, anti-rust paints bike frame, and foldable parts are a testament to that.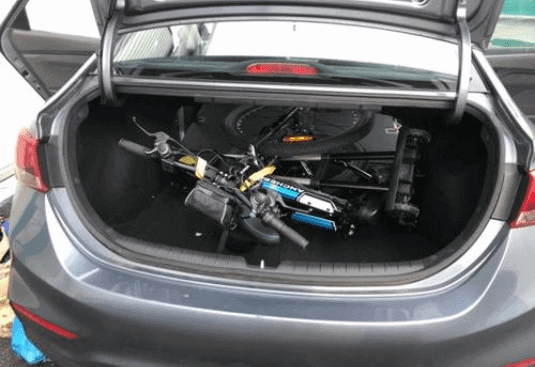 If you are in the market for an electric bike suitable for exercising, outdoor camping, mountain biking, running errands, or any other commute-related purposes, the Kemanner 26-inch electric bike is a good buy; the eBike costs $625.99. For details and latest prices on Amazon, Click Here
$549.99
$599.99
in stock
1 used from $359.99
as of 30th September 2023 7:42 pm
$599.00
in stock
as of 30th September 2023 7:42 pm
Jump on the Electric Bike Bandwagon
Electric bikes aren't just about convenience, they serve a lot of purposes. For the elderly and aging population who love cycling, for example, but aren't strong enough to manually pedal their bikes no more, an electric bike would come in handy.
Also, if you bike yourself to work and end up getting sweaty from the stress of pedaling, you should substitute the old bike for an e-bike that handles the pedaling struggles for you while you cruise effortlessly to work.
The electric bikes listed above are products of the industry best eBike manufacturers. Likewise, they sport the latest technologies and features that you could ever want on an electric bike.
If you intend shopping for an electric bike for yourself or someone else now or later in the future, the above-mentioned products are your best options.
Don't forget to bookmark this post and share it with your friends who are also hunting for the best electric bikes in the market. If you've got any questions, please drop them in the comments section below for a prompt response.
Related Topics
Paschal Okafor
is
NaijaTechGuide Team Lead
. The article
Best Electric Bikes to Buy in 2023
was written by . The article was last modified:
July 30th, 2023