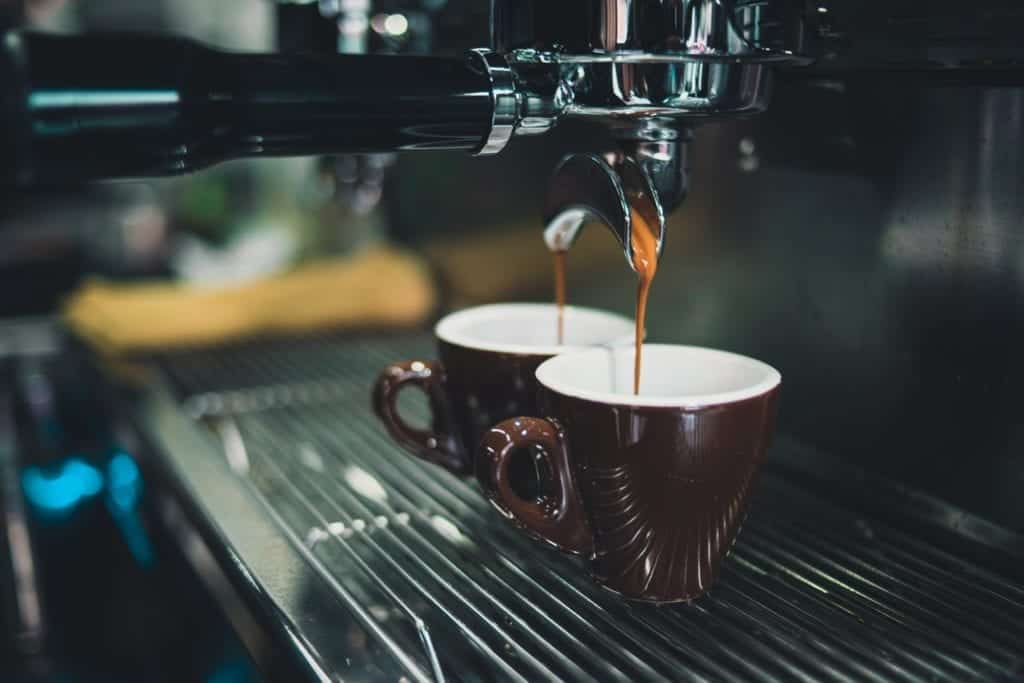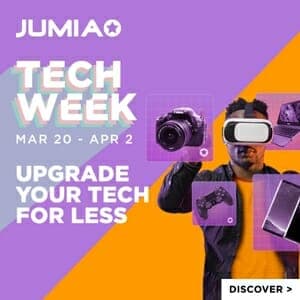 For coffee junkies or lovers of homemade coffee and beverages, an espresso machine is a must-have in the kitchen. Or if you run an office or team with coffee lovers, having an efficient espresso machine in the office kitchen is almost non-negotiable.
Where to Buy Espresso Machines

Amazon – See Offers | Jumia Nigeria – See Offers
You would, however, agree that picking up a new coffee machine can be quite complicated, especially if you're new to it.
This is because coffee machines also come in different sizes, types, and with different features just like every other equipment out there — pressure washers, microwave ovens, etc.
An espresso machine brews coffee by forcing pressurized water near boiling point through a "puck" of ground coffee and a filter in order to produce a thick, concentrated coffee called espresso.
In the paragraphs below, we'd recommend nine (9) of the best espresso machines you can buy out there that gets the job done.
The devices were carefully select based on their features, brand reputation, quality, and reviews of buyers that have used (or currently using) the products.
Best Espresso Machines worth Buying in 2022
1. Nespresso Essenza EN85 Mini Espresso Machine
Manufactured by Nespresso by De'Longhi, the Nespresso Essenza EN85 Mini is one of the best espresso machines out there.
Aside from the fact that users have commended the ease-of-use of the device, the compact size, sleek design, and portability also makes it perfect for use in the home or office as it doesn't occupy a huge chunk of space.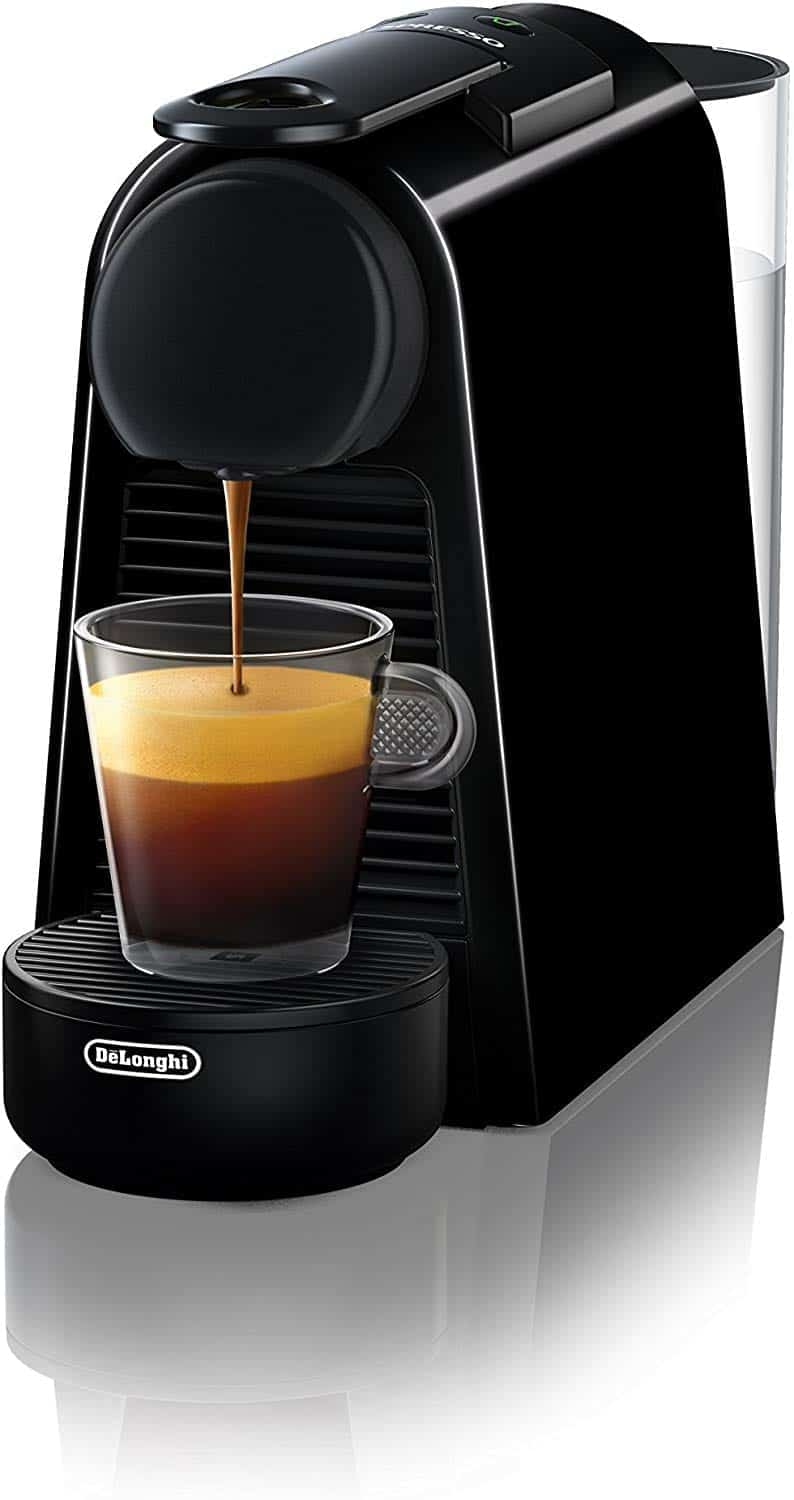 The brewing process of this espresso maker is also fast and perfectly extracts the flavors and aromas of your coffee bean; thanks to its powerful one-touch extraction pump system that delivers up to 19 bars of pressure.
The Nespresso Essenza EN85 also boasts of a fast heat-up system that reaches the ideal brewing temperature in under 30 seconds.
To save power, the device features an energy-saving mode that automatically shuts down the device after nine (9) minutes of operation.
If you are the type that takes your coffee with milk, the Essenza EN85 comes out-of-the-box with an Aeroccino 3 milk frother that supplies finely-textured (cold or hot) milk for your latte and cappuccino in seconds.

The Nespresso Essenza EN85 mini espresso maker costs between $145 — $150 and comes with a welcome/starter kit of 16 Nespresso capsules with different aroma and flavors as a gift. For details, reviews, and latest prices on Amazon, Click Here.
2. Breville Barista Express BES870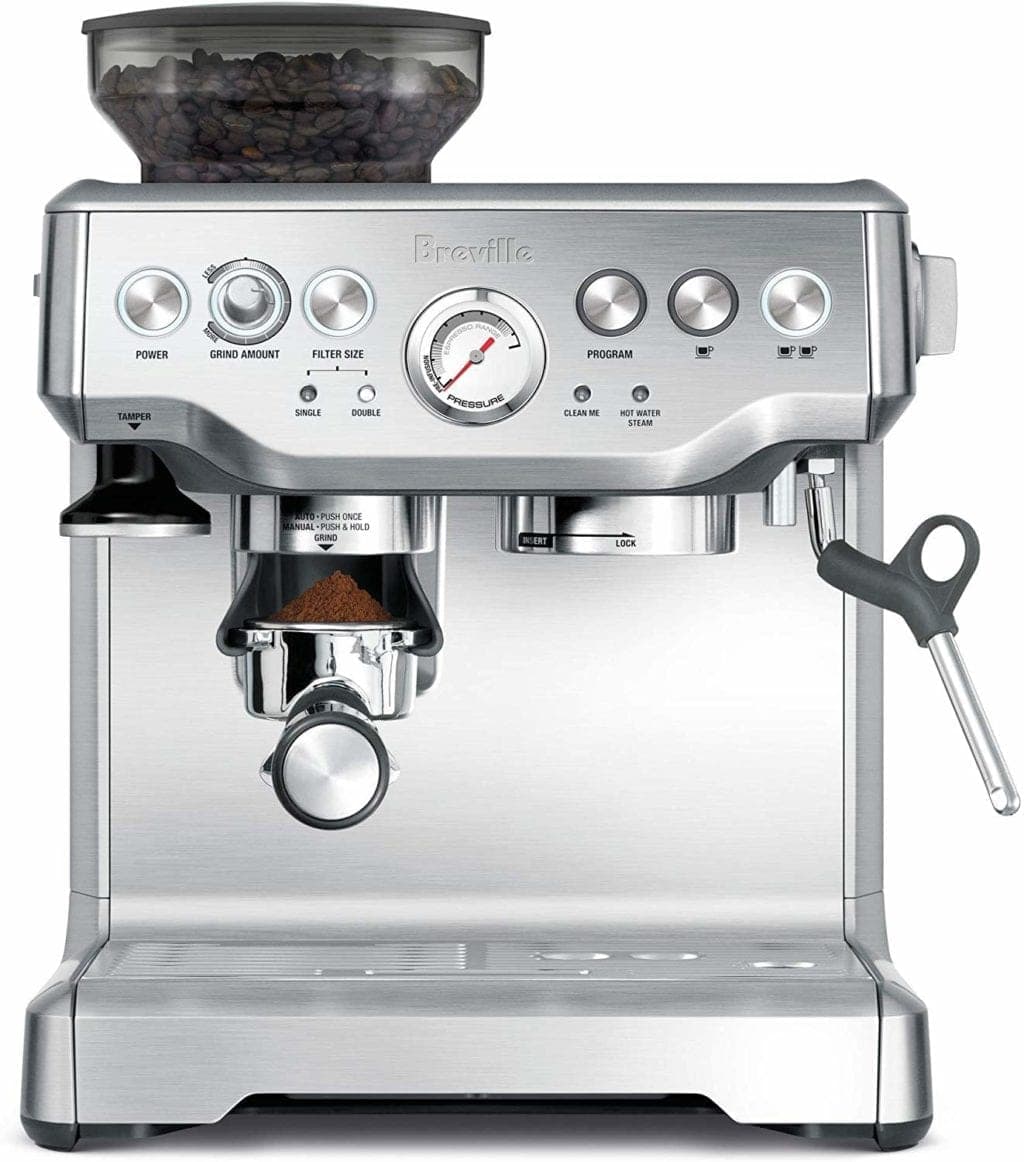 Like the Nespresso Essenza EN85 mentioned above, the Breville Barista Express BES870 is also a semi-automatic pump-driven espresso maker.
It is a lot pricier but it comes with most of the premium features you'd need in an espresso maker for your home, office for commercial usage.
It is also one of the best espresso machines out there in the market. Let's take a look at some of its highlight features.
The Breville Barista Express espresso maker comes with a special dose-control grinding system that utilizes its integrated conical burr grinder to grind and supply the optimum amount of grounded coffee into the filter thereby resulting in a richer taste.
The low-pressure infuser is another interesting feature of this espresso maker. The extracted grounded coffee comes out creamy and sweet because they have been evenly soaked and expanded in the infuser.

The Breville Barista Express BES870 come sells for $599 and comes out-of-the-box with the following accessories: 54mm stainless steel filter, (1 cup & 2 cups) single and dual wall filter baskets, stainless steel milk jug, cleaning discs and tablets, coffee scoop, water filter, water filter holder, etc. For details, reviews, and latest prices on Amazon, Click Here.
3. Sowtech Espresso Machine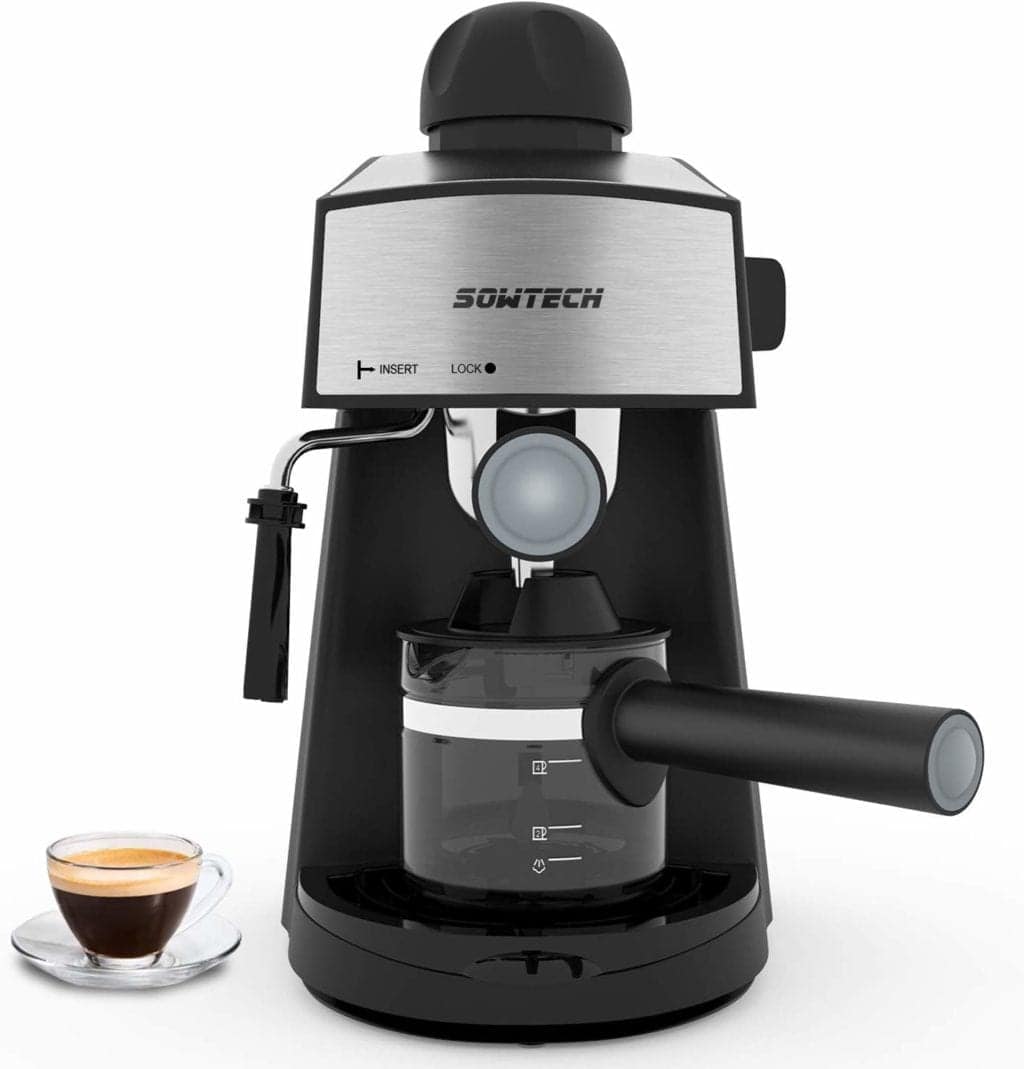 If you are on a shoelace budget, this espresso maker form Sowtech is one of the best money can buy. It's just a little above $50 and brews your coffee just as good as the premium and more expensive espresso machines.
Design-wise, this Espresso Machine is small, compact, and lightweight. If you have limited space in your home or office kitchen, you wouldn't have a problem finding where to place this device.
It also sports a removable drip collector that catches coffee spills/drips and keeps the brewing environment beat and tidy.
Users have positively remarked the usability of the device and equally commended the way the frothing arm of the machine foams their lattes and cappuccinos. The manufacturer states that the 3.5 bar pressure machine can produce up to 4 cups of (250ml) espresso coffee in seconds. That's how fast the device is.
About the price, the device retails between $50 — $59 and comes with the following accessories out-of-the-box: a spoon, a carafe flask, a filter, and funnel.
Even more interesting: the device is covered by a lifetime warranty. For details, reviews, and latest prices on Amazon, Click Here.
4. Nespresso ENV150GYAE VertuoPlus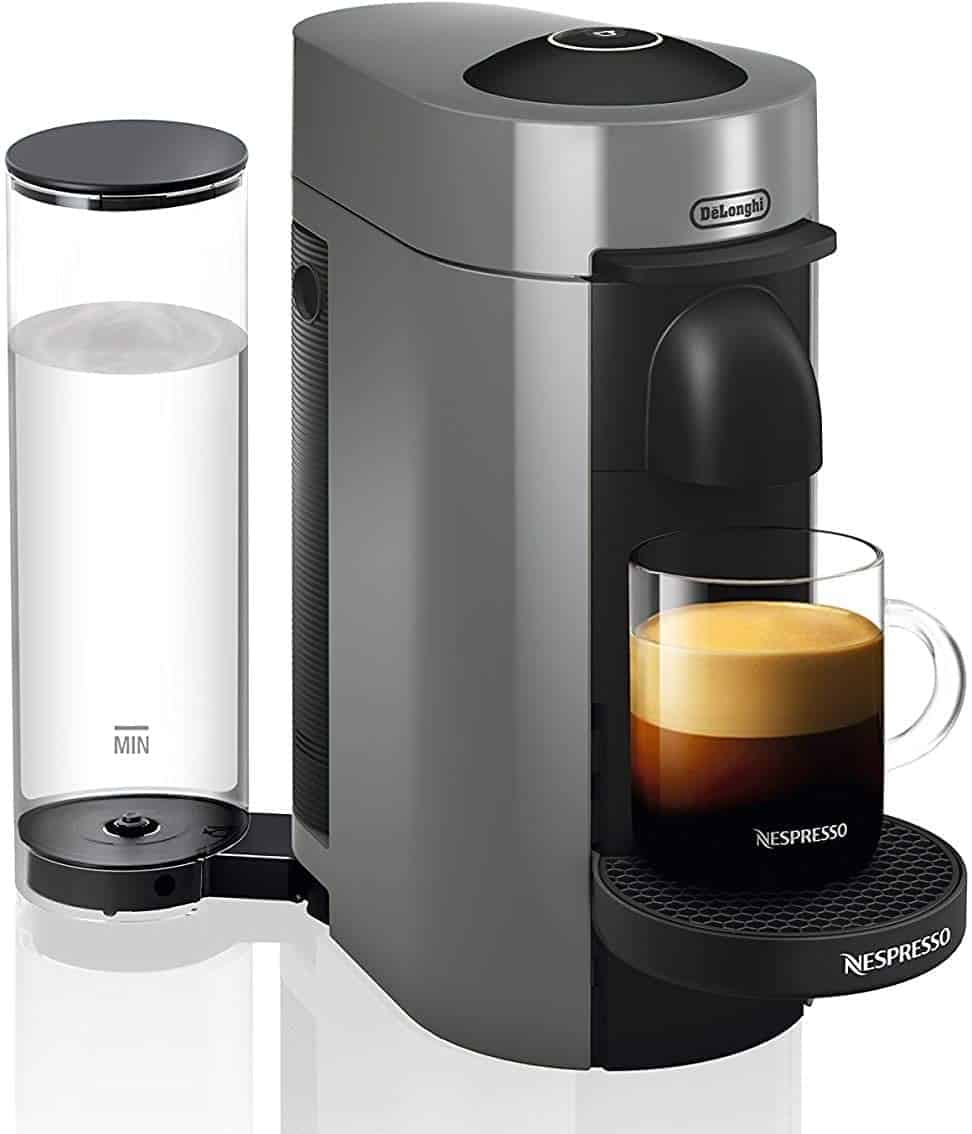 The Nespresso VertuoPlus is an automatic espresso machine that lets you brew your coffee in no time at the push of a button. It has 40oz water capacity and supports 5 different cup sizes (1.35, 2.7, 5, 8, and 14 oz) which lets users brew as much coffee as you want.
The device also features an intelligent extraction system that uses a native 'Centrifusion' extraction technology developed by Nespresso to blend and grind the coffee with water and then rotate up to 7,000 times per second. This results in a smooth, perfectly blended coffee in your cup.

The Nespresso ENV150GYAE VertuoPlus costs about $130 and comes with a welcome gift upon purchase — 12 Nespresso Vertuo capsules with unique flavors and aromas. For details, reviews, and latest prices on Amazon, Click Here.
5. Breville BES880BSS Barista Touch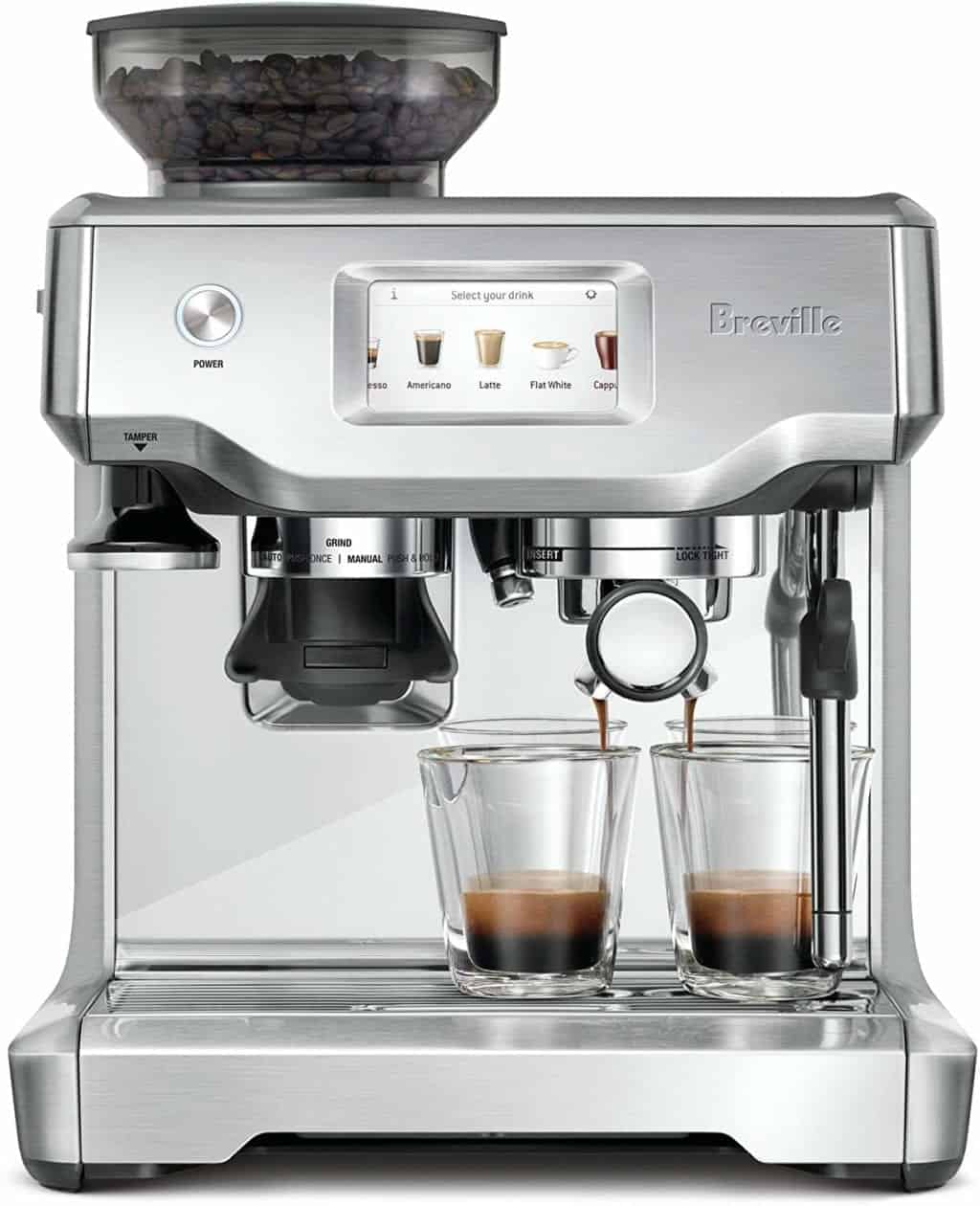 This is one of the crème de la crème of espresso makers in terms of features, pricing, design, capabilities, etc. At first sight, the touchscreen display would catch your attention.
With easy touches, you can easily adjust make your espresso, modify milk texture, adjust the temperature, grind your coffee bean, brew, and customize how you want your coffee made.
The best part is that you can save your preference so you don't have to input it all over each time you want to make coffee.
It also supports the storage of up to 8 different custom coffee profile/personalizations. This is cool for usage in the home because everyone can have their custom coffee profile saved on the machine. Users have also remarked the coffee maker as being efficient & super easy to use.

Other features of the device include rapid heat-up time (reaches optimum extraction temperature in 3 seconds), automatic micro-foam milk texturing, hands-free control support, etc. The Breville BES880BSS Barista Touch Espresso Maker costs $990.00 in retail price. For details, reviews, and latest prices on Amazon, Click Here.
6. Mueller MU-NESS2 Espresso Machine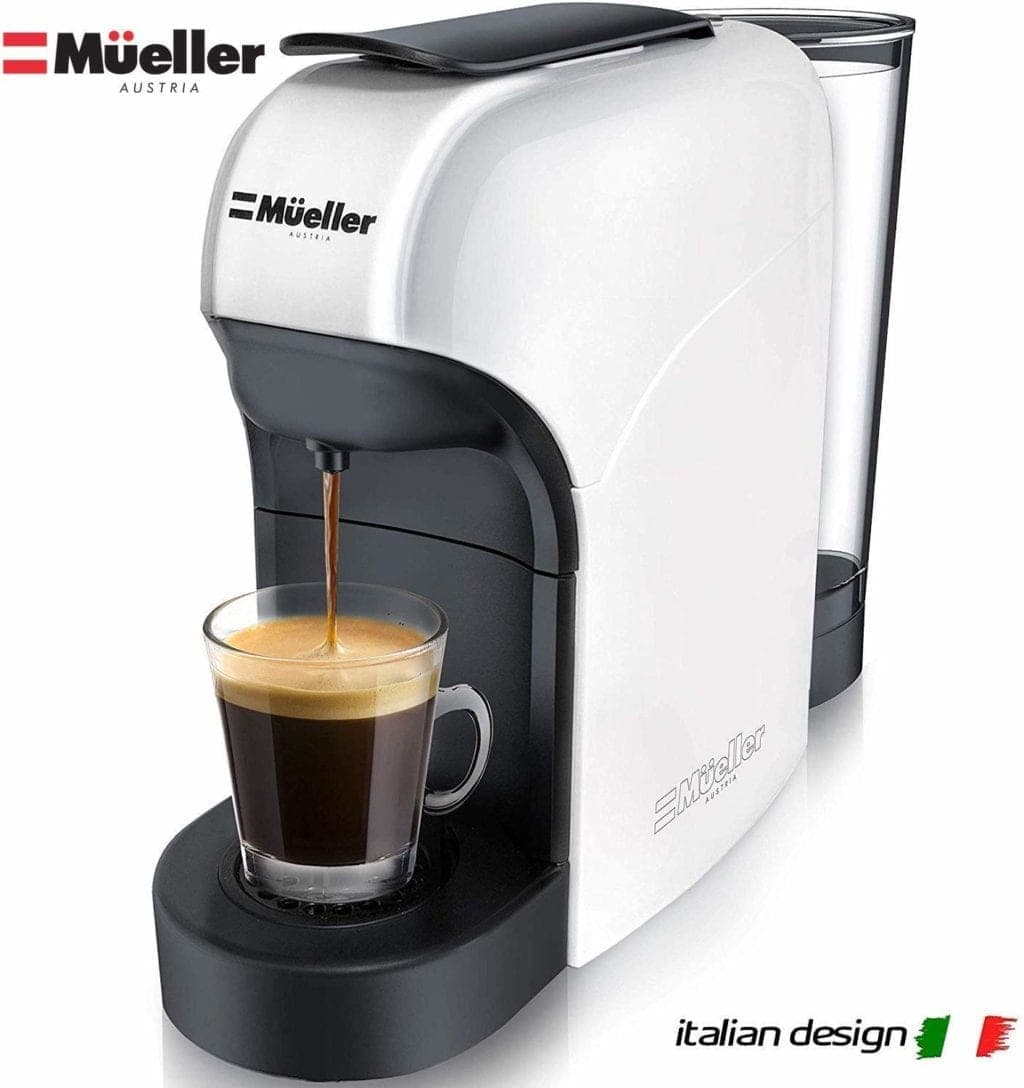 The Mueller MU-NESS2 is also one of the best espresso makers out there. One of the most premium and well-designed as well.
The device comes with a high-pressure Italian pump that's capable of delivering up to 20-bar pressure for smooth and efficient brewing of your coffee capsules.
The Mueller espresso machine takes about 25 seconds to preheat to the optimum brewing temperature.
The device also features a built-in energy-saving mode which turns it off after 10 minutes of inactivity. The device is compact and will occupy little next to no space on your kitchen counter. It is easy to clean and also suitable for use in office environments too.

Although this device doesn't ship with extra accessories or gifts like mugs, gift coffee capsules, etc., it does comes with a 2-year warranty. For details, reviews, and latest prices on Amazon, Click Here.
7. AICOOK CM6816 3.5bar Espresso Machine
Despite having a compact size and design, the AICOOK CM6816 machine can brew up to 240ml (i.e. 4 cups) of espresso coffee at a go. The device comes with a built-in steam wand that quickly heats and froths milk for your latte and cappuccino.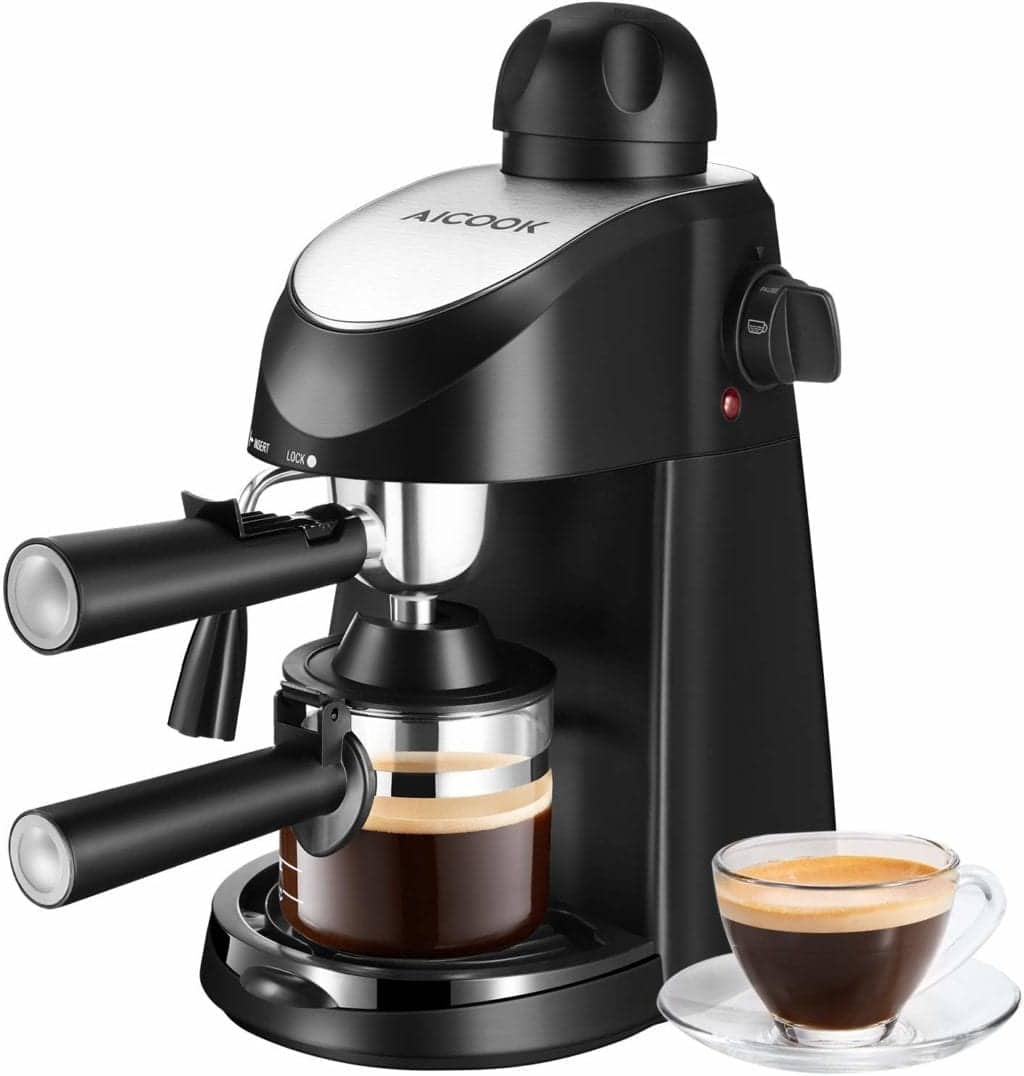 There's also a permanent filter basket and detachable funnel that's easy to install and likewise, easy to clean. Other removable parts include the nozzle and the dip tray.
The single switch knob present on the device is where all the control happens. This is one of the best espresso machines if you are looking for affordable options.

For $39.99, the AICOOK CM6816 is totally worth its money. It's also one of the most affordable espresso makers you can buy. For details, reviews, and latest prices on Amazon, Click Here.
8. Mr. Coffee Cafe Barista BVMC-ECMP1106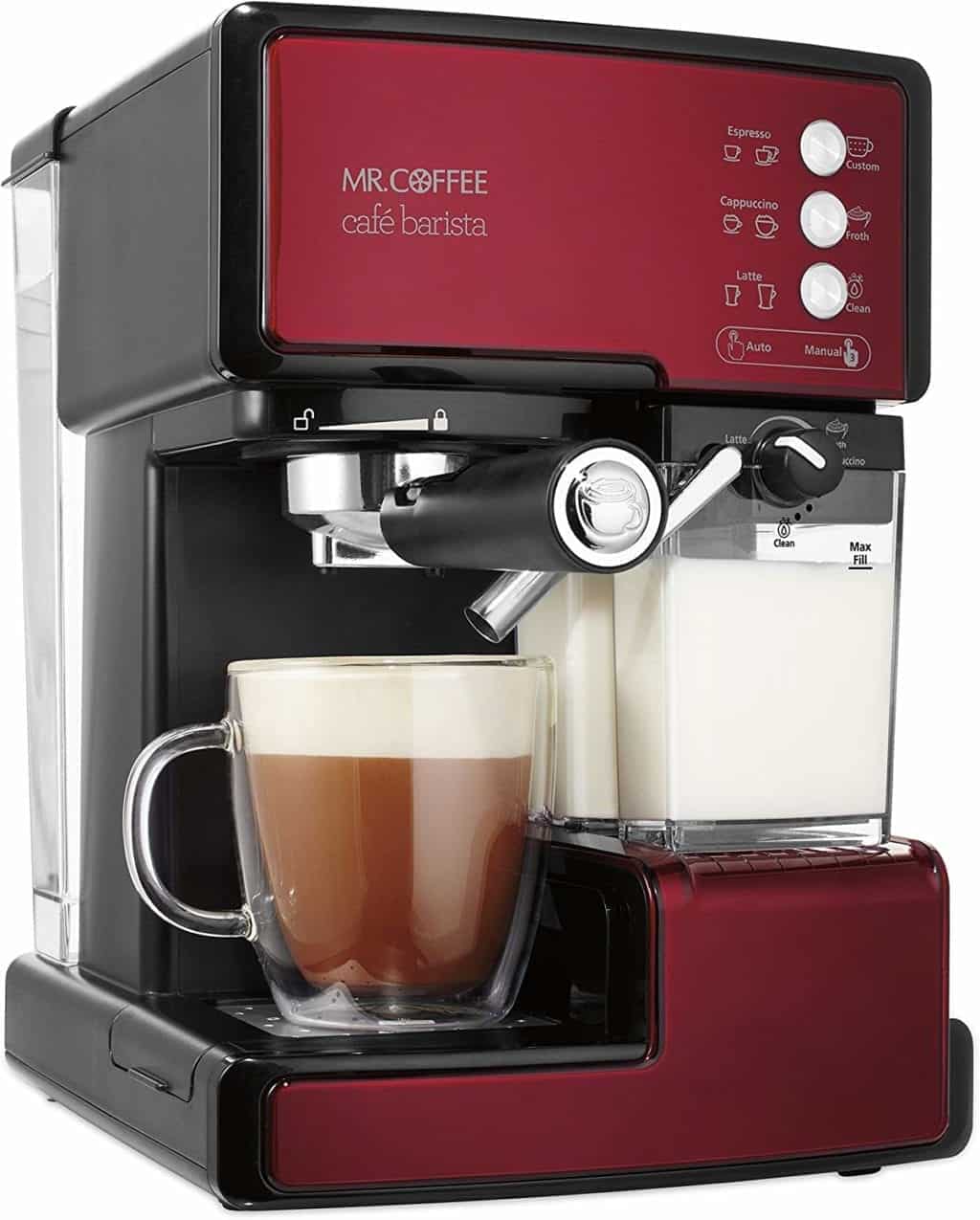 This is a mid-ranger coffee maker from Mr. Coffee, a US-based coffee machine manufacturer. The device is a 3-in-1 machine that brews three types of coffees — espresso, latte, and cappuccino.
There's a control panel at the top of the machine that allows you easily select the type/style of coffee you want at the tap of a button.
Both the water and milk reservoirs of this device can be removed and easily washed. The milk reservoir can also be stored in the refrigerator if there are any leftover milk in it after making your coffee.
The Mr. Coffee Cafe Barista BVMC-ECMP1106 espresso maker is available in three different colors (Red, Silver, and White) and costs between $179.99 to $199.99. A free coffee recipe book is included in the package as a gift. For details, reviews, and latest prices on Amazon, Click Here.
9. Breville BES920XL Dual Boiler Espresso Machine
This is the third espresso maker from Breville on this list. Coffee makers from this manufacturer are of top-quality and the BES920XL Dual Boiler espresso machine is no different. The device comes with boilers and double Italian pumps that simultaneously steam and extract your espresso.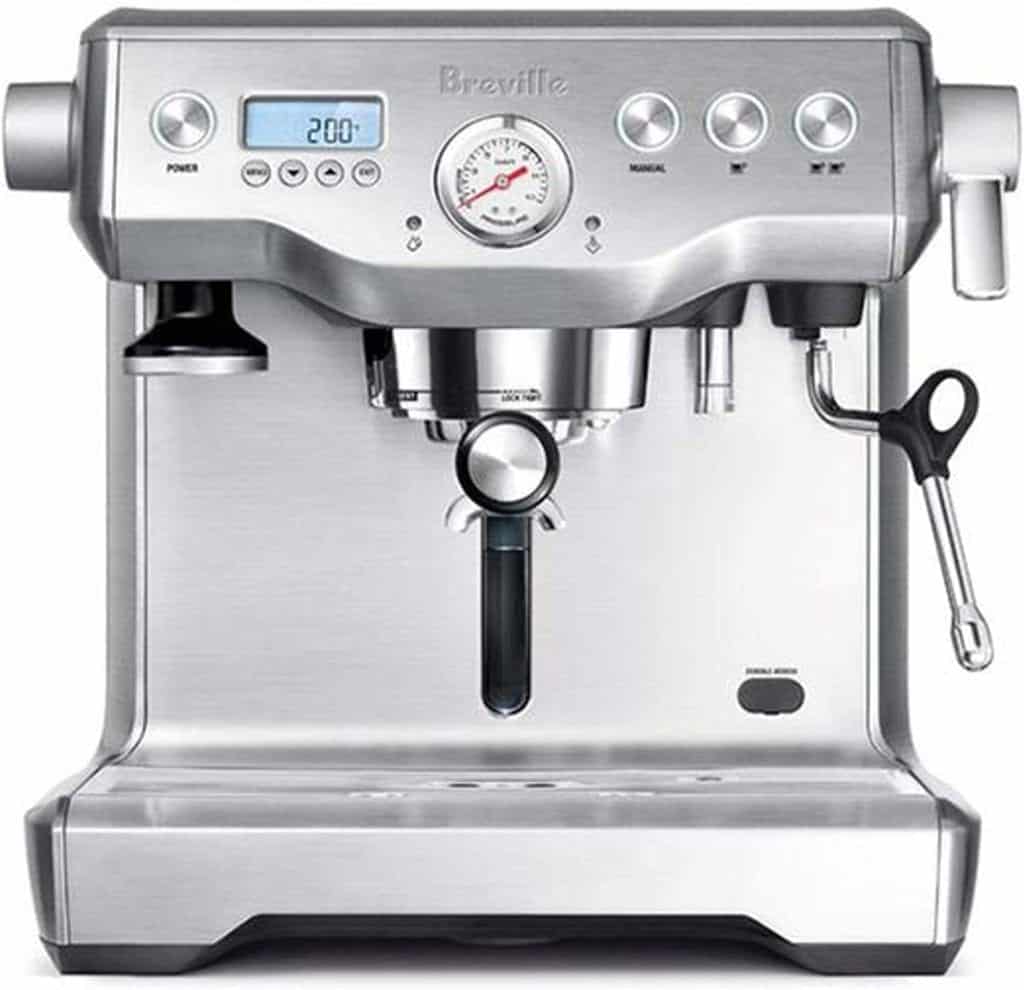 The machine features a control panel select the number of shots you want (one or two shots) and generally lets you customize how you want your coffee to be made.
There's also an LCD screen that displays the duration of extraction, brewing temperature, and how long it will take the machine to make your coffee. There's also support for micro-foam milt texturing powered by the device's steam wand and boilers.
The Breville Dual Dual Boiler espresso machine costs $1,299 and is one of the best out there. For details, reviews, and latest prices on Amazon, Click Here.
There's a lot of factors, practice, resources, knowledge, and other factors that goes into the production of smooth and flavored espresso. Having the right machine is, however, one of the most important.
You no longer have to struggle to get the perfect espresso maker no more; we have done that for you. Peruse the above-mentioned machines carefully and find the one that perfectly fits your needs or budget and go for it.
If you have any recommendations, questions, or suggestions, please drop them in the comments section below.
Related Topics
Paschal Okafor
is
NaijaTechGuide Team Lead
. The article
Best Espresso Machines for Home and Office Use
was written by . The article was last modified:
June 30th, 2022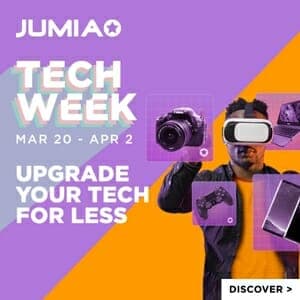 NaijaTechGuide may receive financial compensation for products/services purchased through affiliate links on this site. See
full Affiliate Disclosure Here