Competition is brutal in platforms like Google's Play Store and the Apple's App Store.
Regardless of how excellent your app may be, there are just so many others out there vying for your audience's interest! So, it's up to your marketing content to do the heavy lifting and help you build a core audience to nurture and grow.
Something easier said than done.
As your primary target is mostly mobile users, you are not only competing with other apps in your niche. You also have to gain attention from twitter notifications, WhatsApp alerts, and other distractions on your potential downloader's screens.
In this piece, we are going to take a page from the playbook of some of the best video marketing companies out there. Going over their strategies to use video content that promotes your apps efficiently, and some tricks to help them stand out from the crowd.
Why Use Video in Your App's Page?
Over the last couple of years, there has been a total expansion of the avenues at your disposal to promote your app. One of the biggest additions – and the one that will most likely make the biggest impact – is video content.
Here are a few of the things that video has going for it when it comes to app promotion:
Video content is immediately appealing: The versatile combination of video, music, and text makes for pieces that people can easily digest, understand, and retain in their minds.
Built-in Versatility: 97% of marketers agree that videos help customers understand products, and that has a lot to do with their versatility. From a hype-building announcement trailer to an in-depth overview of how to use your app, there's plenty to do with video content.
Ease of Sharing: Audiences love engaging with video content online, making it easier for your app and brand to rank higher and get seen. You see it all the time on social media. A video on twitter, for example, obtains three times more retweets than those tweets without any type of visual content.
Lazy-buyer proofing: Videos also give your app a nice hedge against lazy buyers. Only 20% of users will read a content page in its entirety, but 80% would watch a video. If you want to guarantee that most people visiting your app's profile page will get your message in its entirety, you can't do better than video.
So, video's a good idea for app promotion, regardless of how you look at it. But let's get into the nitty-gritty of how you'll use them in the two biggest marketplaces where you'll want to feature your app.
How Do Videos Work on Google Play And the App Store?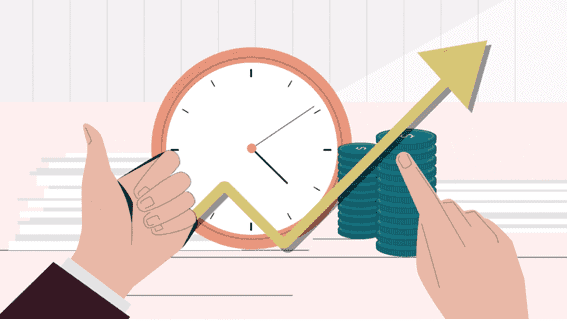 Once the app is finished, it's time for your market design, and video content should be a big part of it.
Your app's profile is where you can see the app's name, the company that produces it, a brief description, images, and -the pièce de résistance here- its videos.
Now, I can't stress this enough: optimizing your app's profile is crucial. It only takes 7 seconds for a person to decide if they'll download your app or not, and video can make those seconds count!
On Google Play, your video must be uploaded to YouTube. Once clicked, the app redirects the customer to that platform for viewing.
Any video you upload will be shown in the app's description as part of the multimedia promotional content. As a rule of thumb, it's recommended you keep your videos between 30 seconds and two minutes long.
Important note, you can only display one video per app, and in places before any screenshot you include. So, videos will be the first point of contact with your customers, and the first thing that'll catch their attention.
On the other hand, in the App Store, the process is a little bit different. Video previews have to be manually approved by Apple, meaning that someone judges if the piece complies with their terms of content.
They have clear style and format restrictions you'll want to adhere to. Lastly, in the App Store, videos are displayed in your app preview and set to auto-play.
Videos don't appear on Google Play's search pages; customers only see the name of the app and an image. By contrast, you can see an app's preview video and a couple of screenshots on the App Store's timeline.
Best Types of Videos to Promote Apps
The internet is filled with different styles and approaches to promoting things with video. As effective as they might be as marketing tools, it can be daunting to figure out the type of video that would suit your app best.
To help with that, here's a shortlist of a few styles that tend to perform well in app stores:
Explainer Videos:
With explainer videos, the objective is to show how your app can help solve customer's problems while providing more details of how it works. They convey your message, educate, and promote your app, all in one fell swoop.
Explainers come in a variety of styles, live-action, animated, motion graphics, whiteboard animations… It isn't so much about finding the "right" one, but the one that suits your app best.
How-To Videos:
How-tos focus on providing short guides on how to use your app (shocking, I know). They get to the point quickly and don't waste the viewer's time by rambling on past their main objective.
The format is simple and follows a step-by-step formula from start to task completion. Effective How-tos are all about clever branding.
Customer's Testimonial:
This one's more for the app store, where you can have more than one readily available video. Having one or several satisfied customers sharing their experience with your app can have a huge impact on downloads. But you need to be creative.
For an app store, use screencaps from your app in operation as inserts between the testimonial interviews and reactions.
Product Videos:
This one's a no brainer. Product videos in this context are all about showcasing your apps' features and highlights in interesting ways. With straight-up product videos, however, you run the risk of seeming generic and getting lost in the crowd.
Try and find new angles for your product videos and try to differentiate yourself, whether by visuals or structure.
Production Tips to Maximize Effectiveness
So, now that you know why you should be using video, and have a solid list of which types do well, let's talk a bit further.
Here are some production tips you should keep in mind as you set out to draft your app video's ideas:
Branding & Accessibility:
Your app should be the star of your piece, but that's not to say your overall brand should be left to the wayside. As you work on your piece, hunt for opportunities where you can tastefully include branding elements that cement it in your audience's minds.
Always add captions and in-video graphics (when appropriate) to help convey your message even if the viewers watch in silent mode – a common occurrence in mobile.
Length:
Although mentioned briefly before, your video's runtime is such a key factor that it bears a bit more of an explanation. Marketing videos tend to work best the shorter they are. In fact, metrics show that audience attention drops off somewhat after the first 30 seconds, and then again dramatically after the two-minute mark.
Frontload the core of your message at the beginning, and keep the overall length under these numbers for better performance.
Consider Social
A well-made video can be a fantastic addition to any app page, but that doesn't mean that has to be the end of it. Video content tends to perform extremely well on social media and can be an excellent way to increase the buzz surrounding your app.
Once uploaded to your app profile, consider promoting and spreading your app's vid through social media. You'd be surprised by how much traffic a well-timed social release can drive to your app's profile.
Wrapping Up
Having your app making a name for itself in the vast sea of alternatives that are app stores can be daunting. And while video content isn't magic, it can certainly go a long way toward convincing people to check your app out!
Take to heart the ideas and suggestions we've discussed here today, and think about how you could apply them to your app videos! Once you execute on that planning, I guarantee the results can only help your promotional efforts.
Good Luck!
Bio Victor Blasco:

Victor Blasco is an audiovisual designer, video marketing expert, and founder/CEO of the explainer video company Yum Yum Videos. Besides running the business, he's a lifelong student of Chinese philosophy and a passionate geek for all things sci-fi.
Related Topics
Paschal Okafor
is
NaijaTechGuide Team Lead
. The article
How to Promote Your App with Video Content
was written by . The article was last modified:
February 13th, 2020