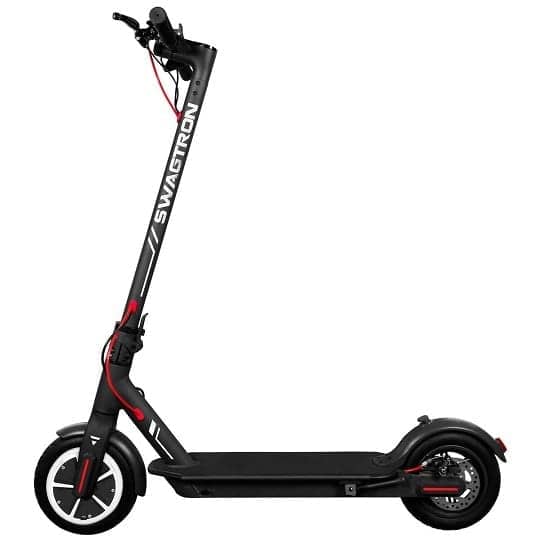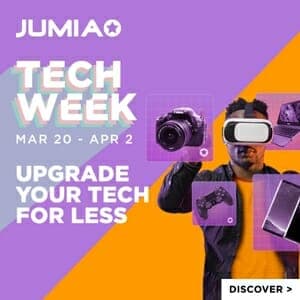 You've decided to get with the programme and invest in game changing (and super fun) transportation. Good work! We're taking a look here at the Best Affordable Electric Scooters on the market.
There's no denying it, Electric Scooters make sense. Not least for the out doors-y type, but for the hardened commuter looking for a way to minimise journey time and effort.
We appreciate the foldable, the lightweight and the easy to handle but we also crave the thrill, the power and the street cred.
There are loads of variations out there and with the advances in tech the choices are limitless so our main piece of advice here, is if you are going a fair distance, it's the batteries you'd be best investing in.
If you're only doing small stints, you'll be better off choosing something that's slightly less powerful but is lightweight and portable. It's an investment that is absolutely worth it but you should be careful to get the spec just right for your personal needs.
It's important to add here that you also ought to check the legalities of electric scooters in your local area – do that before you spend!
For details, reviews, and latest prices on Amazon, Click Here
Horizon by Fluid freeride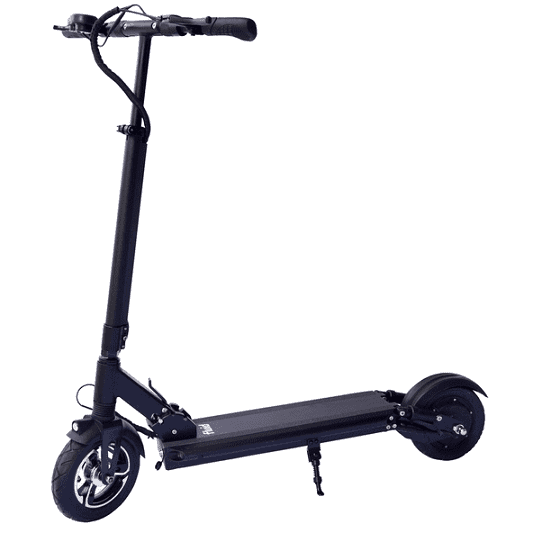 We found the Fluid Horizon to be super reliable. It's a bit of an all rounder and is bang on for all things urban transport. An A* electric commuter scooter.
You've got two options on battery here, it comes with a 10.4Ah battery giving you a range of 20 miles or you can go for the slightly bigger 13Ah battery for over 25 miles. Top speeds of up to 25mph, the 48V 500W brushless hub motor has a maximum output of over 800W so you can do 15% inclines with ease.
You'll experience a smooth ride thanks to its front spring and rear hydraulic suspension combo and it folds like a dream – ideal for on the train. 
Aesthetically, it's a classic design. Powerful LED lights front and rear and extra long mudguards for splash back protection. There are a plethora of customisation options so you can make it your own. A commuting no brainier.
Speed: 23-25 mph
Claimed range: 20 miles(10.4 Ah) / 25 miles(13 Ah)
Weight: 40 lbs (10 Ah) / 42 lbs (13 Ah)
Size: 42.5 x 23.2 x 46.8 inch
Size folded: 38.6 x 7.1 x 14.6 inch
Price: $699
Swagtron Swagger 5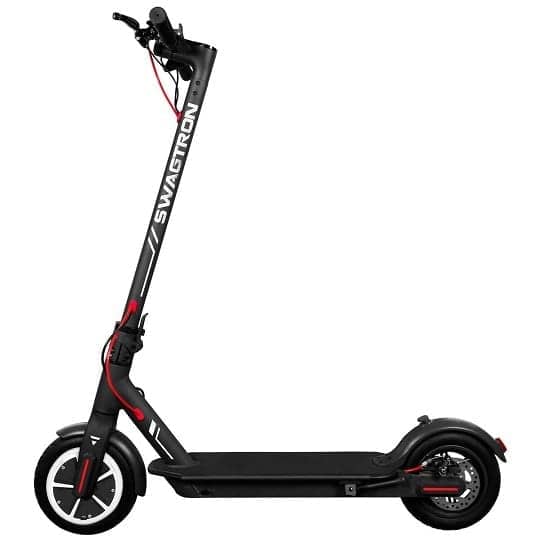 This is the second attempt after the first was a bit of a flip. But they've really improved and have delivered an e-scooter that not only looks great but is fitted with ABS e-brakes on the front wheel, disc break on back wheel, a phone mount, kick stand, brake tail light and LED display among other great additions.
You can choose from 3 speed settings and enjoy top speeds of 18 mph with an 11 mile range on a single charge. Do need to mention that when we tested it with a slightly heavier human it only delivered 9 miles when running at top speed which isn't great.
Battery charging time was an acceptable 3.5 hours and it folds nicely. You'd just need to know you could charge it at work if your commute to and from the office exceeded the 9-11 miles.
Speed: 18 mph (29 km/h)
Claimed Range: 11 miles (18 km)
Weight: 26 lb (11.8 kg)
Size: 41.5 x 17 x 45.3 inch
Size Folded: 41.5 x 17 x 19 inch
Price: $329
Gotrax GXL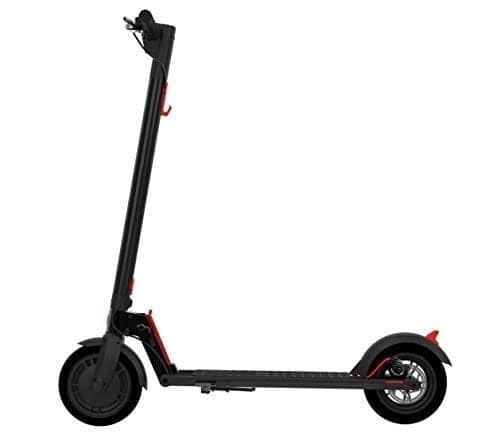 For some, speed isn't the be all and end all. If that's you – then check this one out. It has two riding modes with will give you between an 8 and 12 mile range, which tells us that battery life is effected/reduced when using the more powerful of the two modes.
It doesn't have suspension, which lends itself to the lower price point but it does have pneumatic tires which definitely contribute to a smoother ride. If you're not going to have suspension, at least you have air filled tires.
Disc brake on the back wheel and regenerative brake on the front works well but for harder braking you need to operate the foot pedal which can take a bit of getting used to. With us all (likely) having learned to ride a bike first, handbrakes a more intuitive so you do have to get past that. Some of us a better at others(!)
We'd probably say that this isn't the best electric scooter for commuting but with its lower price point it might be that you're ok with what it does have. 
Speed: 15 mph (24 km/h)
Claimed Range: 8-12 miles (13-19 km)
Weight: 31 lb
Size: 39.4 x 14.4 x 36.2 inch
Size Folded: 39.4 x 6.3 x 14.4
Price:

$

299
Glion Dolly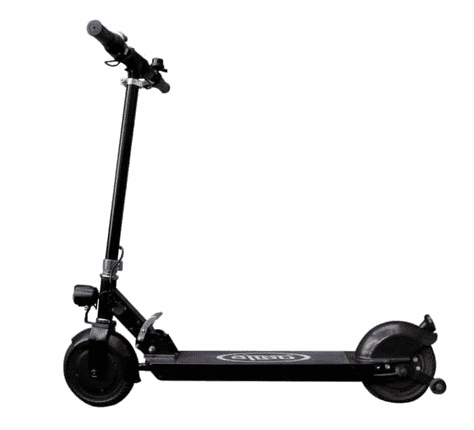 The Glion Dolly is a practical option if you're looking for a fairly priced 'does what it says on the tin' model. It has a lithium-ion battery, giving you 15 mph top speeds and a 15 mile range, so it's not groundbreaking but it delivers a smooth ride, has a super clever folding system – you can fold the handlebars in too (causing less snagging in anything in close proximity).
The board has that grip feel you get on skateboards, making it feel nice and sturdy when you're on it. It's best features are the LED head and tail lights – an absolute necessity if travelling at dusk or nighttime.
Something to be aware of is the twist grip braking system on the handlebar – it uses a magnet to alter the voltage and slows it down but it's quite a harsh and dramatic slowing and feels as though you might be at risk of flying over the handlebars.
This is all overcome with practice of course. A practical choice for commuting but potentially a touch pricey for what you're actually getting. Test / trial ride advised.
Speed: 15 mph (24 km/h)
Claimed Range: 15 miles (24 km)
Weight: 28 lb
Size: 45 x 38 x 16 inch
Size Folded: 8 x 16 x 36
Price:

$

459
Razor EcoSmart Metro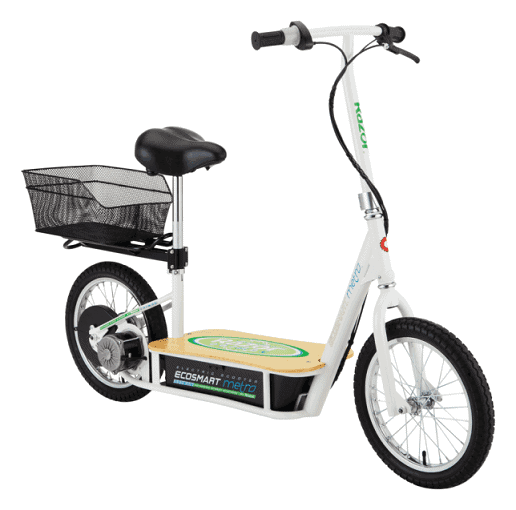 The Razor EcoSmart Metro is a little different and therefore our wildcard here. It's a little more 'bike' in its look. This is in part down to its 16 inch air filled tires but also it's saddle (yes for sitting on).
It has top speeds of 18 mph which is pretty good for its frame and weight and a range of 10 miles which could be just what you need to get from A to B in comfort.
It doesn't have the luxury of being foldable like traditional looking electric scooters but you can park it up like you would a bicycle (you'd just need to find somewhere safe and lockable), it has a nifty little retractable kickstand to make this easier.
It is on the upper spectrum for weight but you wouldn't be expecting to carry this and it's slightly heavier frame does make it feel more sturdy.
Hand brake connecting to the back wheel provides adequate stopping power and the twist grip throttle controls the motor nicely. If you're looking for a sturdy, reliable scooter with a bit of quirk then this might be for you. 
Speed: 18 mph (29 km/h)
Claimed Range: 10 miles (16 km)
Weight: 67 lb
Size: 59.5 x 20.25 x 41.5 inches
Size Folded: Doesn't fold
Price:

$

420
In summary – it feels in most cases the differing specs encourage you to identify what's most important to you. The luxury of the many models and variations available means you can select and discount what does and doesn't suit your personal needs or requirements. Finding an electric scooter that you can't fault (for us here it was the Horizon) is when you know you're into a winner.
If you are looking for an off road electric scooter click this link for more information. 
Related Topics
Paschal Okafor
is
NaijaTechGuide Team Lead
. The article
Affordable Commuter Electric Scooters Compared
was written by . The article was last modified:
April 23rd, 2021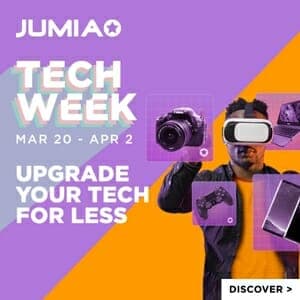 NaijaTechGuide may receive financial compensation for products/services purchased through affiliate links on this site. See
full Affiliate Disclosure Here