Here we share some of the Best Paper Shredders for your home or office. Improperly disposing paper, documents, or any material that contains private, personal, and sensitive information is one mistake you shouldn't make. When you have personal information like names, identification numbers, security numbers, PINs, passwords, verification numbers, address, health information, credit information/score, or bank (account) details on paper, you should not just throw them directly in your bin.
They could easily be taken by someone else with malicious intents and your identity and assess could be stolen.
This is why you should consider investing in a paper shredder, particularly if you use or work with a lot of paper materials in your home, office, or business(es) you run.
Not only do paper shredders grate papers into tiny, unreadable pieces, some models are also powerful enough to destroy other materials like plastic.
So I stead of throwing expired debit/credit cards in the trash, it is recommended that you destroy them with paper shredders before throwing them in the trash.
In some countries, some institutions like banks, hospitals, and some businesses are regulated by law to shred documents containing personal information of their patients, customers, employees, or clients before disposing them.
This is to ensure that information that could lead to identify theft of these individuals is prevented.
It's not easy buying a paper shredder, however. This is why we concocted this guide to help you with your buying decision. Whatever you need a paper shredder for, or whatever your budget is, you'd find one that suits both your budget and needs lost below.
But before then, a little education on the common types of paper shredders.
Types of Paper Shredders
Paper Shredders are majorly classified based on how they cut papers.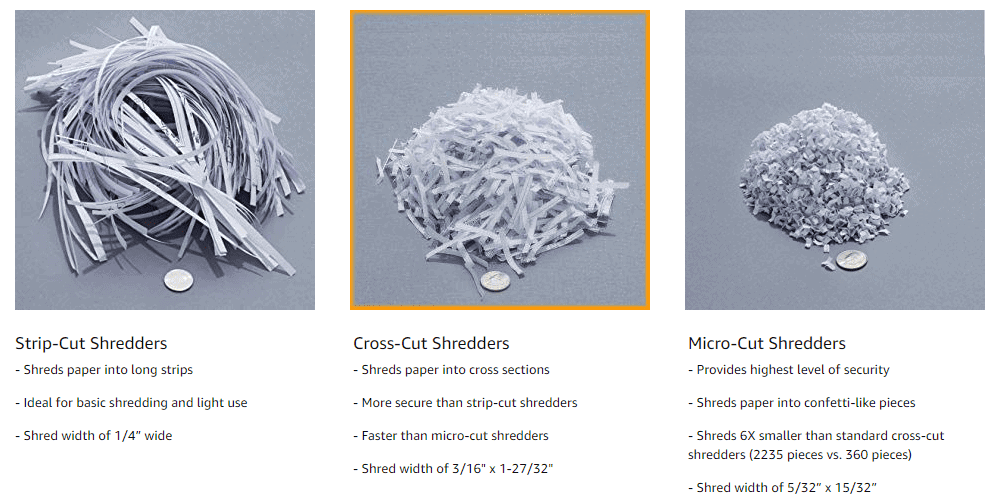 1. Strip-cut Paper Shredder
These types of shredders are the cheapest and most affordable. They cut papers and other materials by stripping using a rotatory blade to slice them into long strips.
From a security standpoint, a strip-cut Paper shredder isn't secure enough because the shredded strips are broad and can be easily put together.
If you'd be destroying documents with lots of private information, you shouldn't use this type of shredder.
2. Cross-cut Shredders
Cross-cut shredders grate materials into even smaller pieces than strip-cut shredders. They are also known as "Confetti Shredders" and are commonly used in homes and small offices/businesses.
With this type of shredder, it would be difficult for anyone to reassemble destroyed documents.
However, with enough dedication, resources, and time, documents destroyed using Cross-cut shredder can be put back together and read.
This is why it isn't advised to use this type of shredder for highly-confidential documents.
3. Micro-cut Shredders
These are the most advanced type of paper shredders. Whatever document you destroy with a Micro-cut shredder is gone (forever) and cannot be reassembled.
These shredders are able to grate a sheet of paper into about 15,000 ultra-tiny pieces. They are also expensive and are mostly used in large corporations and agencies that deal with a huge quantity of confidential documents.
These are the three common types of paper shredding machines you'd find out there. Now, let's have a look at some of the best paper shredders that are worth buying, their features, price, and where to buy them.
Best Paper Shredders You Should Check Out
1. Fellowes Powershred 99Ci Paper Shredder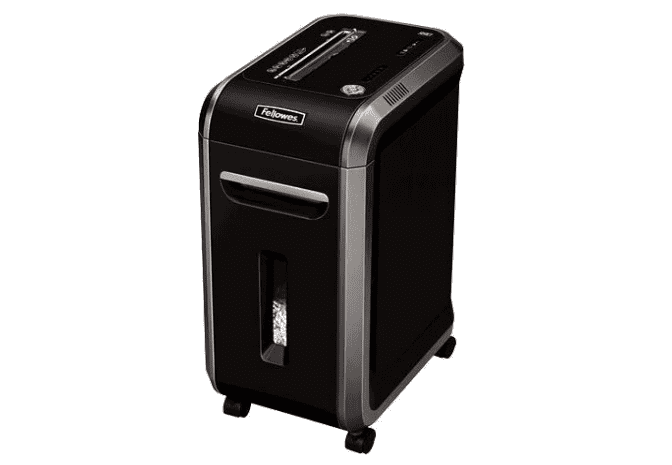 This paper shredder is manufactured by Fellowes and is one of the best out there. It is a Cross-cut type of shredder and is powerful enough to destroy papers and other types of tougher materials like credit cards, CDs, paperclips, staples, and DVDs.
The Powershred 99Ci can shred up to 18 sheets of paper at a go and grate them into 397 tiny particles.
The Fellowes Powershred 99Ci can shred materials for 30 minutes non-stop after which it will be required to be cooled for a 40-minute period.
The device also features a SafeSense technology safety feature that stops the shredder whenever hands touch the paper opening.
This makes it suitable to be used at home around kids and pets. It also features a 9-gallon pull-out bin that holds shredded materials.

The bin comes with an indicator that appears to signal that the bin is filled. The Fellowes Powershred 99Ci Paper Shredder costs $248.98 and users have commended its great jam-proof shredding capabilities. For details and latest prices, see below:
2. Bonsaii EverShred Pro 4S16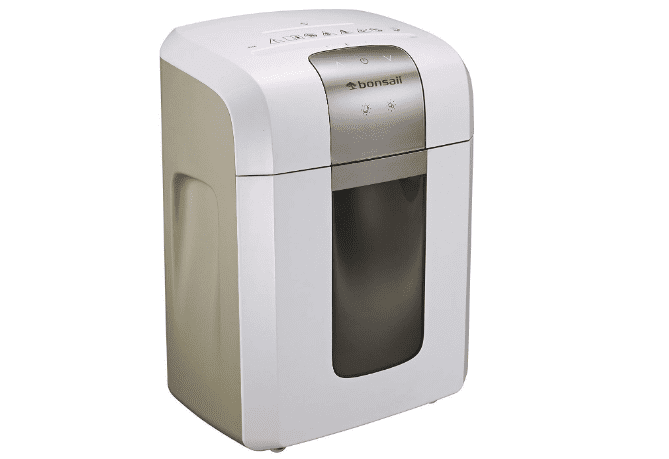 The Bonsaii EverShred Pro 4S16 is another paper shredder that's worth the price it sells for. It is a Micro-cut shredder and destroys paper documents and other plastic materials to ultra-tiny particles that are almost impossible to rearrange and recover.
Although the device can only shred 6-sheets at a time, it can stay in operation for up to an hour (60 minutes) with only a 10-minutes rest period required.
Another highlight feature of the Bonsaii EverShred Pro 4S16 is its cooling system which ensures that the shredder is always at the ideal working temperature by circulating cool air circulated within the device and expelling hot/warm air.
Unlike other shredders, you won't have to halt your shredding session or wait for the EverShred Pro 4S16 to cool before reusing it.
The device's Jam-protection system boasts of auto-start and auto-reverse mechanism that prevents overheating and overloading. This ultimately lengthens the lifespan of the shredder.
There's a 4.2-gallon sized bin for paper collection and a separate 0.37 gallon for collecting plastic materials like credit/debit cards, CD/DVD, paper clips, etc. The bin features a transparent window that serves as an indicator to let you know when the bin is full or not.

The Bonsaii EverShred Pro 4S16 sells for $185.99 and is one of the best Micro-cut shredders out there for personal and office use. For details and latest prices on Amazon, see below:
3. Aurora AU1000MA 10-Sheet Shredder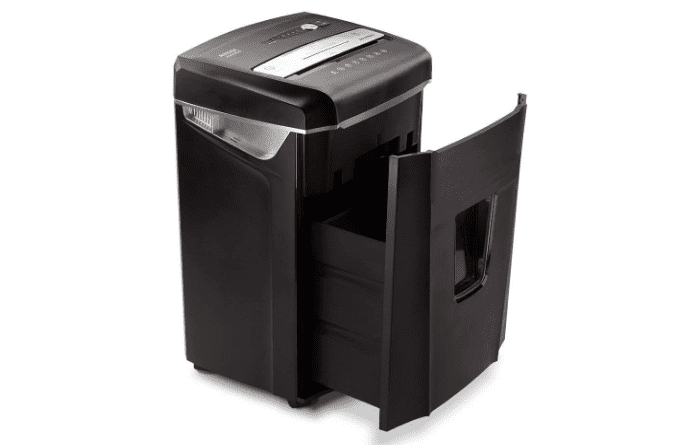 If you need a micro-cut shredder that cuts more papers at a time and sells below $150, you should check out this 10-sheet shredder from Aurora.
From the name, the device is able to shred up to 10 pieces of paper into its 5-gallon basket. It is super powerful and its shredded particles are six(6) times smaller than the typical shredder.
There's a Shredsafe System that prevents accidents by automatically shutting down the device when materials are forced into it.
The Jam-free technology of the Aurora AU1000MA prevents paper jam by turning off operation if it detects that the device is overloaded.
The AU1000MA Micro-cut shredder also boasts of an Auto power-off feature that shuts down the device after 5 minutes of inactivity.

Like every other shredder on this list, the Aurora AU1000MA features an overheat protection system that cools down the device during operation.
For $144.55, you can purchase a unit of the Aurora AU1000MA 10-Sheet Shredder with a one-year post-purchase warranty. For details and latest prices on Amazon, check below:
4. Bonsaii 4S30 Paper Shredder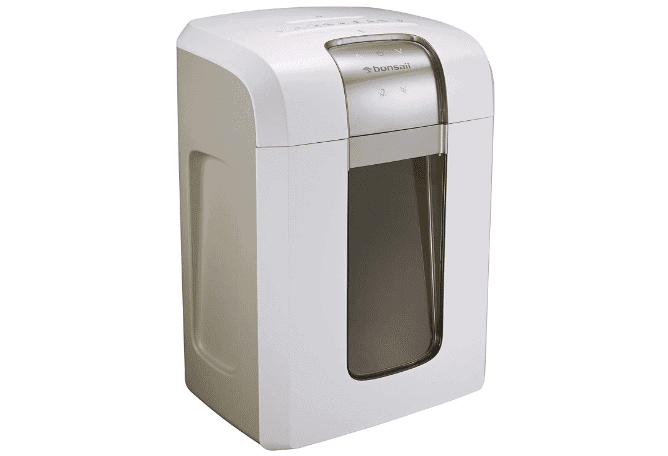 This is another micro-cut shredder from Bonsaii on this list. Design-wise, it looks similar to the Bonsaii EverShred Pro 4S16 but it is way more powerful. And it costs more, of course.
The Bonsaii 4S30 can shred up to 10 sheets at a go and run continuously for up to 240 minutes (4 hours) non-stop without the need for a break.
This makes it perfect for use in large offices or organizations where a lot of documents containing highly-sensitive information are shredded every hour.
Users have also commended the impressive shredding speed and quietness of the device during operation.

Other features of the Bonsaii 4S30 paper shredder include overload protection technology, anti-jam technology, a large 7.9-gallon pull-out bin with a transparent window, a separate 0.37-gallons bin for plastic, and an advanced cooling system. The Bonsaii 4S30 device sells for $289. For details and latest prices on Amazon, see below:
5. AmazonBasics 8-Sheet Home Office Shredder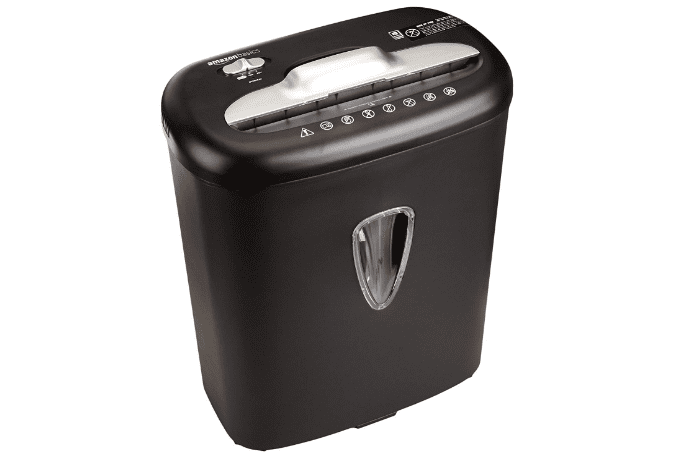 This paper shredder by Amazon is perfect for home and office use. Though it is rated 8-sheet, it generally suited for low-volume shredding and occasional usage.
The device is a cross-cut shredder that effortlessly destroys paper and plastic. The device can, however, only run continuously for 3 minutes and requires to be cooled down for 30 minutes before the next usage.
The 4.1-gallon bin will house enough shredded paper before it gets filled up. And through the basket windows, you can see the easily check to see if the bin is filled or not without having to open it.
The AmazonBasics 8-Sheet cross-cut shredder costs $36.99 and is covered by AmazonBasics 1-year warranty. If you are on a shoelace budget, you should consider this shredder. For details and latest prices check offers below:
6. Aurora AU870MA
If you want something similar to the AmazonBasics 8-Sheets shredder above, the Aurora AU870MA is also a perfect budget shredder.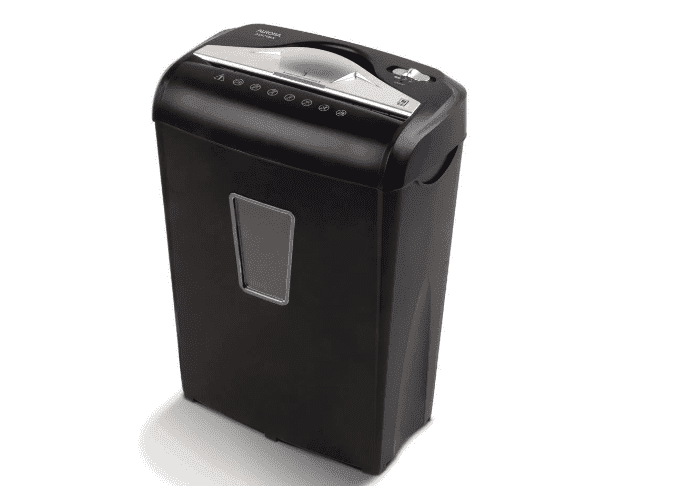 It uses an auto-start and a manual reverse mechanism to prevent paper jams. It also comes with a 3.9-gallon basket that can hold up to 230 sheets of shredded materials. The Aurora AU870MA can shred up to 8 sheets at a go and boasts of a 5-minute continuous run-time.

The device sells for $49.99 and is covered by a 1-year warranty. For details and latest prices on Amazon, see below:
7. AmazonBasics 12-Sheet Home Office Shredder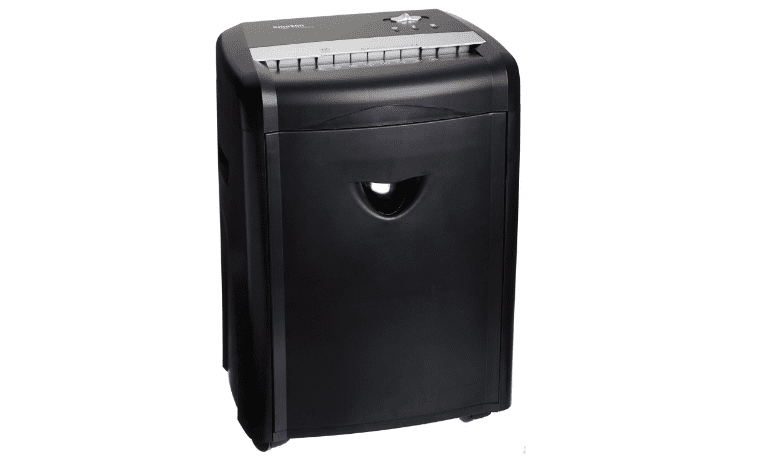 This is another budget-friendly shredder made by Amazon but this one is more powerful and shreds better than the AmazonBasics 8-sheet shredder above.
This one is a micro-cut shredder and can shred 12-Sheet simultaneously into tiny particles.
It also sports an Auto-shutdown feature that helps regulate its temperature; the device operation is suspended when the temperature is getting too high.
The 12-sheet AmazonBasics micro-cut shredder can run continuously for 8 minutes and require a 45-minutes cool-down cycle after every 8-minutes of usage.

The device is quiet during usage and perfect for usage in the home and small offices. It is available of Amazon for $99.99 only and is covered by AmazonBasic's 1-year warranty. For details and latest prices check below:
8. AmazonBasics 15-Sheet Office Shredder
This AmazonBasics 15-sheet shredder is a high-end products that's powerful enough for high-volume tasks and will effortlessly shred whatever material you subject it to. There's even a dedicated shredding slot for the tough stuff; CDs, DVDs, credit cards, etc.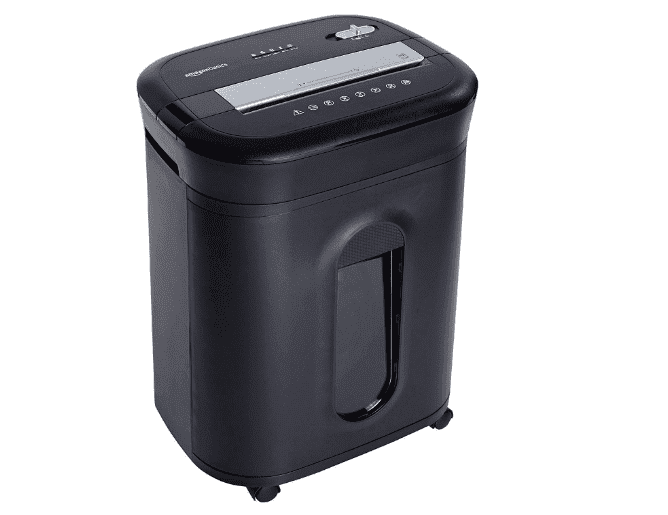 The jam-free technology is also impressive, likewise the 4-mode power switch. The Auto switch allows the device to automatically detect and shred material you insert to the slots.
Pressing the reverse switch during operation pushes back material currently being shredded in the slot. There's also a forward switch that hastens the shredding process while the Off switch stops the machine.
This shredder is silent during operation and can take up to 15-sheets at a time and shred them in a cross-cut format. The bin is a 6-gallon pull-out basket which comes with an LED-light that notifies users whenever the basket is filled up.

The AmazonBasics 15-Sheet Cross-cut shredder is available on Amazon for $ 113.88 and is covered under a 1-year warranty. For details and latest prices on Amazon, see below:
9. Fellowes Powershred 99Ms 14-Sheet Paper Shredder
This right here is a 'heavy-duty' shredder that you should buy if you are setting up a big office. The design is impressive and most importantly, it's capable of shredding all kinds of materials you might possibly want to destroy in the workplace. Confidential documents, plastic credit cards, staples, stapled documents, etc. It's that powerful.
The Fellowes Powershred 99Ms also comes with a unique AutoReverse technology that stops shredding and returns the material if a jam occurs.
There's also a SefeSense feature that stops shredding when hands touch the slot/opening. You'd find this pretty useful if you have kids or pets around, or if you'd be using the shredder at home.

The Powershred 99Ms can shred up to 14 sheets at a go and can continuously operate for 20 minutes before needing about 40 minutes to cool down. The device sells for $340 and is covered by a 1-year product & service warranty in addition to a 7-year cutter warranty. For details and latest prices on Amazon, check below:
10. Bonsaii EverShred C149-D 12-Sheet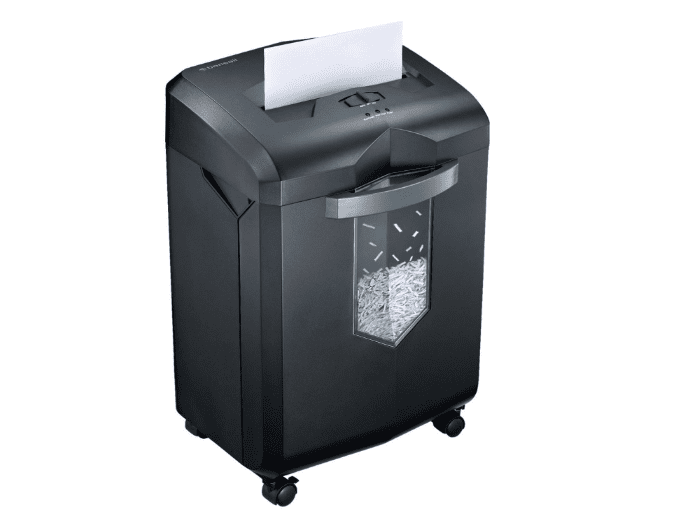 The Bonsaii EverShred C149-D is another 'heavy-duty' micro-cut shredder suitable for large scale usage. It can shred 12 sheets at a pass and operate continuously for 60-minites (an hour) with only 10 minutes of rest/cool down period required.
It is powerful enough to cater for all your shredding needs; for papers, clips, credit cards, staples, DVDs, etc. The device is also super quiet during operation as it boasts of a 62 dB noise level.
There's also an overheat protection mechanism integrated so you can use the device for long periods without worrying about heat-induced damages.

The Bonsaii EverShred C149-D retails for $155 and some of its extra features include Auto start/stop, reverse jam-proof system, 5.3 feet/minute shredding speed, etc. For details and latest prices, check below:
And that's about it. The products above are some of the best paper shredders that are worth buying out there.
Remind to put factors like the number of users, number of sheets, materials to be shredded, type pf cut, safety technology, overheating protection, noise level, operation hours/minutes, cooling cycle, etc. into consideration before making your buying decision.
Related Topics