DJI Matrice 300 RTK is a commercial drone platform with an airframe design inspired by the modern aviation system, thus offering up to 55 minutes of flight time. It also supports triple-channel sensor (20 MP Zoom Camera, 12 MP Wide Camera, 1200 m LRF) with 1080p video resolution, 6 Directional Sensing and Positioning system, advanced AI capabilities, with AI spot-checking, Smart Track, PinPoint, Location Sharing, and an advance dual control for flexible flight operation.
Where to Buy DJI Matrice 300 RTK
Jumia Nigeria – See Offers | AliExpress – See Offers
This drone can transmit up to 15 km thanks to the all-new OcuSync Enterprise. It also comes with a new primary flight display and multi-sensor payloads that gives unprecedented aerial imaging capabilities. DJI Matrice 300 RTK has the perfect security feature to help secure your data transmissions.
DJI Matrice 300 RTK Key Features
15 km Max Transmission
55-min Max Flight Time
6 Directional Sensing & Positioning
Primary Flight Display
IP45 Rating
Advanced Dual Control
Hot-swappable Battery
-20°C to 50°C Operating Temperature
UAV Health Management System
Up to 3 payloads simultaneously
Supported DJI Gimbals: Zenmuse XT2/XT S/Z30/H20/H20T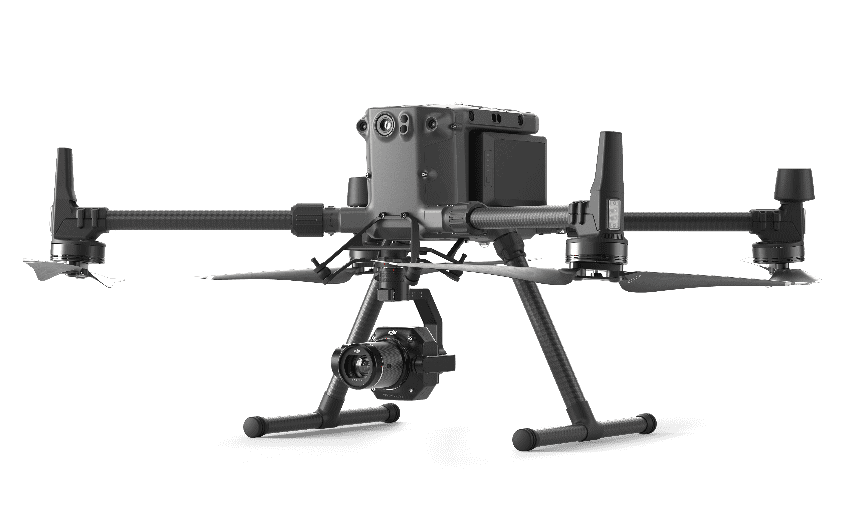 Design
DJI Matrice 300 RTK design is inspired by the modern aviation systems. Thanks to its mechanical design with quick-release landing gear and folding arms, this drone is incredibly easy to transport, store and assemble for flight.
It is made of light Magnesium-Aluminium alloy, thus measuring 810×670×430 mm (L×W×H) when the propellers are unfolded and 430×420×430 mm (L×W×H) when unfolded. It also weigh 6.3 kg when battery is included and 3.6 kg without it.
Furthermore, the DJI Matrice 300 RTK has three-axis stabilized camera sensor and two antennas. There is also a microSD card slot, as well as two USB-C port and battery spot.
There is also the new auxiliary LED lights on the top on the bottom for accurate obstacle avoidance sensing in low light. These LEDs are separate from the anti-collision beacons which the Matrice 300RTK also has those on the top and bottom
Transmission System
DJI Matrice 300 RTK feature DJI OcuSync Enterprise, which can transmit video at 720p or 1080p, thus, provides a live HD view from the aircraft's camera at distances of up to 9.3 miles (15 km).
Using the OcuSync system, this drone starts by scanning for any local interference and then makes a decision between three transmission channels: 20MHz mode, 10MHz and the lowest 1.4MHz mode before it automatically switch to the best.
Furthermore, with the Ocusync 2.0, the DJI Matrice 300 RTK can use either 2.4 GHz and 5.8 GHz which gives it more flexibility when there is a lot of interference in transmission.
This DJI drone also has 55 minute maximum flight time, and 15 mph maximum descent speed. DJI has changed the motors to offer a maximum flight speed of 51 meters per hour. It can also resist level 5 winds and take off at a max altitude of 22,965 ft, so your footage is stable even when flying along a windy coastline or high above an alpine forest.
Smart Functions
DJI Matrice 300 RTK has a live recording feature that allows it to record mission actions such as aircraft movement, gimbal orientation, photo shooting, and zoom level to create sample mission files for future automated inspections.
Furthermore, with its AI Spot-Check feature, this drone carry out routine inspections and capture consistent results every time. With the built-in AI, it recognizes the subject of interest and automated missions to ensure consistent framing.
The DJI Matrice 300 RTK also create up to 65,535 waypoints and set multiple actions for one or more payloads. It is also optimized for flightpath planning to flexible and effective operation.
There is also a Pinpoint feature which allows operator to mark an object in camera or map view with a quick tap, and advanced sensor fusion algorithms will immediately calculate its coordinates, which are projected to all camera views as an AR icon. The location of the subject is automatically shared with another remote controller, or to online platforms such as DJI FlightHub.
In addition, DJI Matrice 300 RTK sports the Smart Track function hence, it can easily identify and follow moving subjects like people, vehicles, and boats. It can also make use of the auto-zoom feature for steady tracking and viewing.
You may also be interested in the DJI Matrice 600 Pro.
DJI Go App
DJI Matrice 300 RTK supports the DJI GO app, hence, you can view live events, battery status, flight status, transmission strength and much more, right from the DJI GO app. To control the camera, you can also make use of the App. It gives access to shutter speed, ISO, photo or video capture. This app is compatible with both iOS and Android.
DJI Smart Controller
This remote controller comes with an ultra-bright 5.5-inch 1080p display that maintains clear visibility even in direct sunlight. Pilots can also view the live status of the aircraft's heading, trajectory, PinPoint information, and home point projection, in a more efficient way.
It has a microSD card slot which records all activities of the drone. This smart remote also support the advanced Dual Operator Mode which allows for more than one operator to control the drone at a time.
It has two antenna, two gimbal wheel to tilt the camera right, left, up or down and six buttons for smooth and easy control. The controller also features an internal battery and a WB37 battery port giving the controller a 4.5 hour run time.
Compare Prices
Other Features
The Matrice 300RTK has the brand new TB60 batteries. These batteries give the Matrice 300RTK a max flight time of 55 minutes. It has obstacle avoidance sensors on the front, bottom, and top of the drone. These sensors can detect smaller objects and have auxiliary lighting to see objects at low light.
The drone is also equipped with DJI's AirSense system using an ADS-B receiver to provide drone pilots with awareness of approaching air traffic that may pose a collision risk.
DJI Matrice 300 RTK Price and Availability
DJI Matrice 300 RTK drone price starts at around $13,700 at leading online stores. The commercial drone is available on various online shopping platforms.
DJI Matrice 300 RTK Specs
Here are a few specs of the DJI Matrice 300 RTK:
Drone
Brand Name: DJI Matrice 300 RTK
Aerial Photography: Yes
Colours: Back
Dimension: Unfolded, propellers excluded, 810×670×430 mm (L×W×H)
Folded, propellers included, 430×420×430 mm (L×W×H)
Weight: Approx. 3.6 kg (without batteries) Approx. 6.3 kg (with two TB60 batteries)
Material: Aluminium
Max Angular Velocity: Pitch: 300°/s, Yaw: 100°/s
Max Cruising speed: 16m/s
Flying Limited Altitude: 5000m
Max flight Time: 55 Mins
Wind Resistance: ≤15m/s
Max ascending speed: S mode: 6 m/s | P mode:5 m/s
Max descending speed: S mode: 5 m/s | P mode:4 m/s
Satellite positioning systems: GPS+GLONASS+GALILEO
FOV: Forward/Backward/Downward: 65° (H), 50° (V)
Left/Right/Upward: 75°(H), 60°(V)
Supported DJI Gimbals: Zenmuse XT2/XT S/Z30/H20/H20T/DJI P1/DJI L1
Supported Gimbal Configurations: Single Downward Gimbal
Ingress protection Rating: IP45
Resolution: 960p
Operating Temperature: -20°C to 50°C (-4°F to 122° F)
Remote controller
Operating frequency: 2.4000-2.4835 GHz / 5.725-5.850 GHz
Max RC/ distance: NCC/FCC: 15 km, CE/MIC: 8 km SRRC: 8 km
External Battery: 4920 mAh / 37.39Wh
Battery Life: 18650 lithium ion battery
Nominal voltage: 7.6V
USB Power Supply: 5 V / 1.5 A
Operating Temperature: -20°C to 40°C (-4 °F to 104 °F)
Intelligent Flight Battery
Name: TB60
Battery: 5935 mAh
Charging limit voltage: 52.8 V
Battery Type: LiPo 12S
Energy: 274 Wh
Power Output: 100-120 V: 750 W/220-240 V: 992 W
Power Input: 100-120 VAC, 50-60 Hz / 220-240 VAC, 50-60 Hz
Paschal Okafor
is
NaijaTechGuide Team Lead
. The article
DJI Matrice 300 RTK Price, Specs and Best Deals
was written by . The article was last modified:
July 5th, 2022