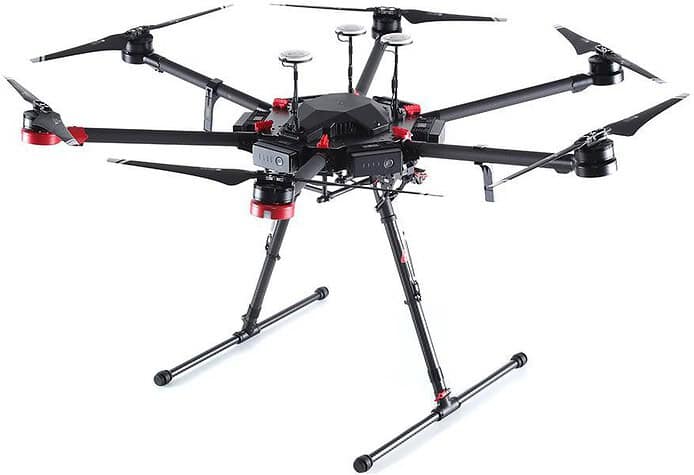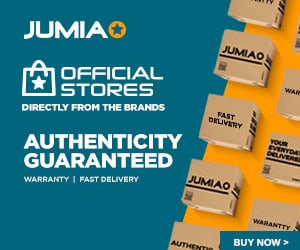 DJI Matrice 600 Pro is a hexacopter equipped with powerful DJI technologies, six intelligent flight batteries, Lightbridge 2 HD transmission system and impressive durable design for improved flight performance. It is compatible with several Zenmuse camera, gimbals, different third party software and hardware, hence, it is ideal for professional aerial photography.
Where to Buy DJI Matrice 600 Pro
Jumia Nigeria – See Offers | Amazon US – See Offers
The Matrice 600 Pro supports the DJI Go App and the DJI Assistant 2, so you can get a live HD view, status update, transmission strength, battery status and more. This drone also comes with A3 Pro flight controller for quick and easy control.
DJI Matrice 600 Pro Key Features
Works with Ronin-MX Gimbal
Integrated Lightbridge 2 Support
Full HD 1080p Live Monitoring
A3 Pro Flight Controller
DJI Go App
Increased Performance / Modular Design
Collapsible Design for Easy Transport
6 x Flight Batteries and Six-Bay Charger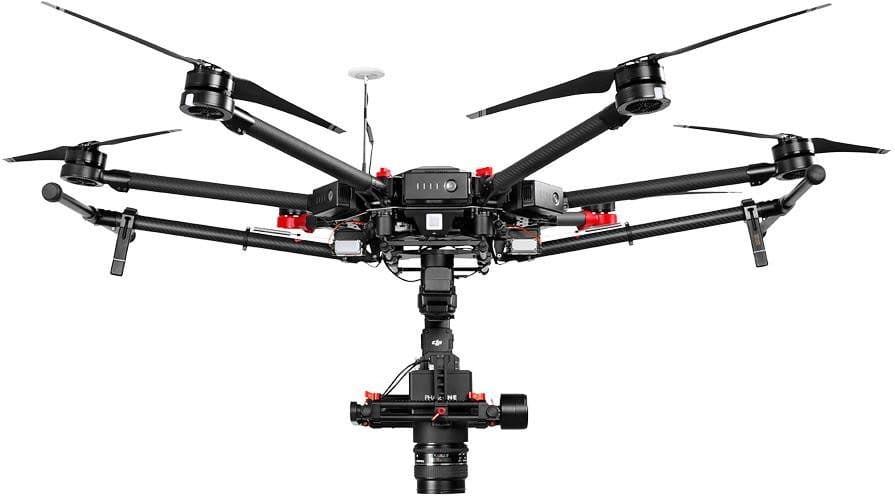 Design
DJI Matrice 600 Pro sports a compact and lightweight, easy to assemble design. The incredibly small body and weight makes it easy to fly higher than most drone with the same price range.
It features an aluminium body, which measures 1668 mm × 1518 mm × 727 mm with propellers, frame arms and GPS mount unfolded (including landing gear)
and 437 mm × 402 mm × 553 mm with propellers, frame arms and GPS mount folded (excluding landing gear). It also weighs 15.5 kg.
Furthermore, thanks to the retractable landing gear, and fold-down carbon fibre arms, the Matrice 600 Pro is very easy to maintenance and transport. It also features a dust-proof propulsion system, hence, it is reliable and safe for  operation over extended periods of time.
Above all, under the new upper cover, there are GNSS modules and sensors for easy flight including collision sensors, an altitude sensor and optical sensors at the back.
Performance
This drone features major upgrade and update from its predecessor the Matrice 600. It is built with the DJI's E2000 Tuned Propulsion system which is engineered using a combination of 6010 motors, 1240S/X ESCs, and R2170 propellers, for industrial applications and aerial imagery.
It also supports the Ronin-MX gimbal, DJI Focus and a range of cameras from Micro Four Thirds systems to the RED EPIC. DJI Matrice 600 Pro is also compatible with several Zenmuse cameras and gimbals to offer improved performance.
In addition,  thanks to the DJI Lightbridge 2 system, the DJI Matrice 600 Pro has professional HD transmission which allow you to travel further and see more clearly. The integrated controller and intelligent algorithms set a new standard for wireless HD image transmission by lowering latency and increasing maximum range and reliability.
Furthermore, the Lightbridge 2 Ground Unit all support video output at up to 1080p/60fps. You can enjoy as low as 720p/59.94fps and 1080i/50fps broadcast standard output, thus, enabling even more creative opportunities for aerial imaging.
This drone has an intelligent drive system using the sine-wave-driven which offers the most advantages in smooth motion from a smoothly rotating vector. All phases of the motor are used at all times and the optimum commutation angle rare set for maximum torque production at all times making each flight smooth.
The DJI Matrice 600 Pro also comes with an improved global positioning (GPS/GLONASS/Galileo), altitude sensor and the three downward-facing distance with an optical sensors which means the drone has nearly-flawless perception of its positioning and can hover as well as much more expensive alternatives.
Remote Controller
The DJI drone comes with A3 Pro flight controller which offers ultimate reliability with accurate flight control. This controller is is equipped with three IMUs and three GNSS units, with additional analytical redundancies for a total of six redundancies.
It has a robust control algorithm that enables the A3 and A3 Pro to be adapted to a wide range of aircraft without the need for manual tuning. With a fault-tolerant control system, you can easily land the drone safely even in the event of propulsion system failure.
You may also be interested in the DJI Matrice 300 RTK.
DJI Go App
DJI Matrice 600 Pro supports the DJI GO app, hence, you can view live events, battery status, flight status, transmission strength and much more, right from the DJI GO app.
To control the camera, you can also make use of  the App. It gives access to shutter speed, ISO, photo or video capture. This app is compatible with both iOS and Android.
There is also the DJI Assistant 2 which offers supports for firmware updates and Ground Station, and comes with a built-in flight simulator. With its new, built-in flight simulator, it ensures that complex moves can be practiced in advance without risking the aircraft, and a completely overhauled Ground Station to support touch screen interaction, offline mission design, route planning and even formation flight for multiple aircraft.
Compare Prices
Battery life
The DJI Matrice 600 Pro comes with a powerful battery management system which can last up to 5km long-range transmission. This battery manager can accommodate up to six batteries and can be used as a mobile power source to charge devices. The system also monitors every battery during flight, ensuring safe landing in the event of single battery failure.
DJI Matrice 600 Pro Price and Availability
The DJI Matrice 600 Pro price starts at around $6,999.00. It is available on various online shopping platforms.
DJI Matrice 600 Pro Drone Specs
Here are a few specs of the DJI Matrice 600 Pro :
Drone
Brand Name: DJI
Aerial Photography: Yes
Colours: Grey, Black
Dimension: 1668 mm × 1518 mm × 727 mm with propellers, frame arms and GPS mount unfolded (including landing gear)
437 mm × 402 mm × 553 mm with propellers, frame arms and GPS mount folded (excluding landing gear)
Weight: 15.5 kg
Material: Aluminium
Motor Type: Brushless motor
Max speed: 40 mph / 65 kph (no wind)
Hovering Accuracy (P-GPS): Vertical: ±0.5 m, Horizontal: ±1.5 m
Max Angular Velocity: Pitch: 300°/s, Yaw: 150°/s
Wind Resistance: 8 m/s
Max ascending speed: 5m/s
Max descending speed: 3.5m/s
Satellite positioning systems: GPS+GLONASS+GALILEO
Max Service Ceiling Above Sea Level: 2170R propellers: 2500 m;2195 propellers: 4500 m
Supported DJI Gimbals: Ronin-MX; Zenmuse Z30, Zenmuse X5/X5R, Zenmuse X3, Zenmuse XT; Zenmuse Z15 Series HD Gimbal: Z15-A7, Z15-BMPCC, Z15-5D III, Z15-GH4
Flight Control System: A3 Pro
Propulsion System: Motor model: DJI 6010, Propeller model: DJI 2170R
Retractable Landing Gear: Standard
Operating Temperature: 14° Fto 104° F (-10° C to 40° C)
Charge porttype: LightningMicro USB (Type-B) Micro USB
Remote controller
Operating frequency: 920.6 MHz to 928 MHz (Japan); 5.725 GHz to 5.825 GHz; 2.400 GHz to 2.483 GHz
Max RC/ distance: FCC Compliant: 3.1 mi (5 km), CE Compliant: 2.2 mi (3.5 km) (Unobstructed, free of interference)
Transmitter Power (EIRP): 10 dBm @ 900M, 13 dBm @ 5.8G, 20 dBm @ 2.4G
Video Output Port: HDMI, SDI, USB
Battery: 6000 mAh LiPo 2S
Charger
Voltage Output: 26.1 V
Rated Input: 600 W
Single Battery Port Output Power: 100 W
Battery
Battery: 4500 mAh
Charging limit voltage: 22.2 V
Battery Type: LiPo 6S
Energy: 99.9 Wh
Max Charging Power: 180 W
Package Contents
DJI Matrice 600 Pro Hexacopter
Aircraft Body (With Arm Sleeves)
2x Landing Gear Legs
2x Landing Skid
Remote Controller
2x Springs
6x Matrice 600 TB47S Intelligent Flight Battery
Hex Charger
Inner Foam Case
Power Cable
2x RC Charging Cable
Micro-USB Cable
6x Knob (With Gasket)
Tape
Battery Stickers
Screws
Paschal Okafor
is
NaijaTechGuide Team Lead
. The article
DJI Matrice 600 Pro Price, Specs and Best Deals
was written by . The article was last modified:
July 5th, 2022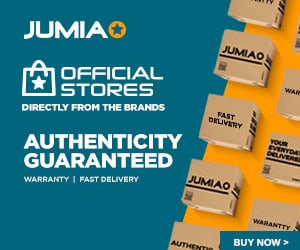 NaijaTechGuide may receive financial compensation for products/services purchased through affiliate links on this site. See
full Affiliate Disclosure Here