Honda is introducing an SE (Special Edition) trim in the 2015 Honda Pilot, placing it between the EX and the Ex-L trims. It is not much of an update, maintaining the now stable design of the second generation, which now in its sixth year. The Honda Pilot will be getting its long over-due update in the 2016 model year.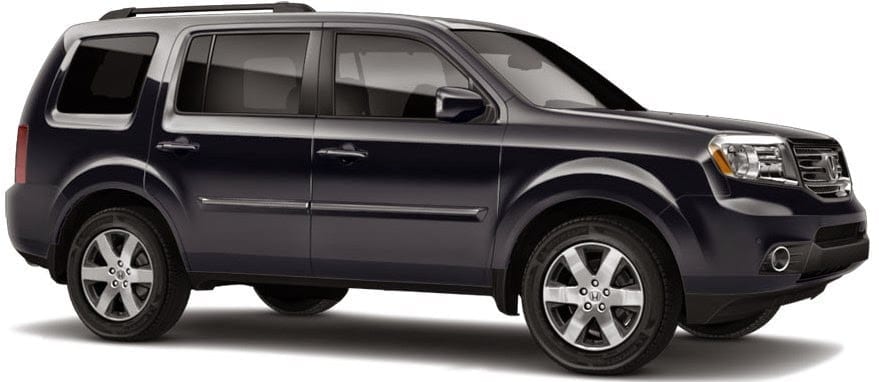 The Pilot is an automotive vehicle manufactured by Japanese car manufacturer Honda. The vehicle is classified as being a mid sized crossover SUV and is currently the largest and most spacious SUV that Honda has to offer.
The vehicle was introduced a little over a decade ago in the year 2002, and so is a relatively young newcomer when compared to Honda's other, more established vehicles.
It lends the Honda family of vehicles a certain family friendly charm, something not provided by the smaller SUVs, the reliable Civic and the more high end Accord, although it has been argued that the vehicle sacrifices style for substance.
The Exterior
The 2015 Honda Pilot does not, at first glance, seem to have had any stylistic or structural revamps from its predecessors. It is still angular and stocky, and somewhat ugly as a result.
The vehicle has always been known as a pragmatic, utilitarian automobile rather than a stylish car, but Honda seem to be lagging behind the recent curve in automobile design that favours smooth curves over sharp edges in order to facilitate a more aerodynamic drive.
The 2015 Honda Pilot simply looks out of place in todays modern day and age. Although they have made some improvements in this regard, evening out some of the jagged edges to make them a bit smoother, perhaps it is the immense bulk of the car that simply doesn't allow an aerodynamic design to be constructed for it.
However, the car does provide what Honda intends it to provide: space, space and even more space. The very size of the vehicle is imposing from the outset, and one can tell from the first glance that purchasing this vehicle will afford them more than enough room to house a gaggle of rowdy children, or perhaps a gaggle of rowdy friends.
There are five different trims in which the 2015 Honda Pilot is available, which are the LX, EX, SE and EX-L as well as the Touring ranging from lowest end to highest end in that order. The lowest trim, the LX, comes with 17 inch wheels made of steel, whereas all three higher end trims come with 18 inch alloy wheels.
The Interior
The interior of the 2015 model of the Honda Pilot is extremely roomy. It features three rows of seats, in total allowing you to seat eight potential passengers very comfortably. The higher end trims feature keyless entry but this feature is not present on the LX trim.
The EX-L trim, which is the second most premium trim available, provides a sunroof the option of either a navigation system or rear seat entertainment. It is odd that they don't provide both features even in the most premium trim available, and this factor certainly detracts from the vehicles overall appeal.
The 2015 Honda Pilot Touring also offers the aforementioned features, including the choice between rear seat entertainment and navigation, and also a ten speaker sound system as well as forward and rear parking sensors.
The interior has been designed to look plush but does not provide as much comfort as similarly priced counterparts offered by Honda's competitors in the automotive vehicle industry.
However, the 2015 Honda Pilot provides enough space for eight passengers, as has been mentioned before, and also has enough room to allow for the storage of reasonably bulky items in front of the passenger seats.
Once again, Honda proves that they are going for substance over style with this vehicle, although most consumers today would find the style sorely missed, and the lack of it will factor negatively in whether you will buy this car or not.
Safety
The 2015 model of the Honda Pilot features all of the standard safety bells and whistles, such as anti lock brakes and traction control which also aids in stability, as well as front and side curtain airbags and head restraints in the front seats.
However, lane departure and blind spot monitoring technologies are notably absent from this vehicle, which makes it considerably less safe than comparatively priced vehicles produced by competitors. The brakes also seem to be lacking sufficient power.
The 2015 Honda Pilot comes to a stop from 60 miles per hour in 130 feet, which is one of the longest stops recorded for similarly sized vehicles. This is absolutely unacceptable, and Honda really should up the ante in the safety department next time around.
The vehicle scored fairly well in most government crash tests, but received the lowest possible rating in a frontal impact test conducted by the Insurance Institute for Highway Safety.
Performance
The 2015 Honda Pilot has a solid drive but it can feel far too bulky at times. Although the vehicle successfully provides a smooth drive by absorbing relatively frequently the bumps that are often found on roads, the vehicle tends to turn very slowly, and all the while you are driving it you will constantly feel the weight of the vehicle impeding you, forcing you to slow down and take turns with care.
All 2015 Honda Pilot trims are powered by a 3.5 Litre V6 engine with a 5-speed automatic transmission and either front-wheel drive or all-wheel drive.
It simply does not provide the same care free drive that similar vehicles offer, so the comparison made is not an unfair one, such as a comparison with a sedan or similarly compact vehicle would be. The fuel economy is also nothing really to write home about. The vehicles provides acceptable fuel economy fora vehicle this size, but doesn't really give the impression that it can save you money on gas.
Overall, the 2015 Honda Pilot is a fine vehicle, it is large and spacious and has adequate fuel milage, but the lack of effort that has been put into the vehicle is noticeable. Vehicles that serve similar functions to this one manufactured by Honda's competitors are a lot more comfortable than this car, providing more advanced amenities as well as far superior safety features.
All in all, if brand loyalty is something you believe in then the Honda Pilot will serve you fairly well, it is true. However, if you are looking to get the best value for your money, there several far better options available in the market.
Pricing and availability
The 2015 Honda Pilot is not yet available in Nigeria. When officially available, you can buy at Honda Dealer outlets near you. 2015 Honda Pilot price in Nigeria is expected to range from N5,900,000 to 15,000,000 NGN.
2015 Honda Pilot Specs
Here are a few specs of the 2015 Honda Pilot mid-size crossover SUV:
Exterior
Beam Headlights: Multi-Reflector Halogen Headlights (All trims), with integrated fog lights (except LX trim)
Power Mirrors: Yes, Pilot Touring adds turn signal indicators
Power Moonroof: Yes (except for LX and EX trims)
Power Liftgates: Yes (Pilot EX-L and Touring trims)
Steel Wheels: 17-inch Wheel (LX trims only)
Alloy Wheels: Yes, 18-inch Wheel (EX, SE, EX-L, and Touring trims)
HSEA Glass: –
Rear spoiler: –
Chrome-tipped exhaust: Yes (Except LX trim)
Grille: –
Interior
Air Conditioning: Tri-Zone Automatic Climate Control
Media Player: Yes, AM/FM CD player, MP3/WMA playback
Speakers: 7 Speaker System, Pilot Touring offers a 10 Speaker System
Audio Jack: Yes
USB Port: Yes, with iPod connectivity
Voice Recognition: Yes (only Touring trims), Available as an optional package for EX-L trims
Bluetooth: Yes
Wireless Charging: No
Display: 8-inch, 480 x 320 pixels Display, Touring trim offers 800 x 480 pixels
Backup Camera: Yes
Satelite Radio: Yes (Except LX and EX trims)
Run Apps: –
Remote Keyless Entry System: Yes
Fabric Seats: Yes (LX, EX, and SE)
Leather Seats: Yes (EX-L and Touring)
60/40 split fold-down: Yes
Cruise Control: Yes
Steering Wheel: Yes Power Steering (Tilt/Telescopic), Leather wrap for EX-L and Touring
Power Doors: Yes
Modes: –
Power Windows: Yes
Safety
Vehicle Stability Assist (VSA): Yes
Traction Control (TRAC): Yes
Anti-lock Brake System (ABS): Yes
Electronic Brake-force Distribution (EBD): Yes
Brake Assist (BA): Yes
Collision Mitigation Braking System (CMBS): No
Lane Departure Warning (LDW): No
Airbags: Yes
Seatbelts: Yes, 3-point seatbelt for all seats and LATCH for kids
Side-impact door beams: –
Tire Pressure Monitor System (TPMS): Yes
Engine Immobilizer: Yes
Anti-theft System with alarm: Yes (Except LX trim)
Engine System
Engine Type: 3.5-Litre V6, 24-Valve SOHC i-VTEC Engine
Engine Power: 250 hp @ 5700 rpm
Engine Torque: 253 lb.-ft. @ 3900 rpm
Ignition System: Direct Ignition System
Transmission: 5-speed Automatic Transmission
Drivetrain: Front Wheel Drive or All-wheel drive
Brakes: Disc Brakes
Mileage estimates (mpg city/highway/combined): 18/25/21 mpg (FWD) 17/24/20 mpg (AWD)
Emmission Rating: Yes, Ultra Low Emission Vehicle II (ULEV-II)
Exterior Measurement
Width: 78.5 Inches
Length: 191.4 Inches
Height (2WD/AWD): 70.7 Inches
Wheelbase: 109.2 Inches
Ground Clearance (2WD/AWD): 7.97 Inches
Interior Measurement
Shoulder Room (Front/Middle/Rear): 61.5 / 62.2 / 58.9 Inches
Hip Room (Front/Middle/Rear): 58.6 / 56.9 / 48.4 Inches
Leg Room (Front/Middle/Rear): 41.4 / 38.5 / 32.1 Inches
Head Room (Front/Middle/Rear): 40.0 / 39.8 / 38.2 Inches
Weight & Capacity
Curb Weight: Up to 1918 to 2090 kg
Cargo Room (behind 3rd/2nd/1st rows): 0.509 / 1.35 / 2.46 cubic-metre
Fuel Tank: 79.5 Litres
Seating Capacity: 5
Towing Capacity (2WD/AWD): 907 / 2041 kg
The above features and specs are based on the US models of the 2015 Honda Pilot and may not be exactly the same as models and trims available in your country.
Read Overviews of Honda cars:
Paschal Okafor
is
NaijaTechGuide Team Lead
. The article
2015 Honda Pilot SUV Price Features Specs & Review
was written by . The article was last modified:
April 15th, 2016