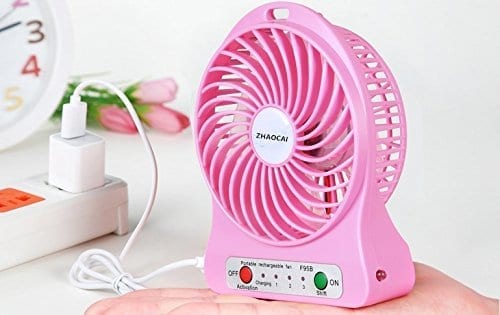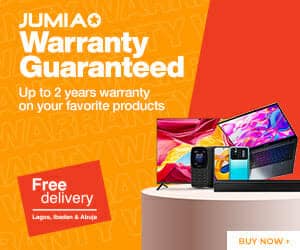 Thinking of buying a Rechargeable Fan? They are great assets at home or office, especially in countries with unreliable power supply during the hot season. The portable ones can also be great for camping and personal cooling. Here we share some of the best rechargeable fans you should consider.
There is no gainsaying that the Nigerian market is a place where power remains a big issue. That has increased the need for alternate sources of power in the case the primary one – grid electricity – fails.
This kind of need extends into basic home appliances such as torches, lamps, radio sets and even, fans. Trust us when we say you would not want to be caught out of power on a bad heat day.
On that note, it would be understandable why you would be looking at some of the best rechargeable fans on the market. During the compilation of this list, we made sure to take a lot of your possible needs into consideration.
We went for options that could be used mainly at home, portable ones that could be taken around and paramount of all, those that lasted longer than average units between charges.
Combining those features, we bring you the 7 best rechargeable fans you can buy without breaking the bank.
Best Rechargeable Fans to Buy Now
1. Lontor 12-inch Rechargeable Fan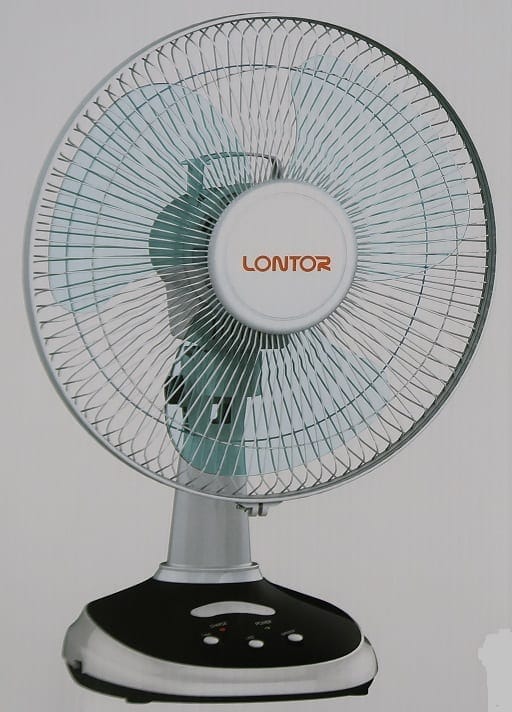 The Lontor CTL-CF025-12 may be a table fan, but the rechargeable fan with a 12-inch blade span is one of the best rechargeable fans you can buy right now.
The main reason I love this fan is the fact that it has great battery stamina. It comes with a standard 6V 4.5 AH battery, but thanks to an efficient motor can boast of up to 32 hours operation on a full charge.
Lontor CTL-CF025-12 has three speeds. It can operate for up to 32 hours at the slowest speed, up to 11 hours at the middle speed, and up to 4 hours at top speed.
The fan can be charged with 110V – 230V, 50Hz AC. The device can also be charged with 12V or 12V solar system. Price starts at around 13,000 Naira. For latest prices, click here.
2. QASA 18" Rechargeable Fan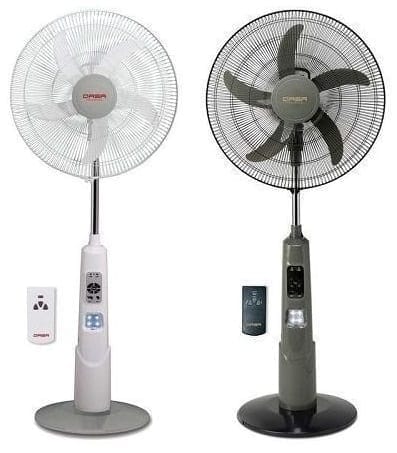 Starting this list is the powerhouse called QASA 18" Rechargeable Fan (a.k.a. QASA QRF 5918HR). There is no need to restate the blade span of the unit, but some other features on it need pronouncing.
Ideal for both indoor and outdoor applications. The battery can be fully charged in as little as 6 hours of charge. This is more than enough to last you throughout the entire night. This is made possible by the highly efficient, sealed 12V 4.5 Ah lead battery that is under the casing.
It is rated 33W and one of the best rechargeable fans around with 5 speed capability.
The operation time of the device depends on the speed of operation. At full speed, the rechargeable fan promises 3.5 hours of operation, while at slowest speed, it boasts 28 hours.
Easy to move around, the unit comes with a total of five (5) blades for ensuring cool and fresh air flow. Some of the standout features include the option of operating it with a remote control from the comfort of your bed.
Whenever the fan is within reach, there is a knob system in place to give you more controls.
Additionally, the fan comes with an inbuilt night light and support for USB charging for your mobile devices. It also feature solar support. Price starts at around 22,500 Naira. For details, click here.
3. Lontor 18" Rechargeable Fan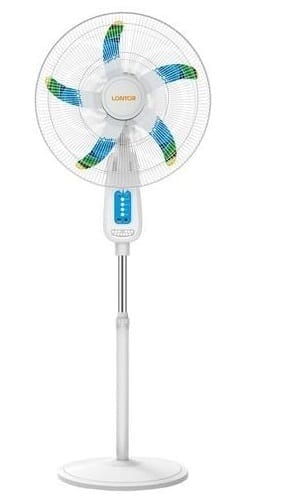 Lontor is a more popular brand for its wide range of rechargeable lamps and torches, but they have done one more with the introduction of the Lontor CTL-CF021RU-C 18-inch rechargeable fan.
The fan will operate with electricity and charge itself at the same time, giving you the best experience with or without power supply.
The design of the fan is such that allows for three-speed ratings, but those have been engineered to fit a wide range of purposes.
Coming with a charging indicator to prevent over-charging/ under-charging of the battery, a single full charge will give the user anywhere between 8 – 10 hours of use. You can also charge using solar panel.
That time is not only enough for night use but leaves more for the daytime when the power is yet to be restored. Price starts at around 21,999 Naira. For latest prices, click here.
4. 18" OX Rechargeable Fan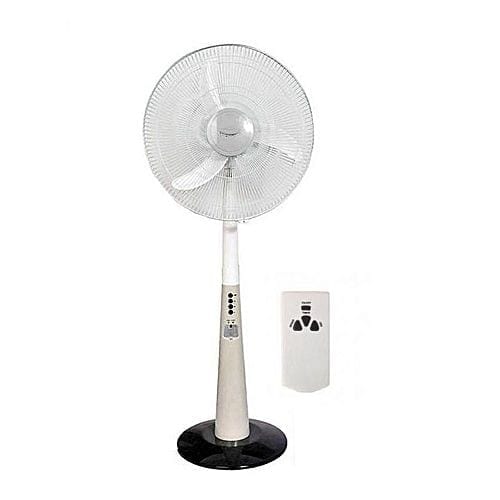 OX is not a new name for the fan niche. That is why many would not find the OX Rechargeable Fan 18-inch a surprise addition to this list.
Going into the spec sheet of this unit, it can be seen that the fan features a 3-step speed control, packs support for controlling large volumes of air and would work with the least noise emission possible.
The fan has five blades and have been properly engineered to fit the needs of the environment and consume as little energy as possible. It rated to last for up to 18 hours at the slowest speed. Price starts at around 22,000 Naira.
Shipping with a silver coating, the OX offering is as pleasing on the outside as it is on the inside. For latest prices, click here.
5. 4" Lontor Rechargeable Fan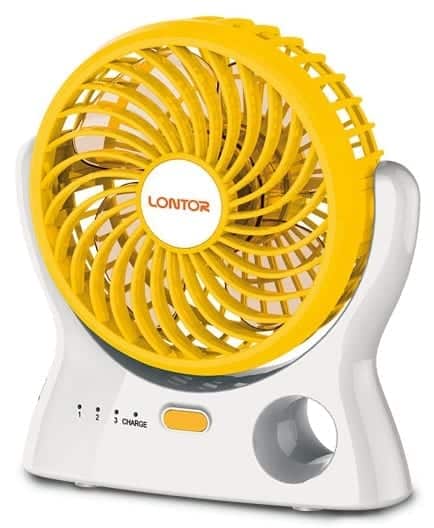 When we promised portable units, we found one that would deliver in the Lontor Rechargeable Fan. It is the best rechargeable fans if you are looking for a portable unit.
The 4-inch mini fan (a.k.a. Lontor CTL-CF085-4) is powered by a 3.7V, 1500 mAh 18650 rechargeable battery, which means you can easily buy battery replacement at online stores like Jumia.
The mini fan can be fully charged in 4 to 6 hours via the built-in microUSB port. Once fully charged it can operate for 2 to 7 hours with a recharge cycle of 500. It offers 3 speed option.
Made with a nice combination of plastic, the singular unit offers a brilliant design. For latest prices, click here.
6. UKA 16" Rechargeable Fan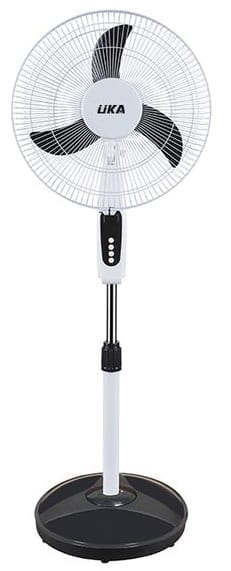 The UKA 16-inch Rechargeable fan by Haier Thermocool is one of the best rechargeable fans available, if you are looking for an affordable option.
It comes at a price of around 23,000 Naira. Battery is not that great. The fan is rated 15W and comes with a 12V battery.
You get 3 speed option and can operate for 1 hour to 3 hours on full charge. For details, click here.
7. Andrakk 18″ Rechargeable Fan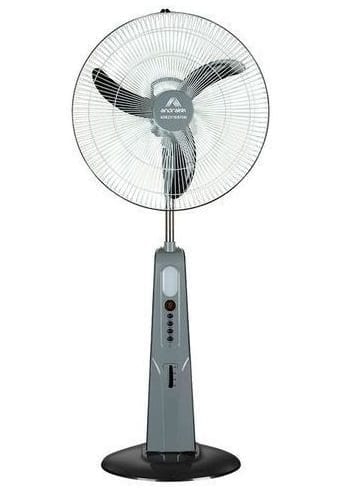 Andrakk was one of the first brands to launch a rechargeable fan in Nigeria. So, it is not so surprising that their 18-inch fan is one of the best rechargeable fans around.
It a USB output port with Solar support. The fan promises 5 to 9 hours of operation on full charge. For latest prices, click here.
Its hard to look at these options and not agree that they are some of the best rechargeable fans you could look to get yourself. Whether you are a student, bachelor/ spinster or with a family, the options on this list are sure to give you the best value for your money.
Related Topics
Paschal Okafor
is
NaijaTechGuide Team Lead
. The article
7 Best Rechargeable Fans to Buy in 2023
was written by . The article was last modified:
January 4th, 2023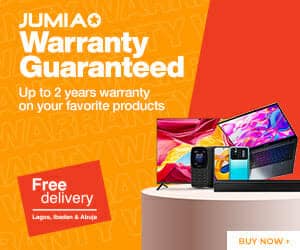 NaijaTechGuide may receive financial compensation for products/services purchased through affiliate links on this site. See
full Affiliate Disclosure Here