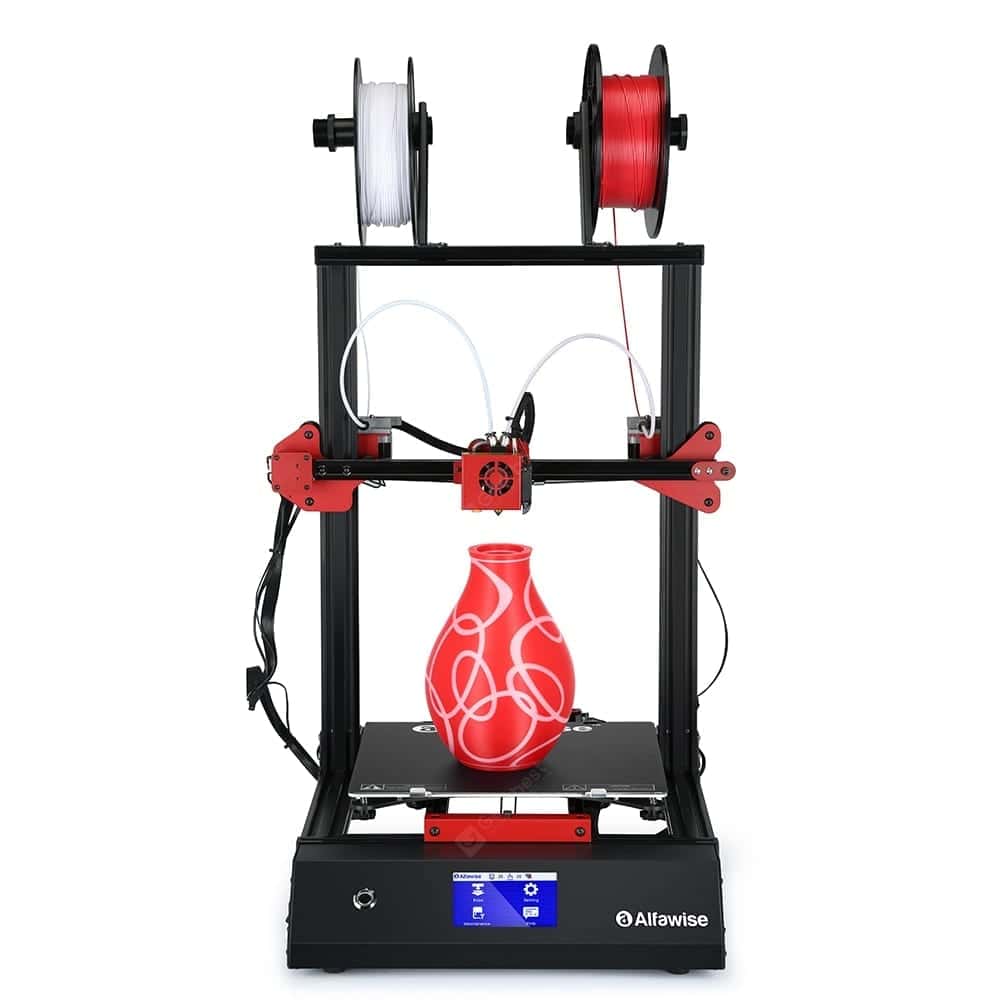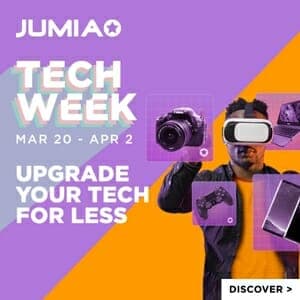 Alfawise U20 Mix is a high-end desktop 3D Printer with 300mm x 300mm x 400mm print volume, a large 4.3-inch color touch screen, a dual extruder with a fast response automatic, and a self-leveling filament. This 3D printer comes with different built-in functions which include Power failure Auto Resume, Filament Run Out Detection, Offline Printing with the help of the SD card, USB, and Wi-Fi connection.
Where to Buy 3D Printers
AliExpress – See Offers
Alfawise U2 Mix 3D Printer Key Features
Synchronized Dual Z Axis System
Dual-colour Printing
4.3-inch Color Touchscreen
Large Print Size: 300mm x 300mm x 400mm
Max Print Speed: 150mm/s
TMC2208 mute chip
Detachable Rapid Heating AC heatbed
Power Outrage Protection and Recovery
Filament Runout Detection and Recovery
Automatic Shutdown After Print
95% pre-assembled, easy for installation
High accuracy printing quality, down to 50 microns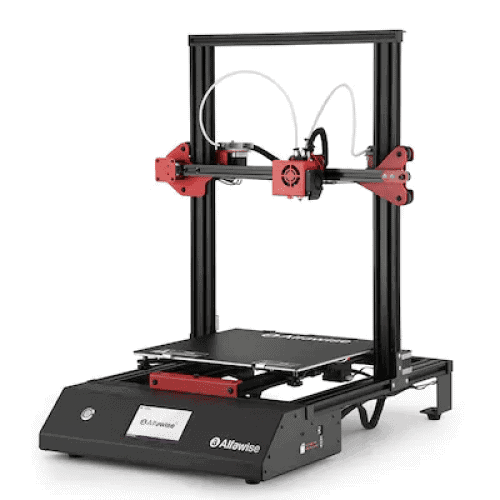 Design
Alfawise U2 Mix 3D Printer sports an aluminum extrusion frame and all-metal structure with belts and screws nut firmly in their perfect spot to enable professional prints.
The printer has 3 steps instant fast assembly structure which makes it easy to put together before use.
Furthermore, the Alfawise U20 Mix adopts the design of dual extruder single nozzle, which can print single-color or dual-color models. The double Z-axis design strengthens the firmness of the machine and ensures the stability of printing.
This printer also comes with a magnetic removable print head which is modularized, thus making it assemble or disable.
Above all, the Alfawise U20 Mix 3D Printer frame has an attached 4.3-inch color touchscreen with a clickable control wheel.
You may also be interested in the Creality Ender 5 Plus 3D Printer
Build and Print Volume
Alfawise U20 Mix 3D Printer comes with a large 300mm x 300mm x 400mm printing volume which allows you to print ultra-large files for industrial and professional use.
This printer also offers a printing speed that varies between 20 and 150 mm/s which is the fastest set prints for 3D printers.
It also supports print materials like PLA, ABS, TPU, Nylon, Wood, and Other High-temperature Filament. It can print up to an accuracy of 100 microns.
Automatic Shutdown After A Print 
The Alfawise U20 Mix 3D Printer also comes with a built-in feature that allows it to detect when a printing project is completed, so it can automatically cut off the power supply to save electricity.
This smart power management technology enables the printer to turn off automatically when no operation is made. Smart power management also protects your printer from safety hazards, such as overtemperature, useless print, and accidental fire, which will reduce electricity use and costs.
You could also turn on and off the printer manually by pressing the function on and off button on the surface.
You may also be interested in the Ortur Obsidian 3D Printer
Filament Runout Detection 
The Alfawise U20 Mix also comes with a sensor that allows you to avoid repeating a full print from running out of filament during the printing process. It automatically sent notification to you once the filament material is low and once replaced it resume printing from where it stopped without repeating print.
Power Outage Detection
Furthermore, the printer also comes with a power failure or outrage sensor which automatically detect a failure in power supply and record the coordinate point and resume printing after power recovery.
These two recovery functions prevent any defects and faults caused by power outages and filament jitter.
Above all, this printer has an App that should be downloaded on the user's smartphone to receive notification of printing from Wechat/ Facebook Messenger. Also when printing is finished, Alfawise U20 Mix will push a message to your smartphone.
You may also be interested in the Artillery Genius 3D Printer
MK8 Extruder 
This 3D printer comes with the MK8 extruder parts that together handle the moving and processing of plastic filament. It pushes and pulls filament through a long tube and into the hot end. The extruder is mounted on the printer's frame directly above the hot-end nozzle insures.
It helps minimizes the travel distance of the filament to the hot end and can allow for more reliable 3D printing of flexible filaments.
This printer also comes with a TMC2208 ultra-quiet drive chip equipped to provide a quiet experience for colleagues and family.
The ultra-quiet two-phase stepper motor drive chip provides up to 256 subdivisions, allowing perfect sinusoidal control even in systems with limited pulse frequencies. It can replace the original TMC2100, lower heat, especially for the 3D printing market.
Automatic Leveling Technology
Alfawise U20 Mix also adopts a smart sensor technology, allowing accurate calibrations and easy set-up. The Automatic Leveling sensor helps get rid of a plethora of common 3D printing problems, including clogging, scratch marks on your print, or general poor adhesion because the first layer is uneven. This sensor guarantees the stability and safety of printing.
The sensor measures the distance between the printing bed and the nozzle at different locations then the printer uses this information via its firmware to adjust the nozzle as it moves across the print platform. The adjustment is determined after the printer has calculated the orientation of your print platform with respect to your nozzle's movement on the XY axis.
Furthermore, this sensor helps reduce the sound of operation to as low as 60DB.
Touch Screen Control
Alfawise U20 Mix 3D printer features a 4.3-inch color touchscreen display and control panel that is easy to operate in order to control the performance of the printer.
There is an icon HELP at the upper right corner of the screen. You could understand the functions of each interface by tapping on the icon. The user experience is highly enhanced.
Similarly, this 3D printer support micro SD and USB connectivity, hence, users can choose their objects from either of the peripherals through the touch screen control panel to print.
In addition, Alfawise U20 Mix has a previewing mode which makes it easier for you to store multiple models and find the model needed for printing. You can then select the file, then, preview the model. After confirming the model, you can start your printing process immediately.
Rapid Heating AC Heatbed
Alfawise U20 Mix comes with A.C. powered heat-bed, instead of the regular D.C. power, thus, supplying enough heat to operate the printer much faster.
This printer comes with a 24V built-in power supply and 50% lower current output and electric wire which generates no heat, thus, guaranteeing safety during tens of hours printing.
Troubleshooting Guide and FAQ Help You Maintain the Equipment
Above all, this printer comes with a Troubleshooting Guide to check the operation of motors and limit switches of X/Y/Z axis. It's easier for you to maintain the printer with the function FAQ. You should keep the machine in good condition by checking and repairing it regularly.
In addition, after turning on the printer, a power-on self-test is performed immediately. This test will detect the thermal performance of nozzle and platform, and the overall operation of X,Y,Z axis. This function can be manually turned on and off in the interface.
Alfawise U20 Mix 3D Printer Price and Availability
The Alfawise U20 Mix 3D Printer price starts at $469.99  depending on the store. It is available at retailers like AliExpress.
Alfawise U20 Mix 3D Printer Specs
Here are a few specs of the Alfawise U20 Mix 3D Printer:
General Features
Type: FDM 3D Printer
Frame: Aluminum Extrusion
Screen: 4.3-inch color touchscreen
Print Resolution: Dual Z-Axis (100 microns)
Maximum Print Speed: 150 mm/s
Printing Filament: ABS, PLA, TPU, PETG and Flexible Materials
Maximum Travel Speed: 250 mm/s
Build Volume: 300mm x 300mm x 400mm
Extruder Type: Dual Extruder
Nozzle Temperature: up to 250C
Dimension: 23.15 x 19.21 x 23.94 inches
Weight: 9.5 kg
Control Board: MSK Gen L
Nozzle Type: Volcano
Filament Diameter: 1.75mm
Nozzle Diameter: 0.4mm
Host computer software: Cura, Repetier-Host, Simplify3D
XY-axis Positioning Accuracy:  0.0125mm
Z-axis Positioning Accuracy: 0.0025mm
Connectivity: USB, SD Card, Wi-Fi
Power Requirement: 24V
Voltage: 110-240V
More on Printers
Paschal Okafor
is
NaijaTechGuide Team Lead
. The article
Alfawise U20 Mix 3D Printer Price, Specs, and Best Deals
was written by . The article was last modified:
May 27th, 2022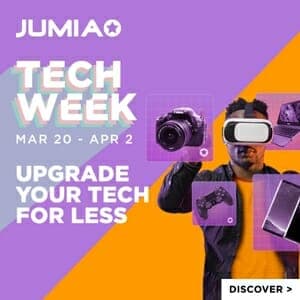 NaijaTechGuide may receive financial compensation for products/services purchased through affiliate links on this site. See
full Affiliate Disclosure Here