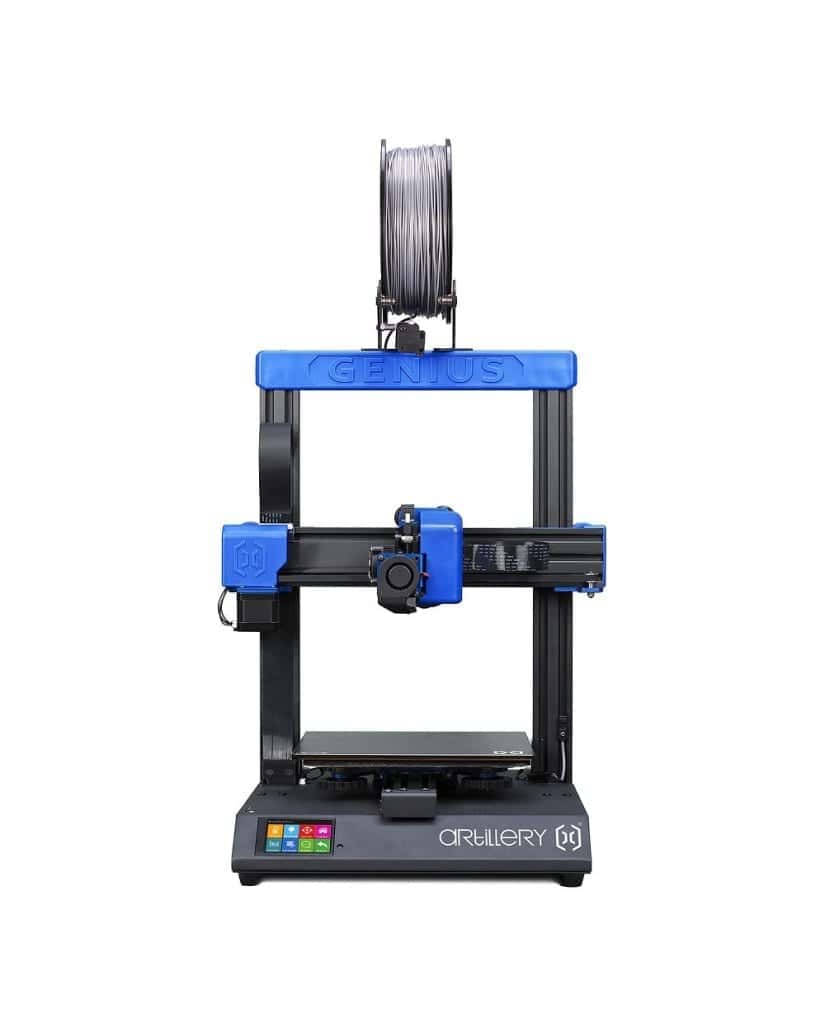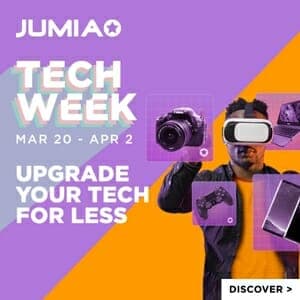 Artillery Genius 3D Printer is an all-in-one Cartesian 3D printer with ultra quiet stepper drivers, direct drive extruder, dual Z axis, AC heated glass-ceramic bed, TFT touch screen with 220mm x 220mm x 250mm built.
Where to Buy Artillery Genius 3D Printer
AliExpress – See Offers | Amazon UK – See Offers | Banggood – See Offers
Artillery Genius 3D Printer Key Features
Ultra-quiet Stepper Driver
Direct drive extruder,
Synchronized Dual Z Axis System
Touch Screen Control
Large Print Size: 220mm x 220mm x 250mm
Max Print Speed: 150mm/s
Rapid Heating AC heatbed
High transverse speed
Power Loss Detection and Recovery
Filament Runout Detection and Recovery
95% pre-assembled, easy for installation
volcanic nozzle
High accuracy printing quality, down to 50 microns
Titan style direct-drive extruder to support flexible materials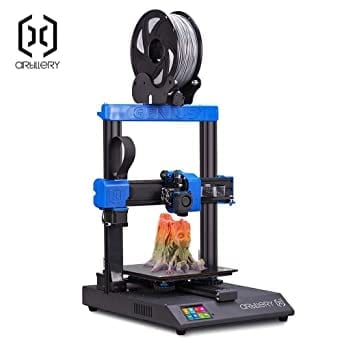 Design
Artillery Genius 3D Printer features an elegant built with an adjustable spool holder which can support up to 3kg filament roll at the top. It also comes with belts and screws nut firmly in their perfect spot to enable professional prints.
The printer is partially assembled and the final assembly, hence, it only takes less than 10 minutes to put together before use. It has 4 bottom screws connecting the gantry to the magnetic AC heated bed.
The screws that hold the injection molded cover on and keep the wheels in place, thread directly into the injection molded plastic pins making a very weak connection that is very easily stripped.
On the right-hand side of the Artillery Genius 3D Printer frame is an attached LCD display with a clickable control wheel.
Build and Print Volume
Artillery Genius 3D Printer offers a large 220mm x 220mm x 250mm printing volume which is an ultra large printing format, thus, more of your printing requirement for large prints.
It is capable of transversing the print head assembly at a blistering 250mm/Sec.
This printer offers up to 150 mm/s max print speed which is the fastest set prints for 3D printers. The printing speed determines how fast an object can be printed. Hence, this printer can potentially print 3D objects in twice faster than most 3D other printers within the same price range.
Filament Runout Detection and Recovery
Similar to Artillery Genius, this printer has an in-built filament detector and recovery feature.
The Filament Runout Sensor is a job-saving feature that detects when you've reached the end of your filament, and saves your project until you can return to reload.
This Sensor detects filaments by using high quality optical sensors compatible with: opaque, translucent, and transparent filaments. The optical sensor maintains constancy and tension without the interference of physical gears or grips, allowing compatibility with multiple material types including flexible filaments.
Furthermore, feature eliminate the risk of unfinished prints and the waste of half-used filament spools. The Filament Run-Out Sensor monitors your filament and prevents unfinished prints and "air printing".
Similarly, Artillery Genius comes with a power loss detector and recovery feature which allows the printer to recover from a power failure and resume where it left off when the power is back on.
The two recovery functions prevent any defects and faults caused by power outages and filament jitters.
Ultra-quiet Stepper Driver
The Artillery Genius 3D printer comes with an ultra-quite stepper motor driver developed to reduce the amount of idle current through the motor windings to reduce the artifact effects on the objects exterior surfaces.
The stepper motor drivers also ensuring noiseless operation, the chip enables smooth and silent stepper motors with for everyday use.
Titan style direct-drive extruder 
This 3D printer comes with the Titan style direct drive extruder which is located directly above the hot-end nozzle insures. Such an arrangement minimizes the travel distance of the filament to the hot end and can allow for more reliable 3D printing of flexible filaments.
Artillery Genius 3D printer also comes with a standard Volcano style hot-end which enables you to print bigger and stronger parts, faster by delivering high flow-rates of filament to the printed object.
The Volcano heater block is design to make printing large parts more efficient by allowing the use of larger nozzle sizes and higher volumetric flow rates. Due to its elongated melt zone, allowing you to use nozzles with a 0.8mm or even 1mm diameter effectively.
Synchronized Dual Z System
Artillery Genius comes with dual Z-Axis motor mounted in the middle of the bed with large 8-mm-rods stabilizing each side to offer smooth motions while keeping the stability.
This printer have the effect of Z-Axis offset from one side of the X-Axis rail to the other side due to misaligned or dragging axis wheels on the non-driven side of the X-Axis rail support.
The two Z-Axis stepper motors removes this weakness since both sides of the X-Axis is supported and actively driven. Using two stepper motors also reduces the amount of 'lift' force required for each side of the X-Axis rail.
Thanks to the Z-Axis  and Y-Axis stepper motors this printer resolution is set up to 100 microns and prints in a common variety of filaments including ABS, PLA, TPU, and PETG.
Touch Screen Control
Artillery Genius 3D printer features a 3.5-inch color TFT touchscreen. The touch screen control panel is easy to operate to control the performance of the printer.
Similarly, this 3D printer support micro SD and USB connectivity, hence, users can choose their objects from either of the peripheral through the touch screen control panel to print.
Compare Prices
Rapid Heating AC Heatbed
Artillery Genius comes with A.C. powered heat-bed, instead of the regular D.C. power, thus, supplying enough heat to operate the printer much faster.
The glass-ceramic heat-bed is very smooth and flat, hence, it reduces the temperature between the filament and the bed to provide better adhesion.
Artillery Genius 3D Printer Price and Availability
The Artillery Genius 3D Printer price starts at $349.99  depending on the store. It is available at retailers like AliExpress, Amazon, Gearbest, and Banggood.
Artillery Genius 3D Printer Specs
Here are a few specs of the Artillery Genius 3D Printer:
General Features
Type: FDM 3D Printer
Frame: Aluminum Extrusion
Screen: 3.5-inch color TFT touchscreen
Print Resolution: X & Y-Axis (50 microns) dual Z-Axis (100 microns)
Maximum Print Speed: 150 mm/s
Printing Filament: ABS, PLA, TPU, PETG and Flexible Materials
Maximum Travel Speed: 250 mm/s
Build Volume: 220mm x 220mm x 250mm
Extruder Type: Titan Extruder (Direct Drive)
Nozzle Temperature: up to 240C
Dimension: 430 x 390 x 590mm
Weight: 8.9 kg
Control Board: MSK Gen L
Nozzle Type: Volcano
Filament Diameter: 1.75mm
Nozzle Diameter: 0.4mm
Connectivity: USB, TF Card, USB Stick.
Power Requirement: 600W max (with headed bed on)
Voltage: 110-220V
More on Printers
Paschal Okafor
is
NaijaTechGuide Team Lead
. The article
Artillery Genius 3D Printer Price, Specs and Best Deals
was written by . The article was last modified:
May 27th, 2022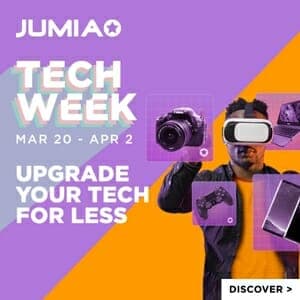 NaijaTechGuide may receive financial compensation for products/services purchased through affiliate links on this site. See
full Affiliate Disclosure Here