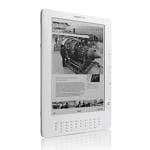 Checkout the new Kindle Paperwhite
Amazon Kindle DX is the largest member of the Kindle wireless reading devices family. Kindle DX offers a larger display, about two and a half times the size of standard Kindle 2. This makes Kindle DX great for reading your magazines, newspapers, and PDF documents. Amazon Kindle DX also offers a built-in PDF reader, auto-rotating screen, and more storage capacity for your books (3,500 books), in addition to all other standard Kindle 2 features.
Where to Buy Kindle Reader
Amazon.com$179.99 View Offer
Amazon has unveiled the latest generation of Kindle e-book reader, which is now available in two models. The new Kindle global wireless model now has Wi-Fi built-in and still goes for $189, while Amazon have added a Kindle Wi-Fi only model to mix at an even cheaper price of $139. Read more about latest generation Kindle.
Kindle is an e-book reader that allows avid readers to buy e-books at a price cheaper than paper editions from Amazon Kindle online store and have them wirelessly delivered (within a few seconds) for free to your Kindle device. Just think of a book, search for it at the Kindle store using your Kindle reader, buy it, and in a few seconds, it will be wirelessly delivered to your Kindle for your reading pleasure. You can even download and read the first few chapters of a book free of charge before buying.
Users of Amazon Kindle can also subscribe to blogs, US/international magazines and newspapers. These contents will be automatically downloaded whenever they are available certainly, before they hit newsstands.
What is new on Kindle DX?
Kindle DX is currently the biggest member of the Kindle family. The big size comes with a number of benefits. First, the display is larger (9.7-inch vs 6.0 inch), giving you a better reading experience. Kindle DX has a display that is two and a half times larger than standard Kindle. Another benefit is larger storage (4GB vs 2GB). Kindle DX offers about twice the storage capacity of standard Kindle (3,500 books vs 1500 books). Another fallout of larger size, is that the QWERTY keys are less crammed together making them easier to use.
Amazon Kindle DX also offers a built-in PDF reader removing the need for PDF conversion as is required for standard Kindle. The larger screen size also makes reading PDF documents more convenient. Another addition to Kindle DX is an auto-rotating screen. Screen changes from portrait to full width landscape as you turn the device, making Kindle DX great for viewing your maps, graphs, and web pages.
If you own Apple iPhone or Apple iPod Touch, you can now read your Kindle books in these devices. However, you will have to download a Kindle for iPhone application. As introduced in Kindle 2, you can use Whispersync to switch back and forth between your iPhone or iPod Touch and Kindle.
Kindle DX now has a wireless model that ships to over 100 countries.
Missing in Kindle DX is the left hand page turn button.
Features of Kindle DX
Amazon Kindle DX has a 9.7-inch E-Ink electronic paper display with a resolution of 1200 x 824 pixels at 150 ppi. Kindle DX reads just like real paper. With 16 shades of grey, Kindle DX displays sharper and clearer images, text and photos. Kindle DX display reflects light like ordinary paper with no backlight and hence mild on the eye. Kindle reads in Sunlight with no glare.
Text size is adjustable (six sizes) making it possible to select the perfect viewing preference. Images and pictures can be zoomed to full display size. Kindle DX offers an auto-rotating screen, changing from portrait to full width landscape as you turn the device, making Kindle DX great for viewing your maps, graphs, and web pages.
Kindle DX, like latest generation Kindle, comes with Read-to-Me feature, which is a text to speech feature that reads your Kindle books, magazines, blogs, and newspapers to you. Therefore, with Kindle DX you can read or listen, the choice is yours. You can even switch from reading to listening and vice versa and Kindle will automatically save the spot you stopped reading or listening and start from the exact spot when you resume reading or listening again.
Amazon Kindle comes with a QWERTY keyboard, which makes it easy to type and search for names, title or any keyword in your personal e-library. The bigger size of Kindle DX makes the keyboard easier to use, as keys will not be crammed together. You can also use the keyboard to easily search a book for particular words or phrases or add annotation to text.
To download books and periodicals wirelessly on Kindle DX, you need to be under Sprint-Amazon Whispernet coverage. Whispernet is a unique delivery technology engineered by Amazon and runs on high-speed 3G networks like CDMA EVDO. For now, Whispernet is only available on Sprint's US EVDO high-speed data network. With Whispernet, you can wirelessly search and shop for books and periodicals and download content to your Kindle. Whispernet is now available in all 50 states in the United States of America. Whispernet is free so, Kindle owners do not have to pay monthly bills for their network connection. You can also access Wikipedia free online encyclopaedia free with your Kindle DX.
The new Kindle DX with global wireless offers the more globally available GSM/GPRS/EDGE/UMTS/HSDPA, making Whispernet available in over 100 countries including US, UK, Germany, South Africa, Canada, Europe, Australia, and so on. In the US, Kindle DX with global wireless accesses Whispernet via AT&T.
Kindle DX has a 4 GB internal memory providing enough space to store more than 3,500 books, making the dream of carrying your entire library in your bag pack a reality. In addition, each book you buy at Kindle online store is automatically backed up online for you in your personal media library in case you need to download it again. Repeat downloads from your personal media library will be available free. This allows you to make room for new titles on your Kindle.
Currently there are over 350,000 ebooks available at Kindle store. The list includes 104 of 112 New York Times Best Sellers. Also available at Kindle Store are newspapers, magazines, and blogs. You can buy a book directly with your Kindle. The first few chapters of all e-books are available for download free, if you like the book you can then buy the whole book with just a click of a button.
Kindle DX also enables you to convert your existing un-protected e-books and documents to kindle format. Formats currently supported include Microsoft Word, PDF, HTML, TXT, JPEG, GIF, PNG, BMP, PRC and MOBI files. Files are converted and wirelessly delivered to Kindle at 10 US cents per file. Files can also be converted free by sending attachments to a special Kindle email; you can then manually download to Kindle via USB. Kindle DX has a built-in PDF reader eliminating the need for PDF conversion.
You can also download audiobooks from audible.com into your Kindle but you have to first download it to your computer via your internet connection to your PC or Macintosh computer. You can then transfer from your PC to Kindle.
Amazon Kindle DX has a built-in New Oxford Dictionary with over 250,000 entries and definition making it easy to look up strange/new words while you read.
Kindle DX comes with an experimental browser that can handle text centric websites like this one and the likes of Wikipedia and Google. Kindle can also play mp3 files and podcasts. Play background music while you read. Mp3 files are transferred from your computer via USB.
Like Kindle 2.0, Kindle DX comes with the Whispersync feature. People with two or more Kindles will appreciate Whispersync. With Whispersync technology, you can read with one Kindle device, and pick up a second Kindle device and continue your reading exactly where you left off in the first device. If you own Apple iPod Touch or iPhone loaded with the Kindle for iPhone application, you can also use Whispersync to switch back and forth between your iPhone or iPod Touch and Kindle.
Battery can last for about four days with wireless on. However, you can switch off wireless connection to experience more battery time. According to Amazon, Kindle Battery can last for more than two weeks with wireless connection off. Charging your Kindle just takes four hours. Kindle DX can be charged directly from mains using a USB power adapter or via a computer using a USB 2.0 cable.
Latest generation Kindle comes with 1-year limited warranty and service, however a 2-year optional extended warranty sold separately at 109.00 USD is available.
Read More: Amazon Echo Show 8 | Amazon Fire HD 8 Plus 2020 | Kindle Fire DX | Amazon Go Shopping
Some more information about Kindle:
Each Kindle DX pack comes with the following:
Kindle DX Electronic Reader
Power adapter
USB 2.0 cable
Most New York Times Bestsellers sell for $9.99, over 350,000 books available. You can save up to 60% on some Kindle titles.
Some newspapers that are available for subscription are:
New York Times
Wall Street Journal
Washington post
Boston Globe
Some magazines title includes:
Forbes
Fortune
Time
Atlantic monthly
All newspaper and magazines starts with two-week risk-free trial period.
Prices of Amazon Kindle devices:
Amazon Kindle with global 3G wireless + Wi-Fi – $189
Amazon Kindle with Wi-Fi only – $139
Amazon Kindle DX – 379 USD
Accessories that you may buy with/for your Kindle include:
Kindle leather book cover:
Kindle Reading Lights: This will enable you read in the dark.
Replacement battery: spare battery
Memory card: Increase the quantity of Kindle titles you can carry on your e-book reader.
Kindle Solar charger: Charge your Kindle anywhere, all you need is sunlight.
Universal charger: Charge your spare battery.
Amazon Kindle DX is available for order, for current prices, reviews, specification, and features of this wonderful electronic reader, visit amazon.com. You can also buy Amazon Kindle 2 at the store.
Related contents
Paschal Okafor
is
NaijaTechGuide Team Lead
. The article
Kindle DX Wireless e-reader Reader global wireless Buy
was written by . The article was last modified:
August 8th, 2023