Say you run a fairly big firm, company or industry, and there isn't steady, reliable, and regular infrastructural power supply, you most likely will be on the lookout for an alternate source(s) of power — of which inverters and generators are very good one. A 10KVA diesel generator is probably the starting option for small enterprises. Here are some of the best 10KVA generators to consider when shopping for power solutions.
However, generators are easier to setup and relatively cost less; reasons why many people opt for big generators over inverters.
These big generators can efficiently power almost any load (read: appliance) you might need to power either in your office or home (television sets, deep freezers, refrigerators, electric water pumps, microwave etc) and also usually use diesel as fuel.
This is because generators designed to use diesel are more fuel efficient than their petrol counterparts. They also have longer operational time on the same amount of fuel used by petrol generators.
Long story short, we guess you are reading this article because you have plans to purchase a 10KVA Generator now or later in the future.
This is why we bring to you some of the best 10KVA generators we identified online from our detailed search.
Best 10KVA Generators
1. Perkins 403A-11G
Perkins is another worthy name to look out for when shopping for a generator. Then, say you need a 10KVA generator, the Perkins generator with engine model #403A-11G is recommended.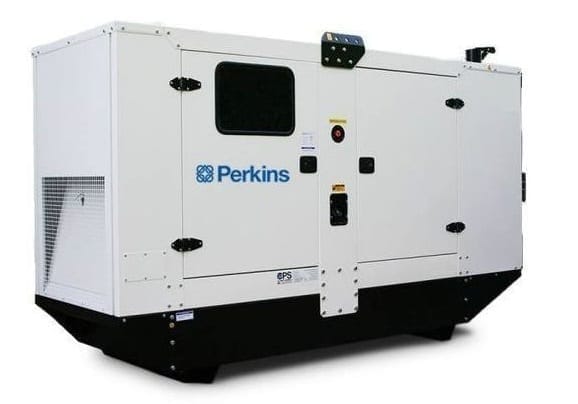 The 403A-11G is one of the smallest generator made by Perkins and it boasts of a powerful engine with impressive and durable output/performance and low operating costs.
The generator set comes with a sound attenuated enclosure made out of high-quality steel and paint process.
The canopy also confers the engine control panel and the generator itself with advance waterproofing, dustproofing, and anti-vibration. Some other additional features of the Perkins 403A-11G include (but not limited to):
Exceptional noise reduction system
Excellent silencers
Enhanced operational, information, electric and environmental safety system
Efficient fuel consumption
For details and prices of this and other Perkins generators, Click Here.
Compare Prices
2. ElePaq SV22000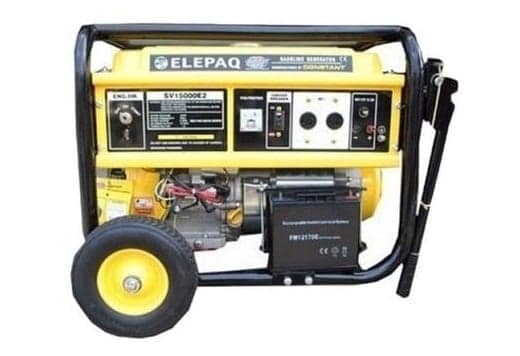 This is one of the best 10KVA generators if you are looking for a petrol (gasoline) engine. While a lot of the gensets listed in this article run on diesel, the ElePaq SV22000 runs on petrol.
With a 25 litre capacity fuel tank, the generator boasts on 13 hours operation on full tank at 50% load capacity. It supports both electric (key) and recoil (rope and grip) start. For details, View Offers.
Compare Prices
3. Lutian LT10990E
This another gasoline powered generator. It is rated 8.8KVA and comes with a gorgeous design. It comes with some of the latest technologies in modern generator design.
You get a 28.5 litre fuel tank and a 1.1 litre engine oil tank. It also features auto choke with easy to use button start and a remote control as well. For details, View Offers.
Compare Prices
4. Firman FPG15000SE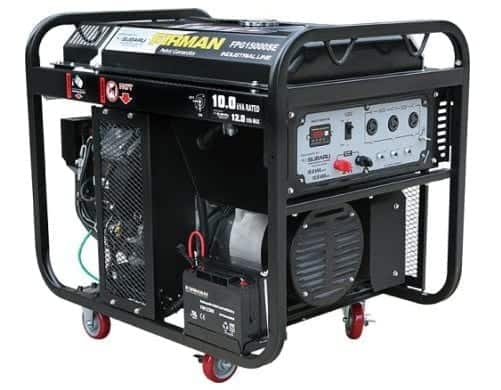 The FPG15000SE runs on gasoline and is rated 10KVA with a 12KVA maximum power capacity. It also boasts of an impressive 40 litre fuel tank capacity and a 1.55 litre engine oil tank. For details, View Offers.
Compare Prices
5. Mikano 10KVA Generator
Aside being an household name in the diesel generator space, Mikano is also a trusted brand with reliable products that are recipients of many positive reviews across the globe.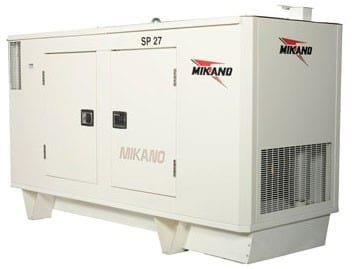 The above image is that of Mikano's soundproof generator with a prime power of 10KVA. Like the above Perkins generator, the Mikano 10KVA generator uses a 403-11G engine in a soundproof, dustproof and waterproof enclosure.
To add, the fuel efficiency level of this product cannot be overstated. According to the manufacturer, this Mikano 10KVA generator uses 2 litres of diesel per 60 minutes of operation.
Due to the popularity of the Mikano generators, their products are quite on the high side price-wise, but they are worth every penny. For details, Click Here.
Compare Prices
6. FIRMAN SDG15000SE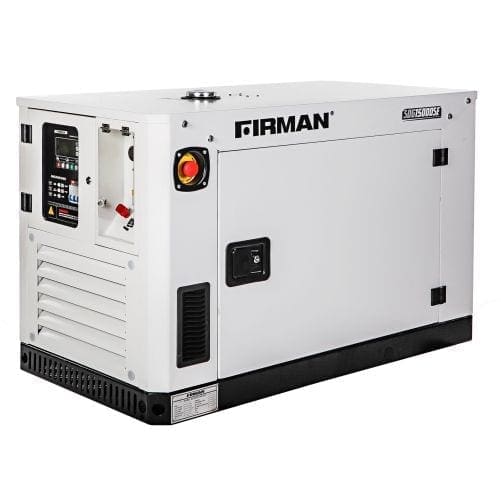 FIRMAN is a popular manufacturer of generators that produces reliable products. If you ever need a 10KVA generator, picking up the FIRMAN SDG15000SE would be a good choice.
The SDG15000 is a 280kg diesel generator which rocks a 4-stroke V-twin cylinder OHV water cooled engine. The fuel tank can take a maximum of 25 litres diesel and has the capacity to run up to 8 hours on a full tank.
The FIRMAN SDG15000 is ultra-silent during operation and can be started either by recoil mechanism or electric key. For specs and pricing, Click Here
7. Kipor KDE19STA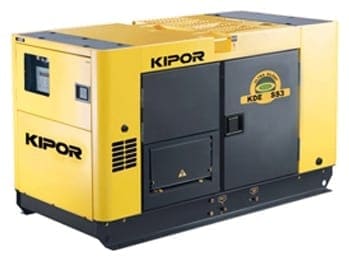 Designed to be super silent and environmentally friendly, the Kipor KDE19STA has a rated output of 14.4KVA and max output of 16.7KVA.
The Kipor KDE19 weighs 442kg, has a fuel capacity of 38 litres, 4.8L lube oil capacity, electric starting system, and a full tank run time of 7 hours. For more details, Click Here.
8. Elemax SH15D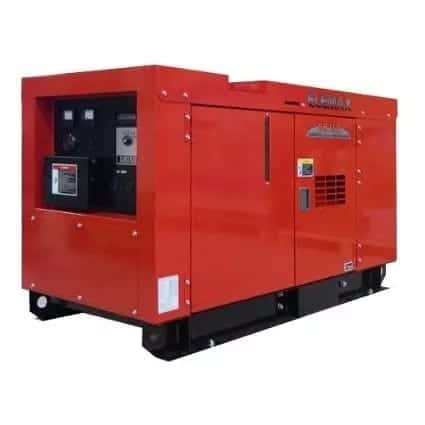 Elemax is another renowned generator manufacturer. The Japan-based company manufactures both high-quality small and big sized generators and some of their products have features on the list of best 2.5KVA generators, 3.5KVA generators, and 5KVA generators to buy in 2020.
The Elemax SH15D has a powerful diesel engine and primes between 12KVA and 13KVA. With a dry weight of 387kg and fuel capacity of 53 litres, the product is quite bigger than other generators on this list and even with better output/voltage.
Other features of the Elemax SH15D include 4 (warning) indicator lights, 2 output plug sockets, electric start only, Voltmeter, up to 10 hours operating time, automatic transfer switch (ATS) terminal. For details, View Offers.
There are tens and hundreds of 10KVA generators from different brands out there but we have identified these 8 as some of the best ones worth the huge money investment a 10KVA requires.
Do you use any of the above generators? Or have you ever used any? How was your experience?
Related Topics
Paschal Okafor
is
NaijaTechGuide Team Lead
. The article
Best 10KVA Generators to Buy in 2023
was written by . The article was last modified:
January 2nd, 2023