Generator sets, as an alternate source of power supply, come in their different sizes — which grows proportionally and in accordance with their output voltage and performance. 20KVA generators are popular with small and medium enterprises. Here are some of the best 20KVA generators to consider for your home or enterprise and their prices.
Depending on where you intend using a generator (home, office, factory etc), or the appliances, equipment, and machines you intend to use it to power (refrigerators, deep freezers, heavy machinery, air conditioning units etc.), the type and size of the generator set to purchase will differ.
There are smaller generator 2.5KVA and 3.5KVA generator that are available to cater for your basic home appliances (like television sets, electric bulbs, fan etc) that requires electricity.
There are also generators (5KVA and 10KVA) with relatively larger output that can supply more power to your office and home.
But say you need to power a factory, or a really large store, warehouse, cold room, workspace, or heavy machinery, you might need to consider generator sets that can power more, and maybe, anything, any one of the 20KVA generators listed below is exactly what you are looking for.
Best 20KVA Generators
20KVA generators are mostly three-phased, diesel powered, and soundproof. If you are wondering how much power a 20KVA generator can supply or how many appliances it can carry, this list by GeneratorPower should give an overview:
"Construction power- ablution block, site sheds, lunch room, approximately 4-6 air conditioners, 5000-6000 Watts per phase, 3 phase audio and lighting, electric motor starting up to 7.5 kW, and approx. 8 food stalls."
If you want a compact diesel powered generator, you can checkout our overview of best small diesel generators.
1. Perkins 404 Series 20KVA Generator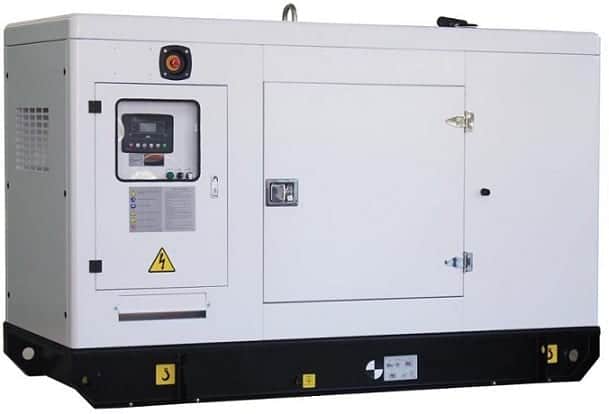 Perkins engines are known to perform impressively and on low operating cost. The same can be said for Perkins genset with the 404 series diesel engine and 20KVA prime power rating. For some money, you can choose to purchase a sound attenuated/sound reduction enclosure.
- Advertisement -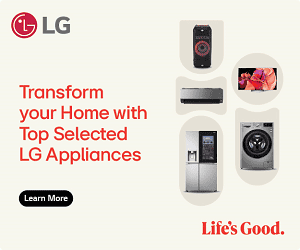 Options to pick include the Perkins 404A-22G and the Perkins 404D-22G. Both Perkins Generators are 20KVA three phase diesel generators capable of 230V / 400V.
All in all, in addition to positive reviews from a number of users, the Perkins 404 series diesel generator is a worthy mention in a lineup of best 20KVA generators. For details and prices of this and other Perkins generators, Click Here.
Compare Prices
Here are prices of a few Perkins generators with capacities of 20KVA and more:
2. Kohler SDMO K22 20KVA Generator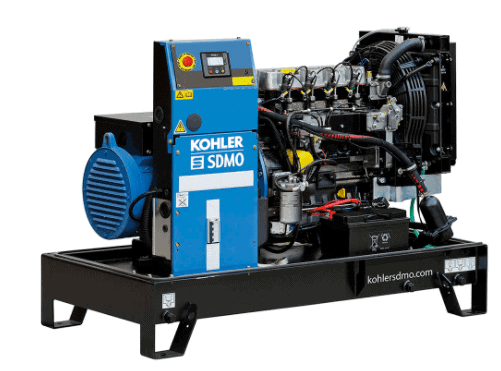 The K22 is another highly rated 20KVA generator. It is 3 phase with 400V / 200V supply. With a 5 litre per hour fuel consumption at full load and a 50 litre fuel tank capacity, this genset can do about 10 hours on a full tank.
It available with or without soundproof canopy. For details, Click Here.
Compare Prices
3. FG Wilson P22-6 20KVA Generator
FG Wilson prides itself as verse in the generator business as it boasts of over fifty years of experience in the supply of diesel and gas generator sets.
The FG Wilson P22-6 is one of the Northern Ireland-based company's product and also, one of the best 20KVA generators to buy in 2020.
The generator uses a Perkins 404D-22G engine which comes with a high-temperature cooling system filled with coolant mix, cooling fan, battery charging alternator drive, and a large fuel tank that can provide up to 8 hours of run-time when filled.
The FG Wilson P22-6 comes in several enclosure designs and is structured to give optimum performance in whatever environment it is being used. For pricing of this and other generators from FG Wilson, Click Here.
4. FG Wilson F22-1 20KVA Generator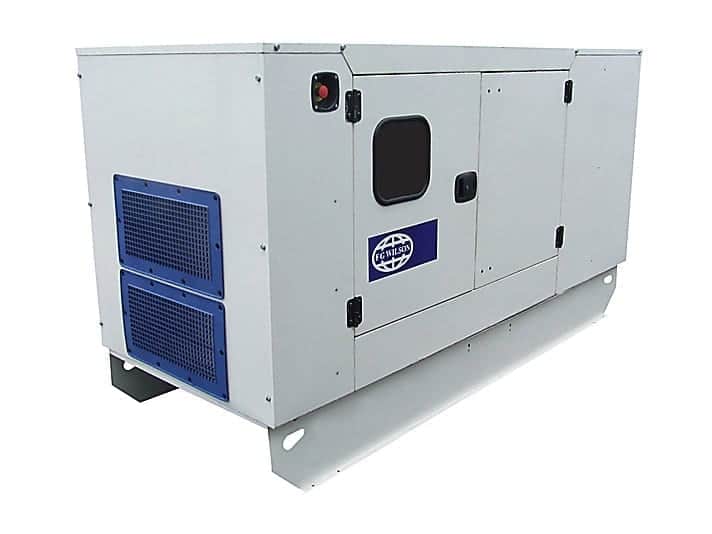 With a minimum and maximum rating of 20KVA and 26.5KVA respectively, this FG Wilson genset with FD4-2.5A1 engine is suited for use in construction sites, households, offices, shopping centres etc.
The F22-1 generator is properly optimized for fuel efficiency (8hour run time on full load), anti-vibration, anti-heating, and IP23 protection (waterproof).
You can also cop some optional accessories (anti-condensation heater, 4 pole circuit breaker, and dry lead acid battery) with the generator during purchase. For details, Click Here.
5. Elemax SH25D 20KVA Generator
The Elemax SH25D is a 3-phased soundproof, waterproof diesel powered 20KVA generator with a V2203-B engine manufactured by Kubota.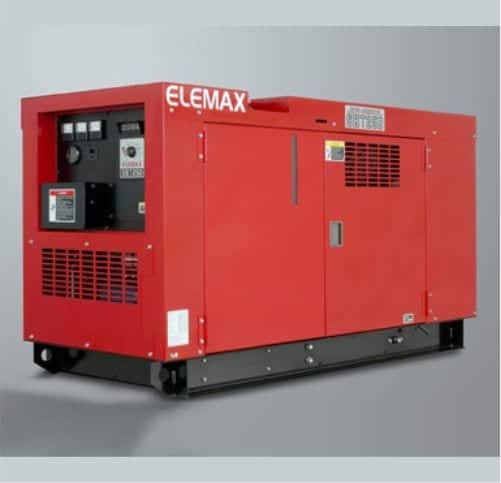 As a big sized genset, it has a 540kg dry weight (you have to find it a 'permanent, long-term' position as it cannot be easily moved like 2.5KVA or 3.5KVA generators), has 72 litres fuel tank and full tank operating duration of 18 hours.
The starting mechanism is purely electrical and the enclosure helps reduce the sound from the engine to the barest minimum. For details, Click Here
6. Fuji FV 27TKBS 20KVA Generator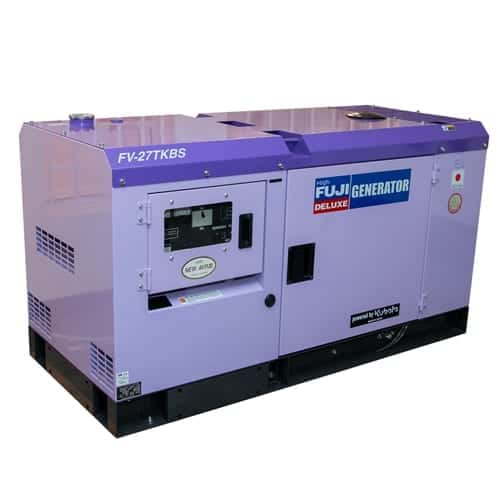 The Fuji FV 27TKBS is another diesel engine generator with 20KVA prime output worth buying. The genset has a 40-litre fuel capacity and will use a full tank up in 6 hours on full load. Note that the overall runtime could be longer when subjected to less load.
Other notable feature of the FV 27TKBS include an electric starting system, low oil safety shutdown, and high water temperature safety shutdown. For details, Click Here
20 KVA Generator Price
The price of a 20KVA generator depends on the model. It also depends on the design whether open or with a soundproof enclosure. The price will also depend on whether you want to buy a brand new model or a used generator.
Soundproof models are pricey, but they offer the best user experience, because of the reduced noise. Soundproof 20KVA generator price starts at around ₦3,650,000 and can go as high as ₦8,000,000.
If you are interested in a used soundproof generator, you can buy them for ₦2,000,000 or less. However, price can also be higher depending on the model and how long the generator was used before being put-up for sale.
Open models do not come with the soundproof enclosure. This results in them being more noise. So, if you do not mind the noise or have enough space in your compound to drown the noise, the cost saving may be worth it.
Open models can go for as low as ₦700,000, but if you are looking for models from reputable brands like Perkins, the cost can be as high as ₦1,600,000. Used models are cheaper obviously.
Used 20KVA generator price can be as low as ₦600,000 and can be higher depending on the price and the condition.
However, make sure you physically inspect a used generator before making payment.
The best 20KVA generators will come from brands like Perkins, FG Wilson, Mikano, and JMG.
More High Capacity Generators
The prices of the above diesel generators may vary largely depending on the location of purchase, sellers, and brands.
It is however advised that you take time to compare prices either locally or on several online generator suppliers or brick and mortar dealers before choosing to splash money on a 20KVA generating set.
You can also contact the manufacturers of each generating sets through their respective websites and make inquiries.
Related Topics
Paschal Okafor
is
NaijaTechGuide Team Lead
. The article
Best 20KVA Generators to Buy in 2023
was written by . The article was last modified:
January 2nd, 2023