There's no doubt that videos are an excellent tool for reaching a large audience. Moreover, they are perfect for explaining something in record time and are highly engaging. Last but not least, people LOVE them!
So, when it comes to eCommerce businesses, there's no better strategy than showcasing a product through video content. It turns out that product videos are one of the best ways to present a product or service, boost consumer interest, and convert leads into customers.
The thing is that there's not a single "best" approach – there are several avenues at your disposal when it comes to effective video production, and not all of them will fit your brand or product. In this respect, choosing the right type of video is vital.
But, don't worry! Today we'd like to share some excellent examples of eCommerce product videos that will help you think outside the box and inspire your next piece!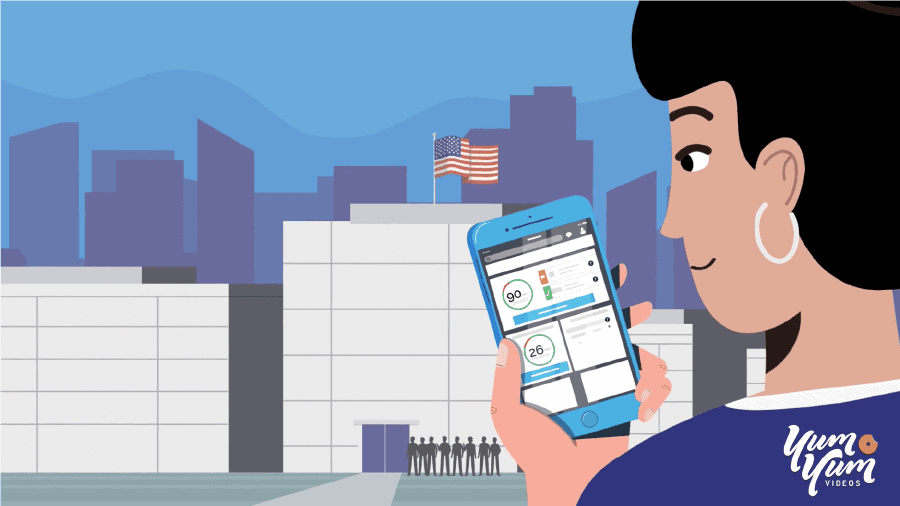 The Best Types of Product Videos
In a nutshell, a product video is crafted to provide information about a product or service and its benefits in a way that lures potential clients to buy it. A great product video ideally should tell a story that engages the audience while being clear and concise.
As mentioned before, there are different types of eCommerce product videos, but here are the most popular ones:
Product Explainer Videos
This type of video is perfect for conveying essential information in just a few seconds in a friendly and attainable way. For instance, you can address your audience's pain points or your product or service's benefits.
The good thing about product explainer videos is that you don't necessarily have to use real people in them; you can feature animation alongside a voiceover – like in 3D or whiteboard animation – they are clear, dynamic, and don't rely on actors and camera crews.
How-to Videos
As the name suggests, they aim to show how to use a product or service. How-to videos are not only good at giving your customers a better understanding of your offerings, but they are also useful to enhance value propositions. Thus, they help to create efficiency in the last stages of the buyer's journey.
Product Focused or Close-up Videos
They put a product in the spotlight with a satisfying visual approach. This way, customers will be captivated by your offerings and encouraged to make the buying decision.
Pro tip: Use good lighting that highlights the beautiful details of your product.
Testimonial Videos
As simple as it sounds, testimonial videos present customers talking positively about your product or service and how it helped them solve their pain points. They're the perfect way of converting prospects into clients since they can empathize with real people's experiences. This type of video focuses not on the product or service itself but on the stories of those who use it.
Unboxing Videos
As you may know, unboxing videos are prominent these days among influencers. They are meant to reveal what your customers would receive in full detail, showcasing the elements of your product. Simple but effective!
Storytelling
Visual storytelling helps people long for your product or service on a human level, making them more likely to make a purchase. You see, this type of video creates an emotional bond with your audience and your offerings, which will work in your favor once they press the 'buy' button.
Top tip: Although storytelling is highly important, don't forget your goal is to showcase your product or service. So, make sure you use this powerful tool without letting aside your offerings.
As you can see, there are different options for eCommerce product videos, and you can choose the one that fits your brand the most. That said, let's take a look at six fantastic examples that will inspire you to showcase your product or service in the best possible way.
6 Great Examples of eCommerce Product Videos to Learn From
1. Tempo (CarePredict)
Tempo is a wearable sensor that tracks seniors' activities and location within the home. It also recognizes their typical patterns and alerts family members or caregivers about meaningful changes in these patterns.
Not only does this whiteboard-style explainer displays the product, its benefits, and how it's used, but it also provides a context to the solutions it offers – all that in less than 2 minutes! Cool, isn't it?
This example shows us how explainer videos, mainly animated, are the best alternative to convey a rather complex message in a straightforward and empathetic way.
2. Asana
Asana is a web and mobile application designed to help teams organize, track, and manage their work.
In this how-to video, viewers can learn to use this platform in just a few steps, from logging in to creating new tasks and, once again, in less than 2 minutes! Impressive, right?
It serves as a great example of how you can create a compelling how-to video addressing several aspects of your product or service and yet keeping it short and simple.
3. Curology
Curology is a skin-care brand that makes a custom skin-care formula, and a quick glance at their video will reveal three elements that contribute to its effectiveness:
It features a real customer.

The user explains her problem before starting to use the product and how it has changed since then.

It includes visuals that help keep the message short and concise.
The lesson we can learn from it is that compelling testimonies are really helpful when it comes to selling a product or service. Also, notice how the video uses inserts, transitions, and other complementary takes to keep things visually interesting!
4. iPad Air (Apple)
This close-up video puts the Ipad Air in the center of attention by showing the multiple uses it offers. Moreover, it displays the product in the different colors it comes, and it also takes the opportunity to showcase its accessories, like the pencil and keyboard. Very convenient!
This example teaches us that a product video can be highly effective with just a close-up of your product that, of course, displays all its good qualities.
5. Mariana Boots (Txture)
This unboxing video is not the typical one; there aren't any influencers, and it lasts just over a minute.
The brilliance is in its simplicity, great visuals, and captivating music. These elements make this video a great example that teaches us that working with influencers may be the most used strategy in unboxing videos, but it's not the only option!
6. Solo Stove Bonfire
This example, which combines several approaches, serves as a good option if you can't decide which type of video you want to use.
First, it explains the company's background and the product's origin. Then, it showcases the product, along with cozy images and strong storytelling. Finally, it manages to explain how it's used and what it's made of by using close-up shots.
The result is an excellent eCommerce video that addresses several aspects of the product, provides a context to it, and never loses its main focus. Videos like these are perfect for broad-appeal email marketing strategies.
Wrapping Up…
A product video is an excellent strategy for your eCommerce company. It will help you convert prospects into customers by giving them insights into your product or service.
Moreover, making product videos that provide valuable information will enrich your content and make your offerings stand out from the crowd.
We hope these examples have inspired you to make a compelling eCommerce product video! Good luck!
Related Topics
Paschal Okafor
is
NaijaTechGuide Team Lead
. The article
6 Great Examples of eCommerce Product Videos to Learn From
was written by . The article was last modified:
February 26th, 2022