Effectively communicating with employees is an ongoing, daily effort. They need to be made aware of policy changes, be up to date on changes to processes, and receive any new information about the organization and its goals. Not to mention you need to keep them motivated and up to speed on their role and how it contributes to the company's larger goal.
It certainly can be a daunting task, but one that's made easier to handle through internal videos!
Internal communications videos are company videos meant to get employees excited, informed, and engaged with the brand and its goals. You can use them to motivate, educate, and inform, or ideally, a combination of the three if you do a good job with them 😉
In this article, we'll explore what internal communications videos can do for your organization and how to engage in effective video production to make content that improves employee performance and morale.
Understanding What Internal Communication Videos Can Do for Your Organization
Needless to say, a lack of effective communication in the workplace can lead to low employee morale, performance, and brand investment, which could affect your company's processes and lead to low turnover rates and other staff problems.
The core purpose of internal communications videos is to help prevent these problems, and here are some ways in which they do:
Videos are more engaging than other forms of communication: If you need to convey information that is likely to be dry or dull, you can do it quickly and in more compelling ways using videos. You can even make them interactive and participative or tailored to fit the tone of your message!
Videos make it easier for people to coordinate around the world: With remote working, organizations are hiring people from all over the world. Videos are especially helpful if you have workers from different time zones or regions to help them collaborate asynchronously. You can also use this strategy for training‌ new hires consistently, even if they are on a different continent!
Video content makes it easier for your employees to retain your message: Unlike other forms of communication, such as written memos, well-made videos are engaging, visual, and quick. People who watch a video about something are more likely to remember what they learned than those who just read about the same topic.
Videos are convenient: Your employee can watch internal communication videos whenever it's convenient for them, including on their phone during downtime or after hours. They can also re-watch them as many times as they like, which is particularly useful when it comes to training videos.
4 Key Elements of Effective Internal Communications Videos
So, we can now agree that internal communication videos bring a lot to the table. But how do you go about making an effective one? There's no need to be intimidated by the tech or know-how involved; with the right approach, creating effective video content doesn't have to be difficult, and it can be a creatively rewarding experience.
Here are some key elements you'll want to keep in mind as you work on internal communication videos for your company:
1. Define your goal:
Before getting into the nitty-gritty of it, you need a message that will resonate with your employees, one they can connect with. Clearly define the purpose of the video you will create before you dive into the process further.
2. Understand your Workforce:
Make sure you're identifying the right audience. Who are you talking to, and how do they communicate? What's their schedule? How can you make sure your message gets through?
All these are important questions to consider and should inform vital elements that can make your internal communication videos shine, like the tone (serious, funny, quirky), medium (live-action, animation), and length!
3. Develop an Optimized Script:
Craft a script that gets to the point quickly so your employees don't have to guess what's important while still keeping things engaging and interesting so that your employees don't get bored and ignore the piece.
Avoid using complicated language and try to keep it as focused as possible. If you feel like there is more than one major topic to cover, it might be better to break things down into a series of smaller videos.
4. Keep it Short and Sweet:
Your internal communications video content should offer short, digestible chunks of information that your employees can absorb quickly. Remember that your employees will probably watch your video during a quick break on their phones or during after-hours, so it's important to keep things concise and to the point.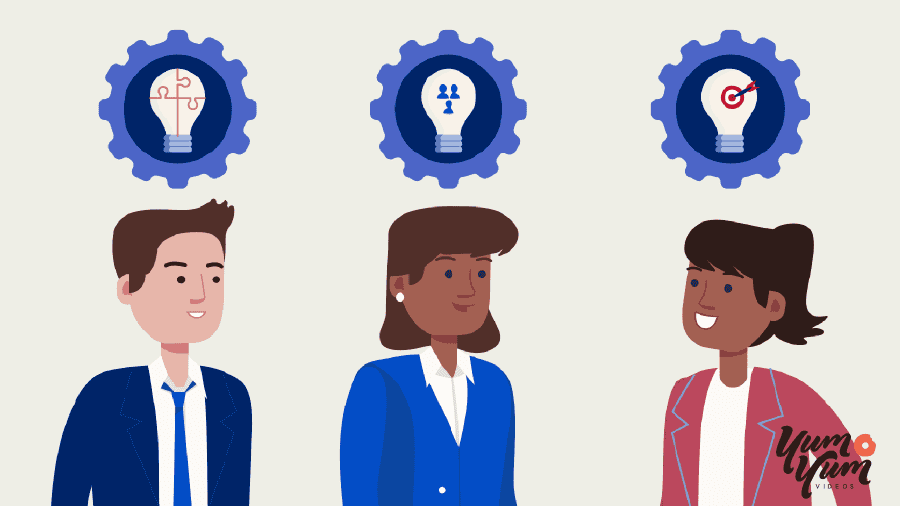 5 Types of Internal Communications Videos That Make an Impact
There are many types of internal communications videos you can develop–but how do you decide which is the best pick for you? It all depends on what you're trying to communicate to your employees! Perhaps a company-wide announcement? Or a product update? Whichever it is, there's a type of internal communication video to make it happen.
Here are five types of internal communication videos that you need to leverage your internal communications strategy:
1. Company Culture Videos:
Company culture videos are a creative way to showcase who you are as a company. These videos focus on your overall brand messaging while highlighting your strengths. Share these videos with prospects and new hires to help them understand what makes you unique so they can perform better to meet your goals.
2. Onboarding Videos:
Onboarding videos make the orientation process much more uplifting. These videos give new hires a chance to meet the people they'll be working with, learn about the projects they'll be working on, and get up-to-speed on the company's processes and procedures. Employees would much prefer this to the standard onboarding email that most companies opt for!
3. Educational Videos:
Create educational videos to teach your employees about topics related to your industry or products. You can use them for training and educational purposes, for example, if you want to train new hires or teach employees about a new product or feature. They can also use video to show them how it works instead of relying on text-based instructions only.
4. Announcement Videos:
You can use company-wide announcement videos for anything, from sharing the news of a long-expected merger to letting your workforce know about shifts in the way the company works. These videos tend to be a quick and straightforward way to update your employees on the latest news and can also be repurposed to nurture your brand in social media channels
5. Recap Videos:
A recap video features the events, accomplishments, challenges, and issues that occurred in your organization of significant impact. This will make sure that everyone is on the same page regarding the state of the company so that they can work towards meeting all your goals.
Get The Most Out of Your Internal Communications Videos With These Tips and Tricks
Now that you know what internal communications videos can do for your organization and how to create them, we have a few tips and tricks to nail it in the bag:
Make it personal! Your employees are going to tune out pretty quickly if they don't feel like the video is being directed at them specifically. Use language that says "you guys" or "your team" instead of "everyone", for example.
Don't just tell—show! Grab your viewers' attention by using clips and animation styles like motion graphics to illustrate key points in the video. They're a great way to keep them engaged rather than just conveying the information in words.
Avoid the use of too much jargon. Not everyone knows what you do and how you do it, so make sure you're using a tone and language that is friendly and accessible to all of your employees.
Make it dynamic! Use music and text overlays to make your video more interactive and fun to watch.
Try new things! Don't be afraid to be creative with your internal video content. Perhaps, add a bit of humor to make it more engaging, or have some employees participate in the process. Remember, creating videos can be a creatively rewarding activity!
It's Time for Some Healthy Communication!
Now you know that internal communications videos are a great way to boost morale in the workplace and convey key bits of information–as long as the video is fun, engaging, and easy to understand.
This revolutionary way of communicating with your employees is a game-changer, and we hope this piece will help you navigate through the entire process effectively. Go ahead, don't knock it till you try it!
Related Topics
Paschal Okafor
is
NaijaTechGuide Team Lead
. The article
Improving your Organizations' Internal Communications with Optimized Video Content
was written by . The article was last modified:
August 10th, 2023