Just got an Amazon gift card or an iTunes gift card as a gift from a friend on your birthday or you won a gift card in a giveaway, but prefer cash instead? There are a lot of cool sites online for selling gift cards.
You can swap your gift card for some cool cash. Of course, you have to sell the gift card at a discounted rate, but you will get the money you need to buy whatever you want.
Interestingly, there are platforms like CoinCola, where you can swap your gift card for cryptocurrencies like Bitcoin. Cryptocurrencies are believed to be the future of money. Selling gift cards in exchange for cryptocurrencies like Bitcoin is one of the easiest ways to get into the world of cryptocurrencies.
Just use CoinCola to find traders willing to buy your gift card at a discounted rate for bitcoin.
However, you can do one better. You can become a trader on CoinCola. With this, you can make money buying and selling gift cards.
The Business of Reselling Gift Cards
Reselling gift cards is big business. This usually involves buying gift cards at a deeply discounted rate from consumers who want to swap their gift cards for cash and selling to shoppers looking for a bargain at a price higher than your purchase price.
This means you could buy a $100 gift card for $50 from someone that needs quick cash and sell to another person for $70 and take the $30 profit.
You have probably seen ads or posts on social media of people offering to buy and sell Amazon Gift Cards, iTunes Gift Cards, Steam gift cards, Google Play Gift cards, etc, this is probably the business model they are using.
For this business model to work you need to have a network where you can buy gift cards at deeply discounted rates. This is where platforms like CoinCola comes in.
CoinCola is an over the counter (OTC) marketplace based in Hong Kong where you can buy and sell cryptocurrencies like Bitcoin (BTC), Bitcoin Cash (BCH), Ethereum (ETH), Tether (USDT), Litecoin (LTC), Ripple (XRP) and Dash from people near where you live.
You can pay for the coin with your local currency or other payment method including PayPal, Amazon Gift Cards, iTunes Gift Cards, Steam gift cards, Google Play Gift cards, etc.
There is an explosion in the popularity of Bitcoin and other cryptocurrencies. This means there is an endless supply of people willing to buy cryptocurrencies using gift cards. They do this with hopes of cashing in when the value increases.
Gift cards are a very easy and convenient way to buy cryptocurrencies, creating a huge market for discounted gift cards.
Buy Discounted Gift Cards on CoinCola
Once you signup for a CoinCola account, you are just one step away from going into business. You need to fund your wallet with Bitcoin first as most gift card sellers on CoinCola want BTC.
The best way to fund your CoinCola wallet is to find a local seller in your country. CoinCola offers a marketplace where you can connect with cryptocurrency traders in your country or city.
This means you can just do a local bank transfer to the trader while he/she funds your wallet.
With your wallet loaded you can post your Ad on CoinCola setting the rate at which you buy. You also set the limit or denominations of discounted gift cards you buy.
Other details you include in your ad are the type of gift cards you buy. Options include Amazon Gift Cards, iTunes Gift cards, Nike Gift Cards, Steam Gift cards, etc. More options include gift cards for eBay, Google Play, Walmart, Sephora, Netflix, Apple Store, PlayStation Network, etc
Sellers who love your rate and terms will sell their gift card to you in exchange for BTC. Rates offered by other sellers on CoinCola ranges from 0.75 to as low as 0.20. However, the bestsellers will have rates of 0.5 or more.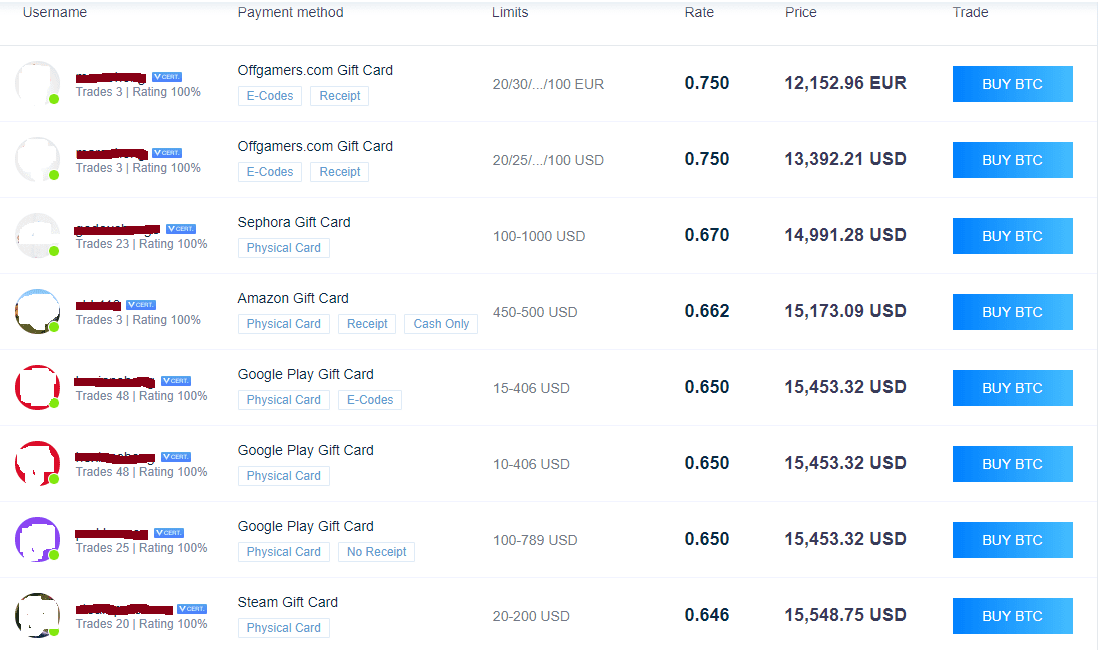 You should note that a 0.75 rate means you buy a gift card at 75% of its face value. So, you can buy a $100 gift card in exchange for a $75 worth of Bitcoin.
Buy Low, Sell High, But not too High
The secret of making money buying and selling gift cards is to buy low, sell high. However, it is important not to sell it too high.
So, you can buy your gift card at a 0.6 rate and sell at a 0.8 rate. This means you can buy a $100 gift card at $60 and sell at a $80.
This way, you get a $20 profit and the person buying the gift card from you gets a $20 value.
This is win, win, win. A good deal for everybody.
Related Topics
Paschal Okafor
is
NaijaTechGuide Team Lead
. The article
How to Make Money Buying and Selling Gift Cards
was written by . The article was last modified:
March 8th, 2022